What Rachael Ray's Favorite Chinese Restaurant Has To Offer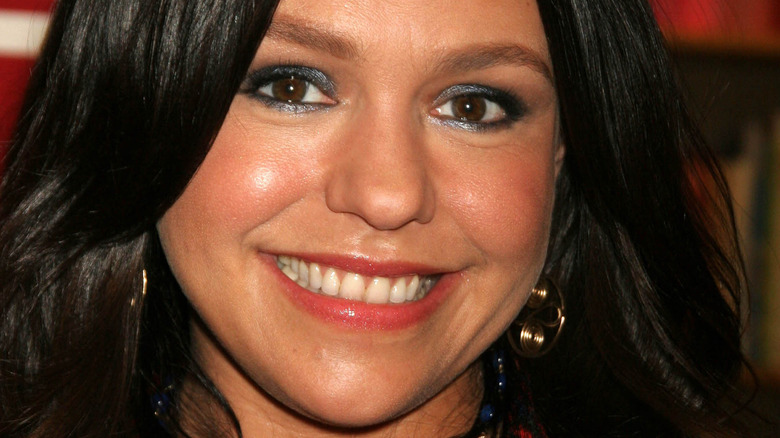 s_bukley/Shutterstock
Rachael Ray is undeniably a force of nature in the food industry. Not only is the New York native a successful and beloved television personality, she's also published over 20 cookbooks and has an astonishing net worth to boot (via Insider). Famed for her fast and simple recipes, Ray's laidback and easygoing approach to cooking extends into her personal life as well. For one, the Food Network star is adamant about the fact that she's "a cook, not a chef" (via Cheat Sheet).
Despite her decades in the spotlight, the three-time Emmy Award winner is humble and down-to-earth. In her kitchen at home, Ray doesn't need fancy gadgets, and the evening meal she looks forward to most is burger night (via Food Network). To top that off, the "30 Minute Meals" star doesn't like wearing high heels or makeup. "The second I'm inside my front door, I wash my face and put my hair in a ponytail. My entire wardrobe consists of flannel pajamas and [New York] Jets slippers," she shared with the Food Network. One of the few things Ray likes to splurge on is travel, and two of her favorite places to visit are Italy and Austin, Texas (via Delish). When she's in the southern city, a visit to the Chinese restaurant Wu Chow is a must, as noted by "Rachael Ray Show."
Rachael Ray's favorite Chinese restaurant in Austin sounds sublime
For tourists or Austin natives, don't miss the chance to swing by Wu Chow. One of Rachael Ray's personal favorites, this farm-to-table Chinese restaurant serves up authentic Sichuan cuisine in an upscale and contemporary setting (via the "Rachael Ray Show"). Located in the center of downtown Austin, some of their menu highlights include the Sichuan Braised Eggplant, Scallions Hugging Beef, and their esteemed selection of soup dumplings, as noted by Eater. While a meal here might put a slight dent in your wallet, it's truly worth every pretty penny.
Named one of the best places in Austin for bachelorette parties by Stag and Hen, this modern Chinese restaurant also serves up innovative cocktails and tasty tiki drinks. An added bonus? The ambiance is just as wonderful as the food at Wu Chow. This stylish restaurant features floor-to-ceiling windows, stellar lighting, a sprawling covered patio, and a trendy bar area (via Venues by hhh Tripleseat). If you are dining in a larger group and interested in sampling a wide selection of food, certainly make the most of Wu Chow's Sunday Dim Sum brunch. Every Sunday from 11 a.m. – 3 p.m., Wu Chow serves an assortment of small plates including mouthwatering dumplings, vegetable platters, delectable noodles, savory buns, and dessert tarts (via Wu Chow).