Classic Shirley Temple Recipe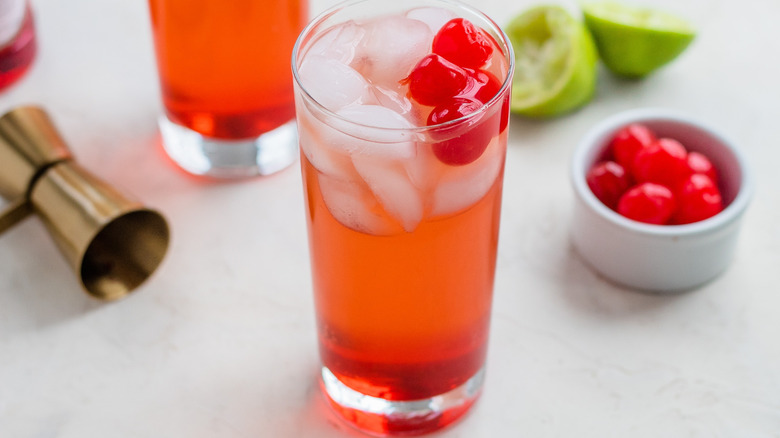 Jaime Shelbert/Mashed
A Shirley Temple mocktail was a childhood staple for many, and to know this drink is to love it. The classic non-alcoholic beverage is named after the actress, Shirley Temple. According to USA Today, the pint-sized actress was at Chasen's in Beverly Hills in 1930 when the bartender made her the first-ever Shirley Temple. The name stuck, and kids all over the globe now order this tasty drink that includes ginger ale or Sprite, grenadine, and of course, a few maraschino cherries. You can also make an adult version of this classic beverage by adding a little bit of vodka. 
Recipe developer Jaime Shelbert put this recipe together, and emphasizes it's a great option for children or adults. "This is such a fun mocktail that kids and adults love," Shelbert says of the wonderful beverage. We also love that it's sweet and fizzy, making it a fun treat when you feel like celebrating with a non-alcoholic drink. 
Gather the ingredients for your classic Shirley Temple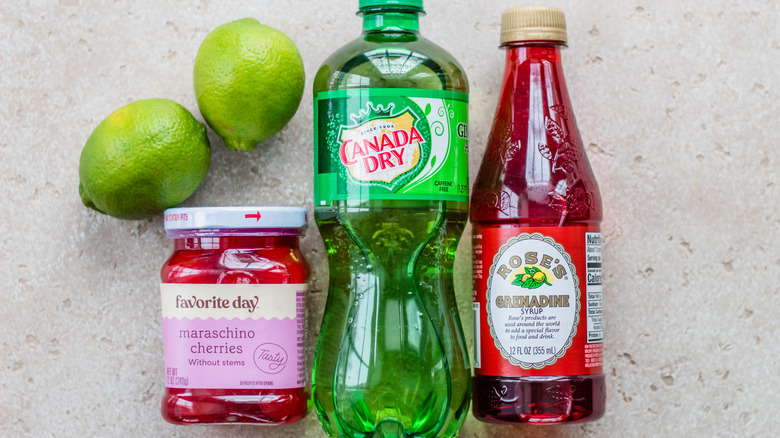 Jaime Shelbert/Mashed
You won't need a lot of ingredients to make this drink, so your trip to the store should be relatively easy. While it's considered an optional ingredient, this Shirley Temple is better when served over ice. So if you don't have ice in your freezer, you may want to pick up a bag. Otherwise, all you need is grenadine to add flavor, ginger ale or 7-Up to serve as the drink's "base," and fresh lime juice and maraschino cherries to top things off. Once you have all of these ingredients, you can whip up the drink.
Add the ice and grenadine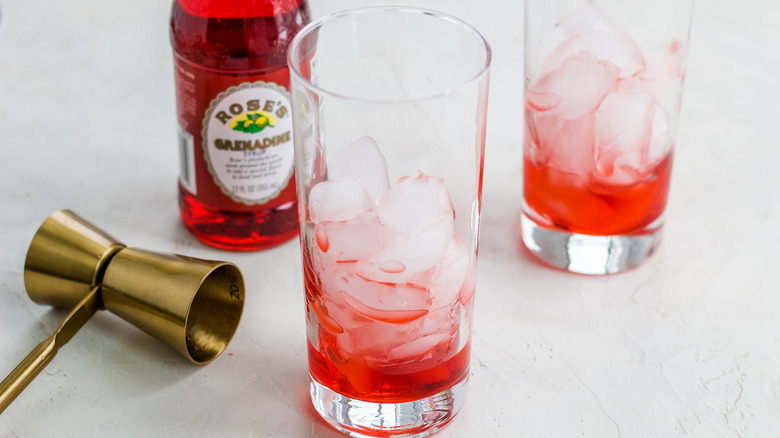 Jaime Shelbert/Mashed
This recipe makes two drinks, so grab two glasses. It would be fun to serve in Mason jar-style glasses, but you can choose whatever kind you want. If you're serving the drink over ice, divide the ice evenly between each glass. "Any type of ice will work here," Shelbert shares. We think it's great with ice cubes, but you also can never go wrong with crushed ice, either. 
Next, measure out ⅛ cup grenadine and pour it into one glass. Repeat with the second glass. "Grenadine turns this drink such a beautiful hue," Shelbert shares. "It is traditionally a pomegranate-flavored syrup that is meant to be both tart and sweet. You can play around with making your own — which is more flavorful in my opinion — or you can buy it pre-made from the store."  
Add ginger ale and lime juice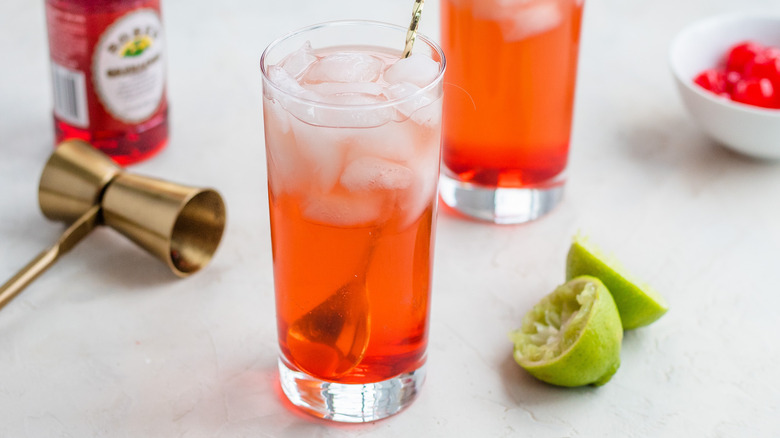 Jaime Shelbert/Mashed
Here's where the ginger ale comes into play. As we mentioned before, you can also use 7-Up instead of Ginger Ale, depending on your personal preferences. Simply add about 8 ounces to each glass. The last liquid item that you need to add is lime juice. "You [can] leave the lime juice out if you don't have it on hand, but I like the punch of tartness that it adds. Lemon could work, too!" Shelbert shares.
Simply put a tablespoon in each glass and stir to combine everything together.
Add cherries and enjoy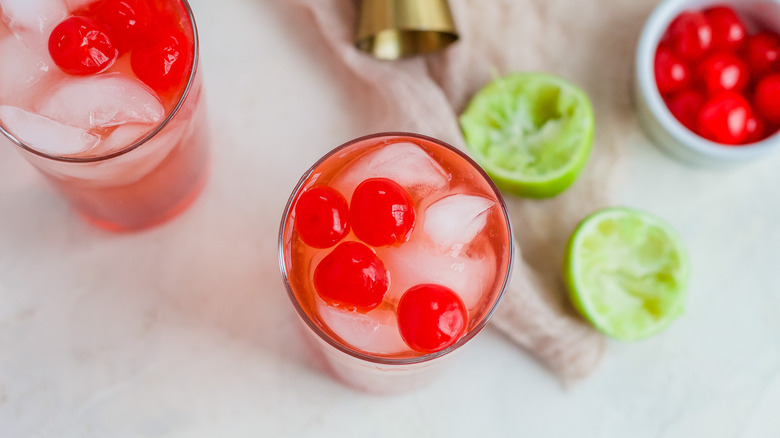 Jaime Shelbert/Mashed
There's only one more thing to add — the cherries! Shelbert recommends adding six maraschino cherries to each glass, but if you love cherries, you can add as many as your heart desires. Shelbert also suggests that you add the cherries without pouring extra cherry juice into the glass, but admits some people may like the extra flavor. "If someone likes cherry flavor, go for it and add a little residual juice," Shelbert says. 
And if you're planning a party or event, you can make this drink ahead of time. "You can definitely make Shirley Temples ahead of time, just omit the ice so that it doesn't become water[ed] down. Make it in a pitcher and pour it over [the] ice later," Shelbert shares. 
Classic Shirley Temple Recipe
When you need a simple mocktail for a party, don't forget the classic Shirley Temple recipe. If you don't remember the details, we've got you covered.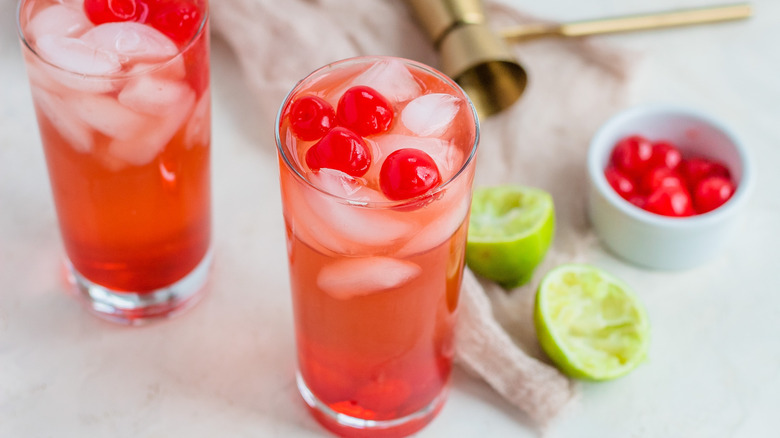 Ingredients
¼ cup grenadine
16 ounces Ginger Ale (substitute Sprite or 7-Up if desired)
2 tablespoons fresh-squeezed lime juice
12 maraschino cherries, plus more if desired
Optional Ingredients
Directions
Divide ice between 2 glasses.
Pour ⅛ cup grenadine over the ice in each of the glasses.
Add 8 ounces of ginger ale to each glass.
Top each glass with 1 tablespoon of lime juice. Stir.
Garnish the glasses with the maraschino cherries.
Nutrition
| | |
| --- | --- |
| Calories per Serving | 238 |
| Total Fat | 0.1 g |
| Saturated Fat | 0.0 g |
| Trans Fat | 0.0 |
| Cholesterol | 0.0 mg |
| | |
| --- | --- |
| Total Carbohydrates | 60.5 g |
| Dietary Fiber | 1.0 g |
| Total Sugars | 50.2 g |
| Sodium | 28.2 mg |
| Protein | 0.1 g |