Brandied Cherries Recipe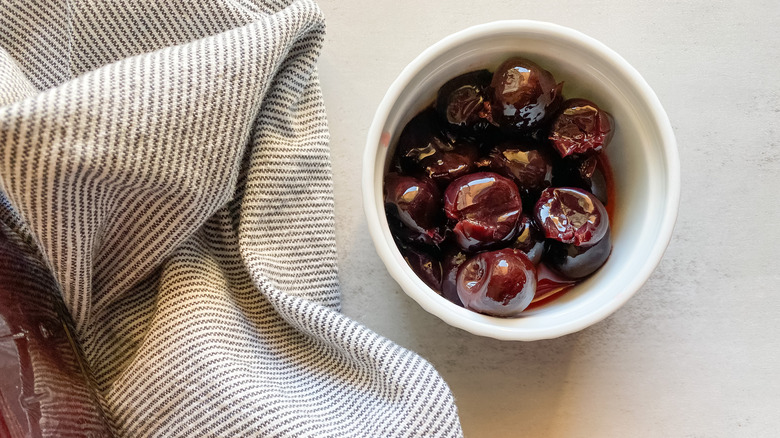 Kristen Carli/Mashed
When you think of soaked cherries, it's hard to not think about the famous, artificially bright, not so delicious Maraschino cherries. These brandy-soaked cherries are here to radically alter the reputation that Maraschino cherries have given cherries for years. Recipe developer and registered dietitian nutritionist Kristen Carli, MS, RD declares, "They're tangy, sweet and go great with just about anything. From a summer cocktail [to the] top of [a pile of] pancakes during the holidays, they are versatile and fun!"
Plus, who doesn't love a two-for-one recipe. This brandied cherry recipe is great because nothing goes to waste. Not only can you use the cherries in so many ways, you can use the liquid as well. Did we mention this only takes 15 minutes from start to finish? Enjoy these cherries on their own or add them on top of your favorite dessert. Similar to Luxardo cherries, they're a great addition to spruce up any dish or cocktail for any gathering. 
Gather your ingredients for the brandied cherries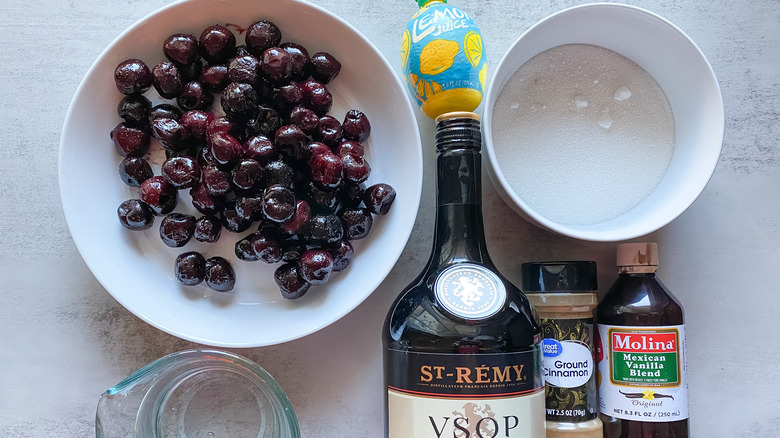 Kristen Carli/Mashed
Alrighty, let's get to it. You can easily find these ingredients at any grocery store. You'll need frozen pitted cherries, water, sugar, lemon juice, ground cinnamon, vanilla extract, and brandy. Cherries are typically in season during the months of June and July; however, frozen cherries are available at the grocery store year-round, allowing this recipe to be made any time of the year. The quality of the brandy also doesn't matter. Hello, budget-friendly recipe!
Make the syrup
Kristen Carli/Mashed
Grab a medium stock pot and add your water, sugar, lemon juice, cinnamon, and vanilla extract. Bring the ingredients to a boil. Once boiling, lower the temperature to a simmer and stir continuously. You want to make sure the sugar completely dissolves by whisking the mixture thoroughly. "I've learned less is more when it comes to spicing these cherries; however, there are so many other spices you may add if you feel like getting fancy, such as orange zest, cardamom, nutmeg, [or cloves]," Carli adds.
Add the cherries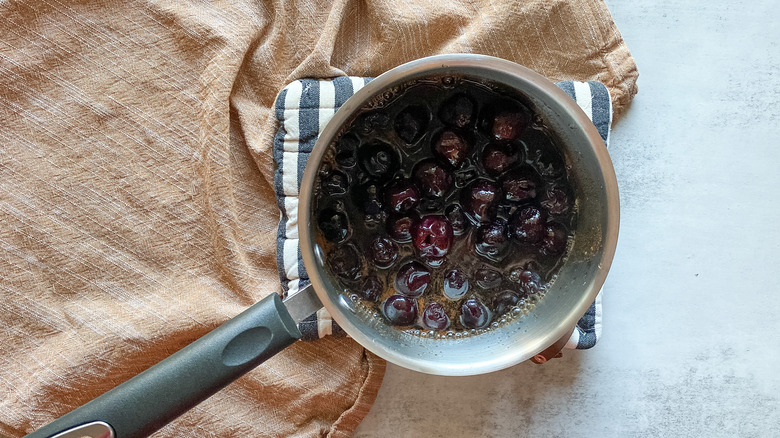 Kristen Carli/Mashed
Now that the syrup is ready, it's time to add the cherries. You may use fresh or frozen. If you buy fresh cherries, there will be so many different varieties to choose from, and no matter what type you buy, they will all work for this recipe. Just be sure to pit them. If you buy frozen cherries, they will most likely be labeled as "dark cherries" which works as well. Slowly add the cherries into the stock pot. Make sure to carefully add the cherries to keep the hot syrup from splashing everywhere. Continue to simmer the cherries for roughly 5 minutes.
Drain the cherries and reserve the syrup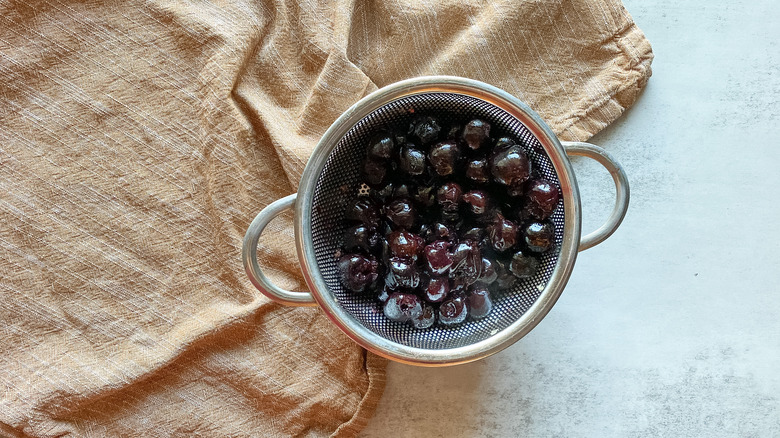 Kristen Carli/Mashed
Once the cherries are ready, turn off the heat and let them cool for a few minutes. Next, drain the cherries but make sure to save the syrup. One hot tip is to make extra syrup and save it to be poured over your favorite pancakes or waffles in the morning. You could even add it to a bowl of oatmeal or acai bowl for a little extra sweetness.
Add the cherries and brandy to jar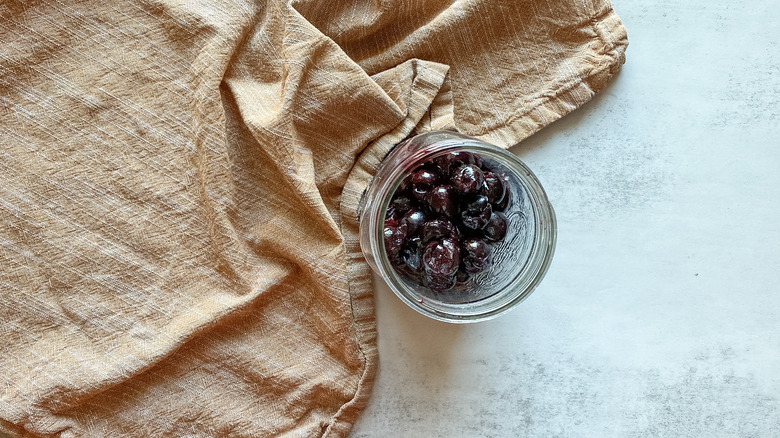 Kristen Carli/Mashed
Add the cherries to a large jar. You want to make sure the jar you use has a nice tight seal, like a Mason jar. This will ensure proper storage and allow you to enjoy your cherries for much longer. Add the cherries to your Mason jar, then pour your brandy on top and let them soak. Not only are the brandied cherries great, but the liquid they're stored in is phenomenal, too! Sipping on the brandied cherry liquid after dinner with a scoop of vanilla ice cream is the perfect nightcap.
Add the cooled syrup
Kristen Carli/Mashed
Once the syrup that you set aside earlier has cooled down, add the syrup into the jar with the cherries and brandy. Close the jar and seal tight. Put the jar in the fridge and let the cherries soak for at least 1 hour before serving. This will allow all of those delicious flavors to really penetrate the cherries. When ready, serve with whatever your heart desires, whether on top of pancakes or at the bottom of your favorite cocktail.
Brandied Cherries Recipe
Spice up this week's pancake breakfast by adding these brandied cherries to the mix. This recipe is quick, easy, and absolutely delicious.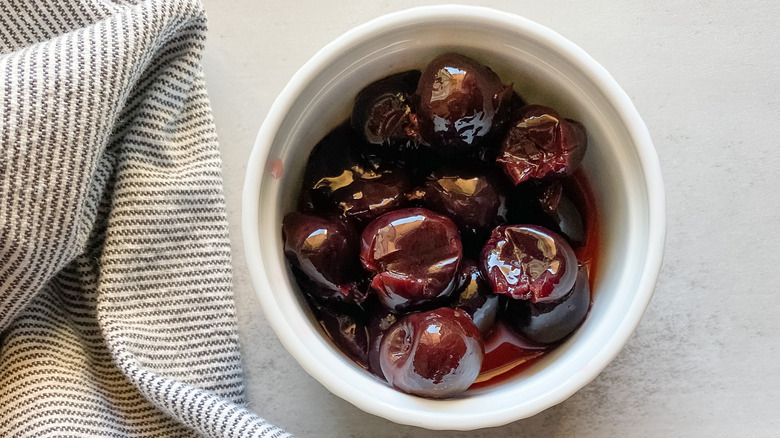 Ingredients
1 pound frozen pitted cherries
1 cup water
1 cup sugar
2 tablespoons lemon juice
1 teaspoon ground cinnamon
1 teaspoon vanilla extract
1 cup brandy
Directions
In a medium stock pot, add water, sugar, lemon juice, ground cinnamon and vanilla extract.
Bring to a boil and lower to a simmer. Whisk to dissolve sugar.
Add cherries. Continue simmering for 5 minutes.
Drain cherries and reserve syrup. Add cherries to a large jar.
Pour brandy over cherries.
Add cooled syrup over cherries. Close jar with lid.
Chill and allow to soak for at least 1 hour before serving.
Nutrition
| | |
| --- | --- |
| Calories per Serving | 100 |
| Total Fat | 0.1 g |
| Saturated Fat | 0.0 g |
| Trans Fat | 0.0 g |
| Cholesterol | 0.0 mg |
| | |
| --- | --- |
| Total Carbohydrates | 17.3 g |
| Dietary Fiber | 0.7 g |
| Total Sugars | 16.2 g |
| Sodium | 0.9 mg |
| Protein | 0.3 g |