Geoffrey Zakarian's Bean Salad Has 2 Unexpected Ingredients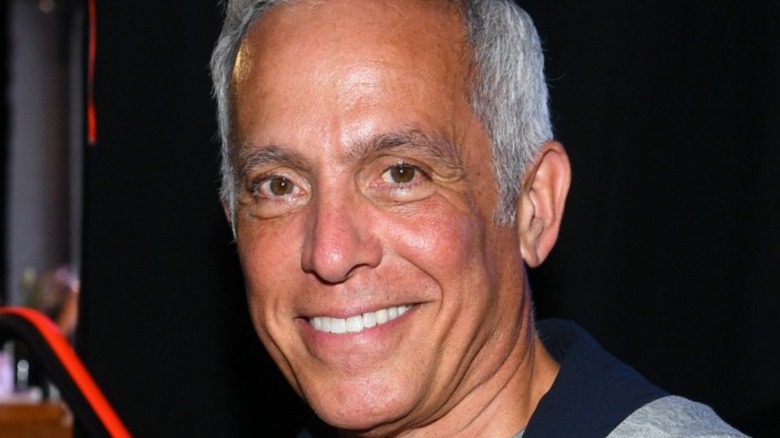 Dave Kotinsky/Getty Images
Geoffrey Zakarian has shared his recipe for bean salad with the world, and it is giving our tastebuds all kinds of delicious vibes. The "Iron Chef" title holder and judge on everyone's favorite food competition, "Chopped," took to Instagram to share the ingredients that go into this dish, but there are two unexpected items included that has social media in a tizzy. 
While there are many variations and types of bean salad, it is considered a classic dish that, per Quaint Cooking, was popular in the U.S. during the 1950s for the very practical reason that people had lots of stocked cans of beans in their pantry. The site explains the bean salad of yore featured kidney beans, waxed beans, and green beans tossed together with sliced and diced onions and bell peppers. There was nothing really fancy or complicated about it.
Well, Zakarian is bringing bean salad into the current century, adding a Mediterranean twist to his recipe, and we are loving his riff on this dish. The Food Network star uses traditional cannellini beans as the foundation, and adds in baby arugula, scallions, garlic, and a host of spices like paprika, cilantro, and parsley. But, it doesn't stop there. Zakarian sends this recipe in a whole new direction with the addition of two unexpected ingredients, playing on our love for sweet and savory.
The addition of dried apricots and green olives delivers a punch of flavor
In an Instagram post that has received close to 5,000 likes as of publication, Zakarian revealed the two secret ingredients that give his bean salad its bold identity and make it, in his words, "delicious": apricots and green olives. Fans are loving the addition, with the sweetness of the dried apricots juxtaposed with the salty goodness of olives. One fan enthusiastically shared, "Apricots and olives in the same dish is one of my favorites. Ever since I made Chicken Marbella from the Silver Palate, I crave the herby, fruit, salty combo. Your dish is a great way to enjoy this flavoring without meat."
Even Alex Guaranschelli was loving this recipe, writing on the post, "Love the Middle Eastern flair." While another fan added, "Thank you for sharing this amazing recipe, I love these salads and eating Mediterranean foods, very healthy." And yet still another extolled the virtues of a one-pot meal like this one with the comment, "Looks delicious! I will try this. Love that it is all in one pan." Zakarian asked his fans to tag him if they end up making this dish, so get to it!