Here's What The Inside Of A Brand-New Starbucks Looks Like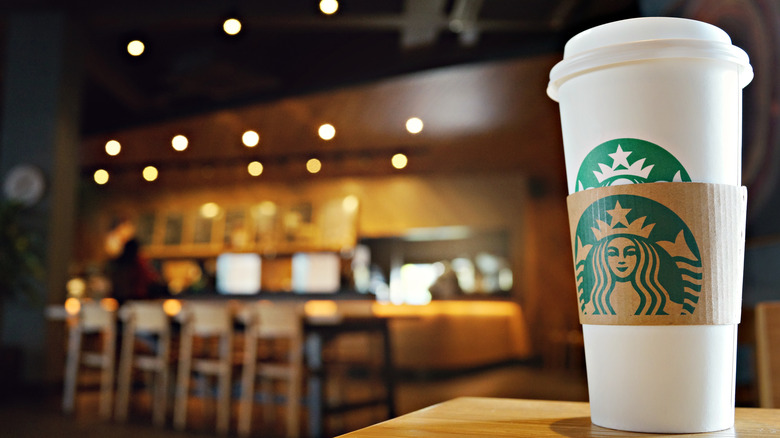 AngieYeoh/Shutterstock
Being one of the first inside a brand-new store or restaurant is like being inside a new car. It's pristine, it's shining, everything's in order, it even smells brand-new! Sure, after a while the neatness wears off, the inside becomes a bit cluttered, and once in a while you see a stain you just can't identify. If only those first moments could last forever. 
Perhaps one of the best places to experience this sensation is Starbucks. With its famous aroma, described by former CEO Howard Schultz in his 1997 autobiography of Starbucks, "Pour Your Heart Into It," stepping into one of their cafés is "heady, rich, full-bodied, dark, suggestive" (shared on Idea Sandbox). And being greeted by those smiling faces of employees serving lattes, cappuccinos, and fresh-baked pastries first thing in the morning is akin to starting a new day — and a coffee nirvana you may never want to leave. 
Even better, with more and more stores opening, that newness can be relived at a recently opened location. So, even if your habitual routine of visiting the popular coffeeshop has taken some of the shine off, you can now bring back the wonder of just what one looked like the day it first opened. And thanks to a Starbucks supervisor who shared pictures of their brand-new location on Reddit, we can all relish in the experience — and the reactions so far have been nothing short of amazed.
Redditors were amazed at such a pristine Starbucks
On the Reddit forum r/Starbucks, a supervisor of one of the chain's locations posted pictures of a brand-new store. Although there were no pictures of the front area, the Redditor had taken a few photos of the back, where the employees worked. Images of clean, sparkling counters, orderly syrup dispensers, and towers of stacked cups presented the store as perfectly preserved, free from any coffee stains or other signs of disarray. Followers were simply amazed, if not spellbound, by how pure and untouched everything looked.
"I opened a brand-new store when I first started. This brings me back. All the furniture was fresh and undamaged. All the equipment was clean and organized. Good times," reminisced one former Starbucks employee. "Within a week, our bathroom mirror, walls, and soap dispenser were tagged and scratched up." Another barista who is no doubt familiar with messes and spills also claimed, "My soul started to ascend looking at these pics." And another said, "Never in my life [have I] seen the sauce bins white, that's wild." Others, however, noted the place looked "sterile" due to the plain walls, but they were reassured in the forum that the art that is displayed in every Starbucks would be put in soon.
If you too want to experience the magic of a new Starbucks, the chain is announcing they are opening 2,000 new stores both nationally and internationally (via The Motley Fool), so now is your best chance to get that fresh new take.