Heart-Shaped Bacon Recipe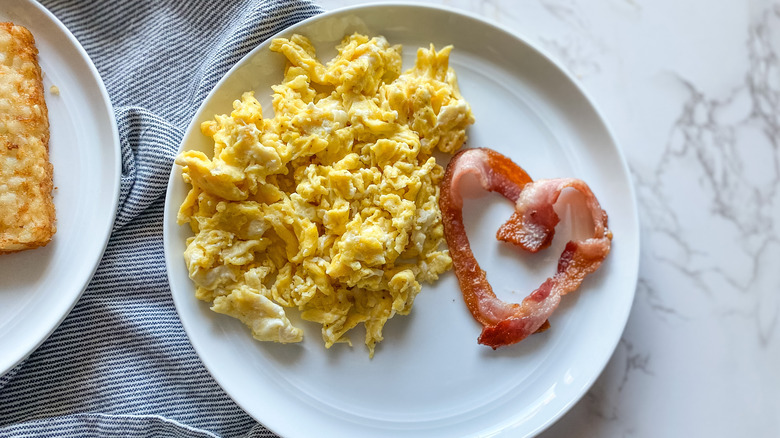 Kristen Carli/Mashed
You may have to head to work on Valentine's Day, but we think you still deserve an extra special breakfast. Whether you're extremely busy in the mornings or you have lots of free time, we bet you can make the time for this easy, 20-minute breakfast crafted by recipe developer and registered dietitian nutritionist Kristen Carli. Or at the very least, you'll want to make time for it. Trust us.
It's hard to find someone who isn't a fan of bacon. When offered bacon, vegetarians are probably the only ones who would refuse. Now imagine you take this well-loved food and form it into little heart shapes — how cute is that? These will please kids and adults alike. And what better way to show your loved ones that you care than through a breakfast made of bacon? We can't think of anything better. Let's get started cooking.
Gather your ingredients for bacon-shaped hearts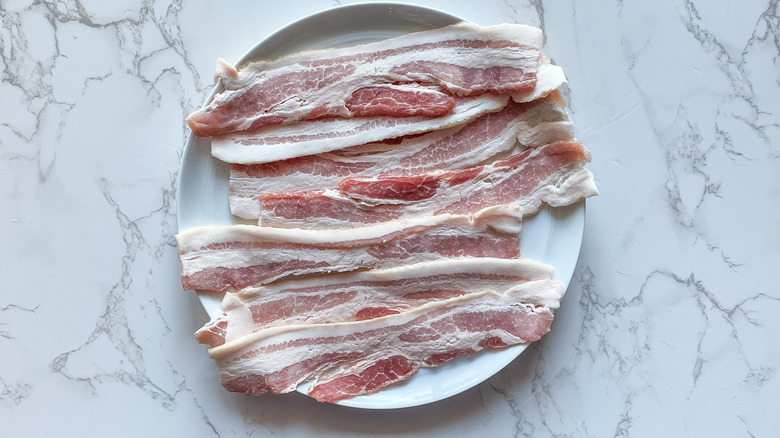 Kristen Carli/Mashed
To create these adorable heart-shaped bacon slices, you literally need nothing more than bacon itself. Just make sure you stick to the real deal for this recipe — bacon alternatives won't do the trick. All you need to do is pick up ½ pound of the breakfast meat from the store. And if you happen to store your bacon in the freezer at home, make sure you defrost it fully before you start prepping and cooking your hearts — the bacon needs to be flexible. 
Cut the bacon into lengthwise strips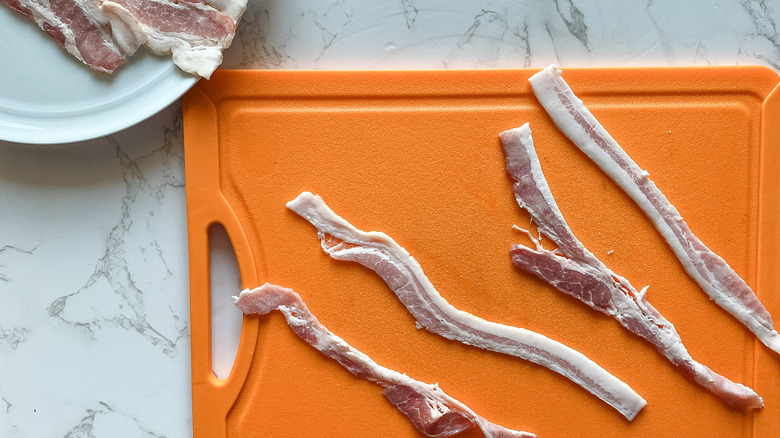 Kristen Carli/Mashed
Go ahead and preheat the oven to 425 F. While there are many ways to cook bacon, this recipe calls for baking it in the oven.
While the oven is preheating, cut the bacon into thin strips. Using a paring knife or other small sharp knife, carefully cut each piece of bacon in half lengthwise. This will create two long, thin pieces of bacon. Carli advises to "cut the bacon like this because it will create pieces long enough to properly form the bacon into heart shapes." This makes sense. These long thin pieces will be more able to form into a heart shape than thick pieces.
Form the bacon into heart shapes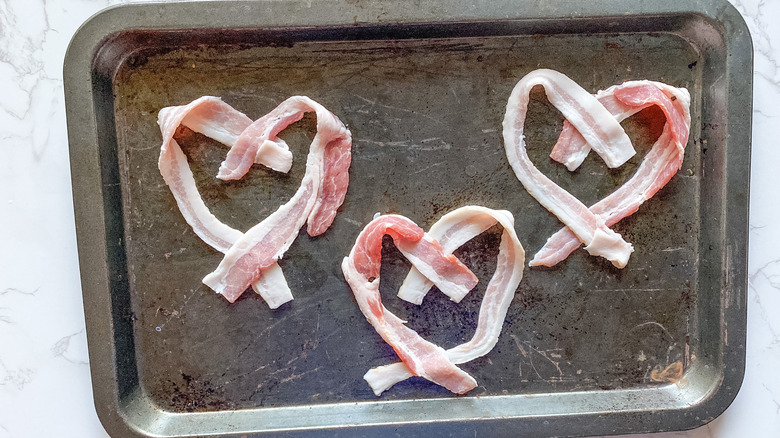 Kristen Carli/Mashed
Now, carefully take your two long, thin pieces and form them into a heart shape. Once you've formed a heart shape that you're happy with, generously overlap the edges on the top of the heart and the bottom of the heart. Carli notes that "this is important as the bacon tends to shrink when cooking in the oven. If you do not overlap them enough, the heart shape will not be visible after cooking."
Bake and touch up if needed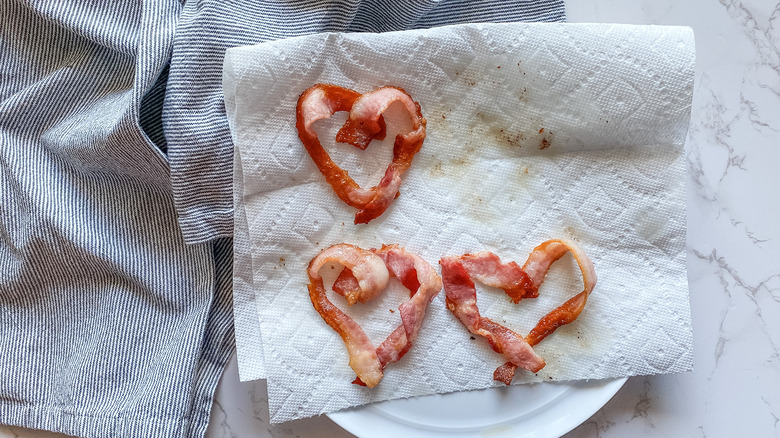 Kristen Carli/Mashed
Once all of your bacon slices have been formed into hearts and placed on the baking sheets, it's time to bake. Bake the bacon in the 425 F oven for about 10 minutes. You'll notice the bacon swimming in a lot of grease, and it will shrink up quite a bit. Make sure the bacon is thoroughly cooked before removing the baking sheets from the oven. You may need to touch up the hearts a bit in case they've become misshapen.
What to serve with heart-shaped bacon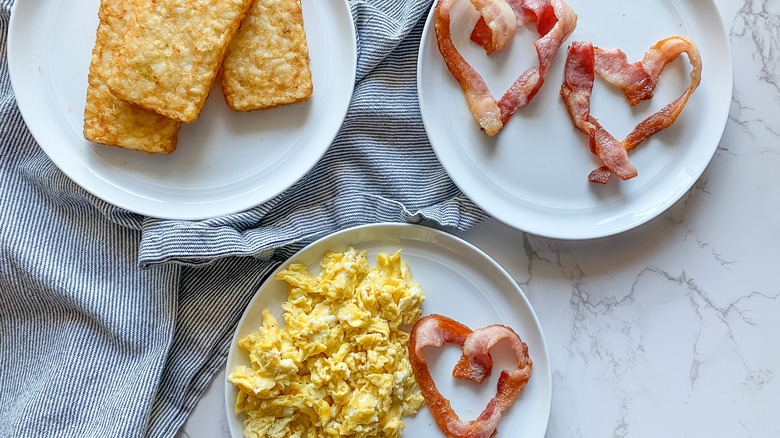 Kristen Carli/Mashed
Remove the bacon hearts from the baking sheets and set them on a paper towel-lined plate to allow the excess grease to drain. After a few minutes, the bacon hearts will be ready to eat. Serve them alongside scrambled eggs, hash browns, fresh fruit, and toast for the perfect morning breakfast. Carli recommends serving these "on Valentine's Day or any other day your loved ones need an extra pick me up."
How to store leftovers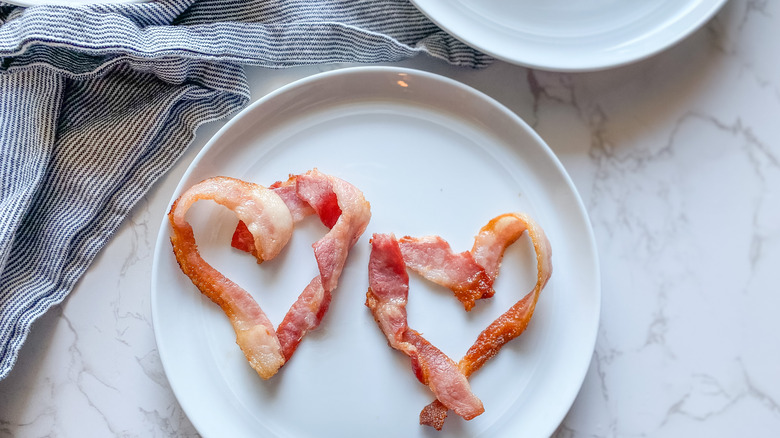 We highly doubt you'll have any leftovers of these adorable heart-shaped bacon slices. When has there ever been leftover bacon, right? However, if you were a little overzealous and made too much bacon, Carli notes that "the best way to store them is in a plastic zip top bag in the fridge." She also mentions that "the heart shapes may not last if they get thrown in the fridge, but the sentiment remains."
Heart-Shaped Bacon Recipe
Make your loved ones feel especially special on Valentine's Day with this quick and easy heart-shaped bacon recipe. It just requires one ingredient!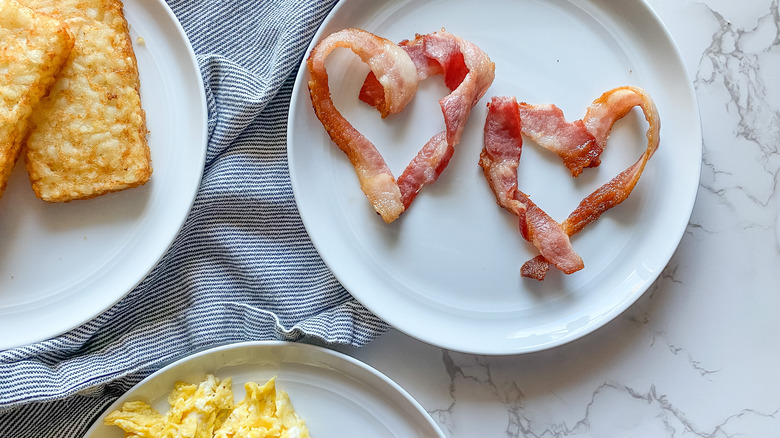 Ingredients
Directions
Preheat oven to 425 F.
Using a paring knife, carefully cut each piece of bacon in half lengthwise.
Form one thin strip into a heart shape, being sure to overlap any extra bacon as the bacon will shrink when cooking. Repeat with all the bacon slices and place the hearts on several large baking sheets.
Bake for 10 minutes.
Remove from oven. Touch up heart shapes if needed.