Instagram Can't Stop Talking About Giada De Laurentiis' Morning Routine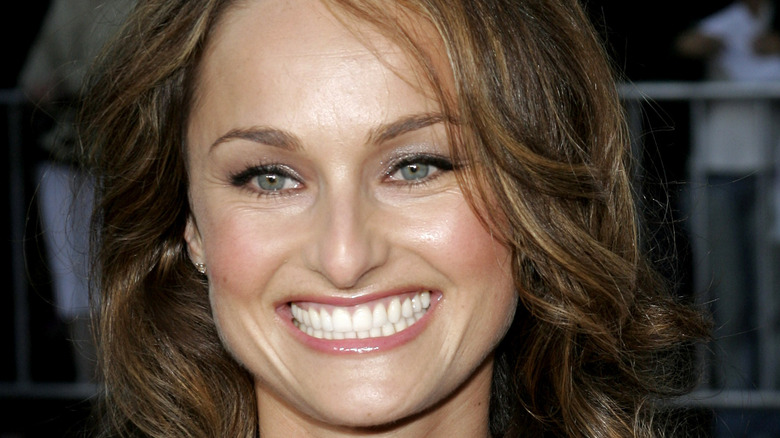 Tinseltown/Shutterstock
We may receive a commission on purchases made from links.
Giada De Laurentiis is more than just a cook. She's also a television host and cookbook author, but fans look to her for more than food advice. In one of her latest books, "Eat Better, Feel Better: My Recipes for Wellness and Healing, Inside and Out," De Laurentiis lays out a path for creating a personalized wellness routine, and part of that includes a self-care routine (via Amazon). So when De Laurentiis recently shared a video on Instagram of her own morning routine, fans were eager to observe and chime in with their opinions.
First though, here's a look at how De Laurentiis starts her days. First, she first spritzes her hair with water, then dries it with what one Instagrammer says is the Dyson Supersonic in copper with the flyaway attachment. After her hair, De Laurentiis applies light makeup, then fixes up a double espresso. She takes her dogs outside, then sits on the couch and goes on the computer (with her furry friends nearby), and snacks on some of her Simply 7 popcorn. It seems simple, but her routine generated tons of discussion. 
Fans had a lot to say
Giada De Laurentiis' morning routine video already has more than 33,000 likes, so it's safe to say that fans appreciated the inside look at the star's daily life. Her Food Network colleague, Alex Guarnaschelli, even chimed in, calling the chef "Beauty queen" in the comments section.
Most of the conversation seemed to be about the different products De Laurentiis was using. There was a lot of discussion about her Dyson hair dryer, while one fan commented "Best coffee maker" (it's a Miele espresso maker, according to the brand itself, which commented on the video). Another said "I NEED THAT RUG," and still others wanted to know where she got the spray bottle she used on her hair. Clearly many people found De Laurentiis' morning routine to be aspirational, though there's always one hater in the group. "Cute," said one user, "But I hate that song." Still, the overall mood of the comment section can be summed up by this much cheerier remark: "You're beautiful and so are your pets."