TikTok Can't Stop Talking About Why A Dunkin' Employee Gave A Customer $1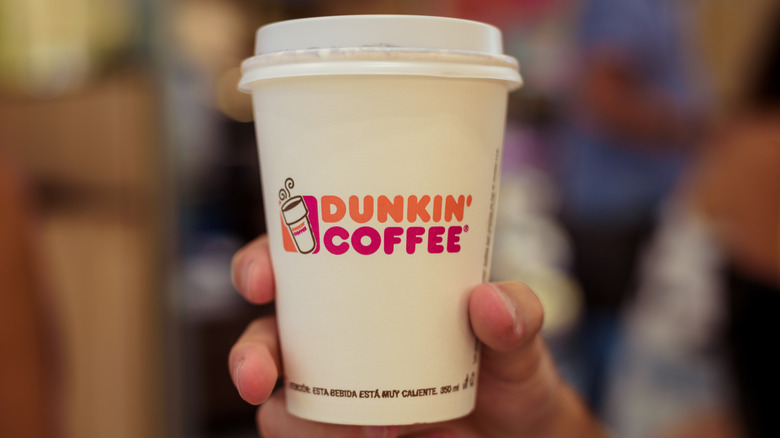 JCDH/Shutterstock
When visiting a restaurant as a customer, it's not too often that an employee hands you money that isn't your change. Sometimes, you might receive an item for free if the person who ordered before you was participating in a "pay it forward" line. Other times, you may be the benefactor of a worker's act of kindness or heroism. For example, one Chick-fil-A employee saved a child's life at the chain. More recently, a few Texas In-N-Out employees stopped a drunk driver from leaving the premises.
Clearly, it's not uncommon for restaurant employees to go above and beyond for their customers' safety and satisfaction. But to hand a guest cash for no apparent reason? That's pretty unheard of — which is evidently why the internet is currently talking nonstop about a viral TikTok that shows a Dunkin' employee giving a drive-thru customer a dollar bill for an unofficial "holiday." The video currently has more than 5,000 comments.
TikTok can't decide whether this was creepy or funny
In a TikTok video shared by user Noah Danenhower, who works at a Dunkin' drive thru, the employee serves a woman her coffee along with a dollar bill. She asks what the dollar is for, and he replies by saying it's part of a promotion for "the holiday today." When she looks confused, he explains that it's "MILF Monday," a day for Dunkin' "to give back to [its] local MILFs." The customer, eyebrows raised, smiles and tells him to have a good day before driving away. "You too, mommy," he replies.
It's unclear whether the woman, who called Danenhower's gesture "very funny," was being sarcastic or was genuinely amused. Viewers of the video are split on this debate, finding the incident either hilarious or inappropriate. Those erring on the side of humor noted, "Sir you just made her day, no week, possibly her entire year. keep up the good work," while others criticized Danenhower with feedback like, "Ok, it's funny but I think that would be really uncomfortable and not good so maybe just don't." Another said, "i feel sorry for her, she was so creeped out." Based on Danenhower's responses to people's comments, he's not taking anyone's opinions too seriously.