Food Network Had A Hilarious Response To Wordle's Popularity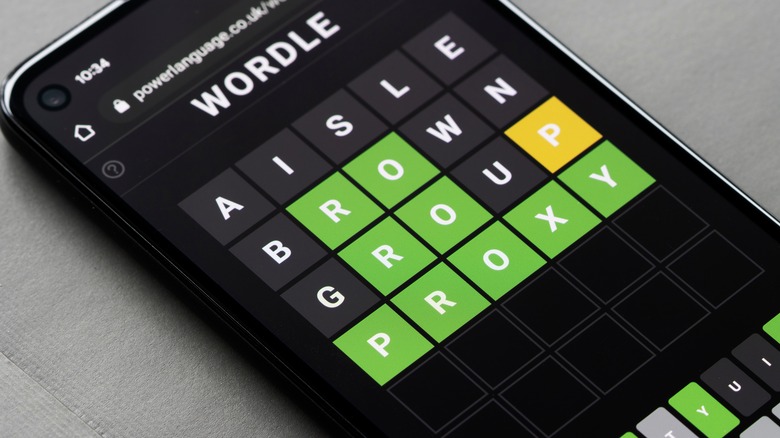 Tada Images/Shutterstock
The word game Wordle has taken the internet by storm, popping up everywhere in discussions and news feeds. The New York Times reported that the game, originally intended as a gift from Brooklyn-based engineer Josh Wardle to his partner, became popular amongst his family when he shared it with them. When released to the world, the game grew in just a few months to nearly 3 million players, according to The Conversation. After successfully completing the day's puzzle, many users share their triumphant results on social media, which appear in the form of a five-by-six set of squares — the same as in the game. Yellow and green boxes note the correct letter guesses, and posts also include the user's overall score and statistics.
Food Network took a humorous approach when posting about the internet fan favorite on Twitter, displaying a similar chart of grey boxes. But instead of yellow and green squares, it included three emojis: fire, a red car, and a smiley face with sunglasses. And the post read, "Not Wordle, just us rolling out looking for America's greatest Diners, Drive-Ins and Dives with @guyfieri." Fieri has 41 seasons already under his belt. And as Food & Wine reported in April 2021, he signed a new three-year contract with the Food Network. That potentially includes more episodes of the popular travel food show — often referred to as "Triple D."
A number of celebrities are fans of the game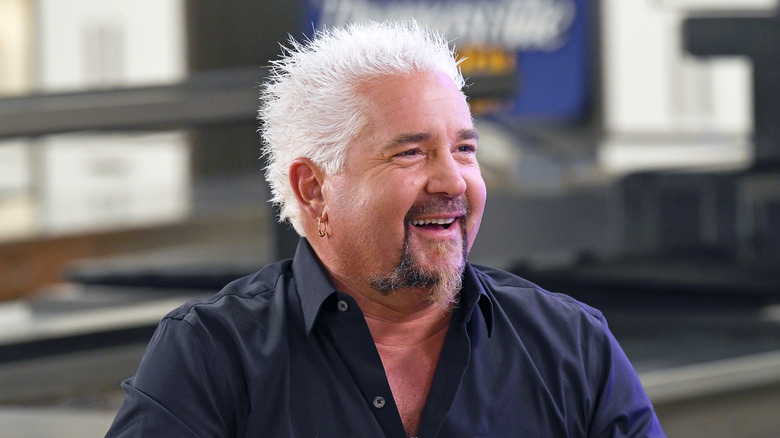 Steve Jennings/Getty Images
While there's no word on whether Guy Fieri has joined the Wordle bandwagon, a number of other celebrities have. Jimmy Fallon posted on Twitter, "Who else is playing #Wordle? Addicted." Jeremiah Fraites of The Lumineers replied with a link to his own score, exclaiming, "It's the best!" Musician Questlove is also a fan and has posted his scores. British actress Georgia Tennant wrote, "A dark day" in a Twitter post, sharing her day's results when she couldn't solve the puzzle. And the page Pies are Awesome shared  an image of a pie made out to look like the Wordle graph, suggesting it might be called "Piedle."
This is not the first time that the Food Network has taken notice of the game. Another post from just a day earlier displayed a chart with orange, green, red, and yellow boxes and the standard five-by-six, but then two additional six-box columns. The post read, "Not Wordle, just a burger and fries."
Food Network isn't the only company making fun references to the game either. On Twitter, Netflix Films posted a photo meme of a grumpy Jennifer Lawrence in "Don't Look Up" with the caption, "when I do bad on a Wordle." And Lego displayed an image of a series of white, yellow, and green colored pieces, writing, "Can't stop imagining #wordle tiles as LEGO bricks."