The Great British Bake Off Had A Rough Start, According To Sue Perkins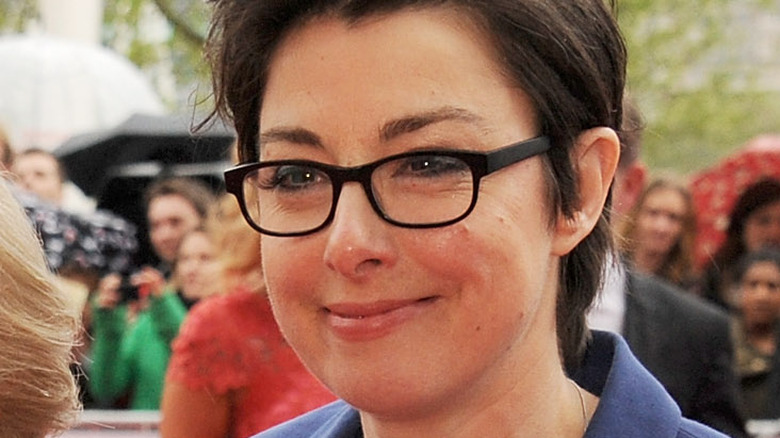 Dave M. Benett/Getty Images
After 12 seasons, "The Great British Bake Off" has come a long way since its beginnings. including how contestants, hosts, and judges live while the show is taping. When the show first premiered, it aired on BBC – the show now airs on Channel 4 – and featured judges Paul Hollywood and Mary Berry plus comedian co-hosts Sue Perkins and Mel Giedroyc. The casting switch occurred when the show moved to Channel 4 with Perkins, Giedroyc, and eventually, Berry leaving (via Hello!). Berry explained in a statement, "My decision to stay with the BBC is out of loyalty to them, as they have nurtured me, and the show, that was a unique and brilliant format from day one."
Apparently, the show must have had quite a budget when it first aired in 2010, as Perkins told a podcast that food vans were hired to do the catering and the judges were put up in a hostel costing about $33 (£25) per night, where Perkins said Berry was exposed to bed bugs (via MyLondon). Luckily, 12 seasons later, conditions have improved significantly. "Bake Off can only be seen now through the prism of huge success," Perkins said.
GBBOers now stay in a swanky hotel
So, where do "GBBO" judges, hosts, and contestants now stay when filming the show? Frommer's reported that before 2020, contestants would return to their personal homes during the week when the show wasn't taping and head to the famous tent on the weekends for the contest. When the COVID-19 pandemic hit, however, things were switched up, as the producers attempted to create a "bubble" for the cast and crew to ensure their safety as much as possible. 
For six weeks, they were all housed at Down Hall Hotel & Spa, which Frommer's describes as a "Victorian-era luxury retreat" with 98 guestrooms. The Daily Mail confirmed that the GBBOers also stayed at the hotel when filming the 12th season in 2021, setting up the giant tent on the property's grounds. Sue Perkins applauds the show for how far it has come since its beginnings. "[I]t evolved hugely ... into the beloved program it is now," Perkins said (via MyLondon).