Stanley Tucci Reveals The Odd Way His Sense Of Taste Changed After Cancer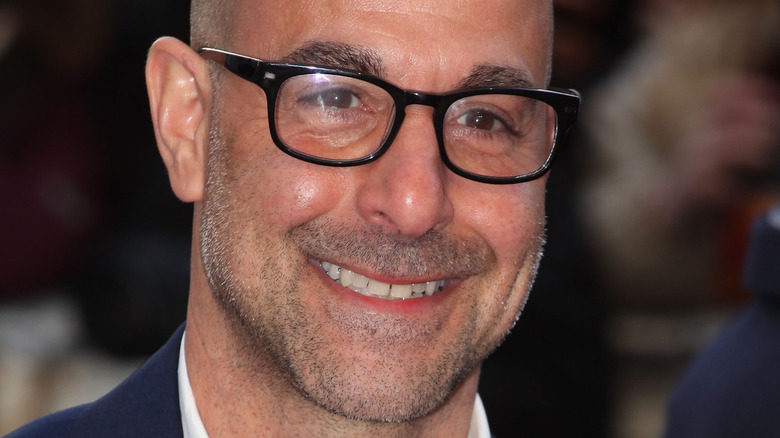 Featureflash Photo Agency/Shutterstock
Stanley Tucci is a beloved actor. AARP contributor Nicholas DeRenzo praised him for some of his "tastiest roles," like Secondo in the food-centric film "Big Night," which Tucci also cowrote. He also played Paul Child in the Julia Child biopic "Julie & Julia." As the star of the CNN series "Stanley Tucci: Searching for Italy," he took fans on a Mediterranean food adventure that left the network asking for seconds.
But Tucci has also had his share of struggles in the past. A few years back, the actor learned that he had a cancerous tumor on his tongue (via ABC7 Chicago). The cancer not only caused some serious health concerns but affected his day-to-day life in that it took away his ability to taste things and even impeded his ability to swallow. And now that he is in remission, he has found a new appreciation for the ability to do both.
Stanley Tucci said his sense of taste was 'almost heightened'
Tucci sat down with the "Today Show" to talk about his role in the new show "La Fortuna," and the interview touched upon his cancer diagnosis and life after (via Twitter). In the interview, Al Roker asked the actor how losing his ability to eat impacted his appreciation of food. Tucci noted that his ability to enjoy food had returned and might even be improved, "I got very lucky. I can taste and eat almost everything now. In fact, my sense of taste and smell are almost heightened and more than they were before, oddly enough."
The admitted food lover explained to the Today team that "when you're forced to go without something that you love — just like when you're forced to go without someone that you love — you appreciate them, and or it, much more when you're able to have it back or if you're lucky enough to have it back." He was already very skilled in the culinary arts, perhaps as much as he is at acting. It will be exciting to see whether his new and improved abilities will affect his recipes moving forward.