The Iconic Food Movie You Didn't Realize Stanley Tucci Wrote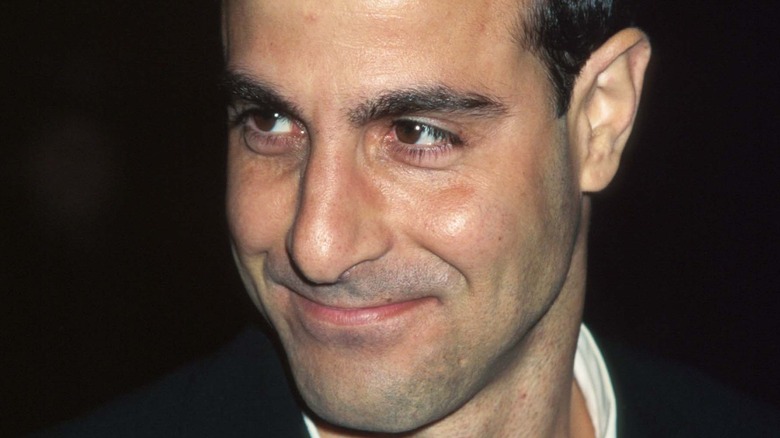 Evan Agostini/Getty Images
What comes to mind when you think of movies about food? While there are shows about cooking and eating on TV 24 hours a day, and many movies have famous food-related scenes (think "Lady and the Tramp" sharing a plate of spaghetti in cinema's cutest-ever date night), movies that revolve around food are relatively few in number. Okay, there's that childhood classic "Willy Wonka and the Chocolate Factory," as well as its early aughts reboot with Johnny Depp. And if you're a Johnny Depp superfan, you may also be familiar with his turn-of-the-millennium star turn in "Chocolat." More recently, "Julie & Julia" brought the undisputed queen of celebrity chefs (plus some random food blogger) to the big screen. And, of course, there's "Ratatouille," the movie about a cooking rat that inspired a crowd-sourced musical.
Still, if you really want to explore the intersection of food and cinematography, you'll probably have to venture a bit further afield to sample some lesser-known movies. IndieWire's list of the 15 best food movies of all time includes such cult favorites as ""Babette's Feast," "Jiro Dreams of Sushi," and "Tampopo." One of the movies they mentioned, though itself not a blockbuster hit, is interesting because it not only stars, but was co-written and co-directed by Stanley Tucci, the actor better known for his roles in movies ranging from "Beethoven," to "The Devil Wears Prada," to the "Captain America" trilogy.
It's all about Italian food
"Big Night" wasn't something IndieWire really went into raptures over. They did describe it as "remarkable" (a word which doesn't necessarily have a positive connotation), but what struck them most about it was the "artery-clogging monstrosity" served on the titular night. The accused artery clogger is a dish called timpano, and according to a recipe published in The New York Times, it consists of a pasta shell stuffed with pasta, meatballs, cheese, salami, and hard-boiled eggs. OnMilwaukee's reviewer was a much bigger "Big Night" fan, calling it "the 'Citizen Kane' of food movies." 
In case you're wondering what the movie is about, there are two brothers (played by Tucci and Tony Shalhoub of "Monk" fame) who run an Italian restaurant in New Jersey in the 1950s, but it's not making any money. They come up with a plan to save the restaurant by putting on a feast for a special guest: jazz singer Louis Prima (via YouTube). Does Prima ever show? Does the restaurant stay in business? We're not going to reveal the ending (slightly ambiguous though it is), but then, the plot isn't even really the point here, at least not to a serious foodie. Basically, it's a bunch of tasty food prep scenes culminating in one big Italian food mukbang. Slice up some salami and provolone (the imported kind, not the sliced bland travesty that is the American version), grab a bottle of vino (chianti, preferably), and enjoy this molto delizioso movie.