Costco Fans Are Freaking Out Over This Massive Tub Of Pillsbury Cookie Dough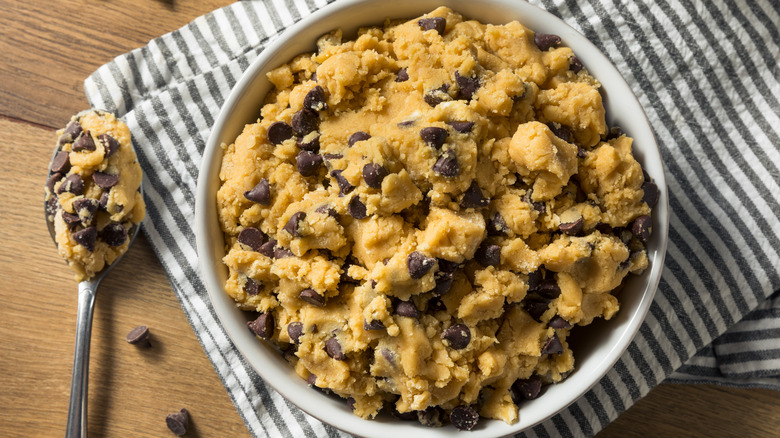 Brent Hofacker/Shutterstock
Winter continues to rear its freezing-cold head through most of the country, and we can't think of any better way to spend the remainder of the snowy season than inside, by the oven, baking up a few batches of delicious chocolate chip cookies. Between the gooey, melted chocolate and those intense feelings of nostalgia that you get once that aroma hits your nostrils, it's no wonder that chocolate chip is widely considered to be the best. It was even named "American's favorite cookie," according to Biscuit People.
Now, we're sure your great-great grandmother's recipe for chocolate chip cookies is one-of-a-kind. But sometimes, you just want the satisfaction of biting into a cookie fresh from the oven without the hassle of washing dishes and wiping flour off of every surface in your kitchen once your snack time is over. This, dear readers, is where pre-made cookie dough comes in, and if you're a Costco member, you can now purchase a single container of the stuff that, in true Costco fashion, contains enough dough to give you fresh chocolate chip cookies for the rest of winter, and maybe even beyond.
Shoppers are excited to eat this cookie dough straight from the tub
As Costco fan Instagram account @costcobuys recently discovered, the big-box retailer is once again selling massive 76-ounce tubs of Pillsbury Chocolate Chip Cookie Dough that shoppers are going wild for, and rightfully so. "This makes up to 76 delicious, easy-to-bake cookies and is freezable for up to 2 months!" the Instagrammer shared in a post, noting that the product runs for $8.99 a tub. To put that into perspective, Walmart offers 30-ounce tubes of Pillsbury Chocolate Chip Cookie Dough for $3.98, so you'll be saving about a dollar when you purchase Costco's bulk-sized version.
That's not the only good news. "Plus you can eat it raw!" @costcobuys added, which, if you ask us, is the main reason to keep store-bought cookie dough around. Costco fans seem to think so as well, as many of the comments were focused on this aspect of the product rather than the actual cookies it yields. "No way!! You can eat it raw?!!! Yaaassss," one person commented. "Get me a spoon!" another user quipped.
Meanwhile, a third user by the name of @xaviergutz725 made a bold prediction. "These won't even make it to the oven..." they said, and if we were betting, we'd say their theory is probably correct. However, if you do have enough willpower to save some dough for baking, you'll be happy to know that several commenters confirmed it transforms into tasty cookies as well.