Dairy Queen Just Brought Back This Red Valentine's Day Blizzard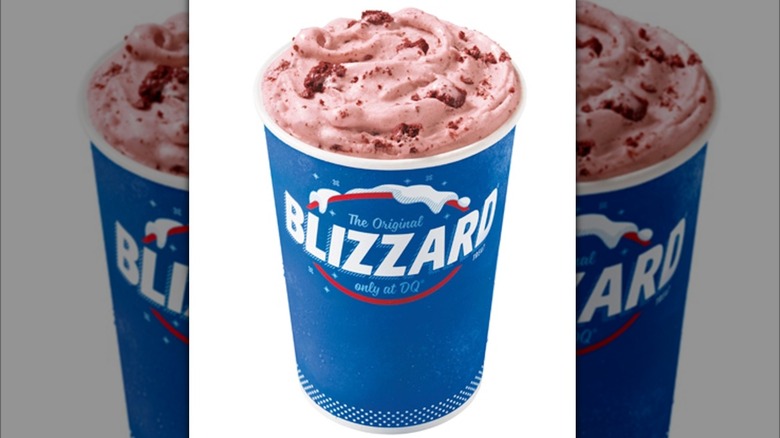 Dairy Queen
Back in 2014, Dairy Queen impressed patrons by releasing a signature red velvet cake Blizzard just in time for Valentine's Day, per Franchising.com. The treat originally featured a mix of red velvet cake pieces and cream cheese frosting swirls mixed into vanilla soft serve. The Impulsive Buy claimed that this frozen treat hit the spot and while it didn't blow the reviewer away, they felt the taste of chocolate and cream cheese frosting worked well. Meanwhile, On Second Scoop loved the Blizzard, recommended the treat to anyone looking for a red velvet dessert, and would try the item again.
Fans of this Blizzard and newcomers alike can now rejoice. Dairy Queen recently tweeted, "IT'S HERE. The Red Velvet Cake BLIZZARD of the Month. Silky cream cheese icing...red velvet cake pieces...need we say more?!" alongside a gif of a swirling red velvet Blizzard. The chain followed this tweet up with another post, confirming that the Blizzard is still "made with red velvet cake pieces and cream cheese icing" and will be available "at participating U.S. locations." It's not the first time this Blizzard has been brought back; it was also sold around Valentine's Day last year.
A Blizzard perfect for Valentine's Day
Dairy Queen's tweet inspired a solid amount of excitement in fans, but some wondered about other flavors. Users responded in kind with questions like, "Do you think you will ever make a Cadbury Mini Egg Blizzard?!" and "Please bring back your Hawaiian Blizzard." While sweet-toothed fans have to hold out for these other flavors, anyone who wants to celebrate Valentine's Day with this red Blizzard can have something to look forward to. This returning treat should prove perfect for the holiday — Scrumptious Bites even calls red velvet cake "the unofficial confection of Valentine's Day."
Elite Daily reports that buyers can pick the dessert up until February 14; a small version of the Blizzard should set buyers back by about $3.99. If you want to celebrate Valentine's Day with a frozen treat, you can't go wrong with this returning Dairy Queen menu item. With any luck, it should taste as great as it did in years past.