Ethel M's Is Taking Valentine's Day Chocolate Tastings Virtual
If you're planning on staying in this Valentine's Day — it is the day after the Super Bowl, after all — there are plenty of creative ways to celebrate all things romance at home. From adding a salami rose to your Valentine's charcuterie board to using heart-shaped pasta in your special meal, the possibilities of injecting your own displays of affection into the holiday are endless. And for a more sugary at-home Valentine's Day activity, there's always a box of Ethel M Chocolates to eat.
Of course, gifting chocolate for Valentine's Day is nothing new, and Mars Wrigley's Ethel M Chocolates brand has been widely available to shoppers for quite some time; the company just celebrated its 40th birthday in 2021, according to a press release. More recently introduced, however, is the brand's online chocolate experience held on Valentine's Day. Per its website, Ethel M Chocolates will be hosting another round of virtual chocolate tastings this year — and the brand is sharing a whole heart-shaped box of reasons why you should attend.
This detailed tasting bestows chocolate knowledge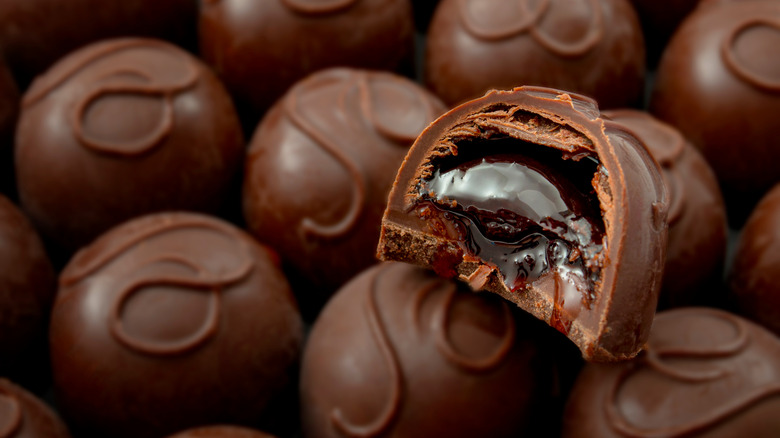 Victor Moussa/Shutterstock
If you're ready to take your relationship with your date (or chocolate) to the next level, then participating in Ethel M Chocolates' Valentine's Day chocolate tasting class on Zoom could be one way to do it. According to the company's website, attendees can pay $50 to receive a tasting session for two (with no requirement to invite someone else, wink wink). Participants will receive a heart-shaped satin box filled with 14 truffles chosen by Ethel M's chief chocolatier, Mark Mackey. These range from dark chocolate sea salt caramel to pecan toffee crisp. 
A recording of a previous year's tasting on YouTube shows potential attendees what to expect from the event. During the tasting, Mackey will discuss how the chocolate is sourced and made, how to pick up on the flavors in each piece, and wine and beer pairing recommendations. This year's tastings will occur in three different time slots on February 11 and 14, and you'll need to make your reservation by February 6 to secure a spot.