Trader Joe's Fans Are So Excited To Try Its New Heart-Shaped Pasta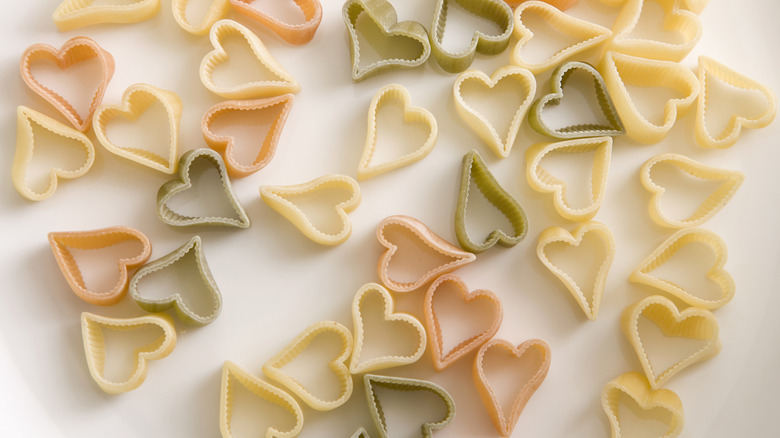 Image Republic/Shutterstock
Love is in the air! Or at least, it's in the aisles at your local Trader Joe's. From raspberry-shortbread cookies to melt-in-your-mouth macarons and x & o gummies, the specialty store is stocked with plenty of adorable Valentine's goodies sure to make fans swoon. Of course, if you don't have much of a sweet tooth, it can feel like you're missing out on all the Instagrammable, heart-shaped fun. And even if you do enjoy all of the Trader Joe's Valentine's Day treats, sometimes, all that sugar is overkill.
But now, there's good news for all the romantics with a preference for the savory. Per an Instagram post by popular reviewer @TraderJoeslist, the grocery chain is selling a new, artisan heart-shaped pasta just in time for all your February 14 celebrations. The pasta looks like it can be easily swapped in place of recipes that call for noodles like penne for a festive upgrade to your favorite meal. 
And as if the shape isn't enough to make fans swoon, some of the noodles are tinted pink. As @TraderJoeslist put it in the Instagram caption, "...They've coupled our love of pasta with season of love #valentinesday. I'd probably pair this with vodka sauce given it's my current obsession, but I'd bet these hearts would pair well with just about any sauce!"
Valentine's Day dinner made easy
More than 43,000 people have liked the @TraderJoeslist Instagram post, and fans are loving the heart-shaped addition to the pasta section. In the comments, many expressed how they couldn't wait to buy it for the holiday. While many simply issued their approval by writing things like "cute" and "OMG," one user dropped hints to a potential Valentine by tagging them in a comment and writing, "No candy necessary, this is what I want." Another couldn't contain their excitement, commenting, "Yay! I was hoping they would come out with this!!!" Meanwhile, a third user admitted what many others are probably feeling: "Do I need this pasta? No. But do I want this pasta? Yes."
Whether or not fans buy this pasta purely to take a cute photo for the 'gram, it could be a great way to enjoy an elegant Valentine's day meal without leaving the house.
Per the photo of the nutritional information, a single bag of the heart-shaped pasta contains eight servings. But one as some commenters pointed out, this may be skewed based on the package size, so consider that before buying for a group. As for the price, the post didn't disclose any specific price information, but based on the price of their seasonal pumpkin pasta, which cost $1.99, according to Become Betty, we estimate it's somewhere between $2 and $4. Trader Joe's, consider us forever yours!