Cat Cora Just Killed It On Fox's 'The Real Dirty Dancing'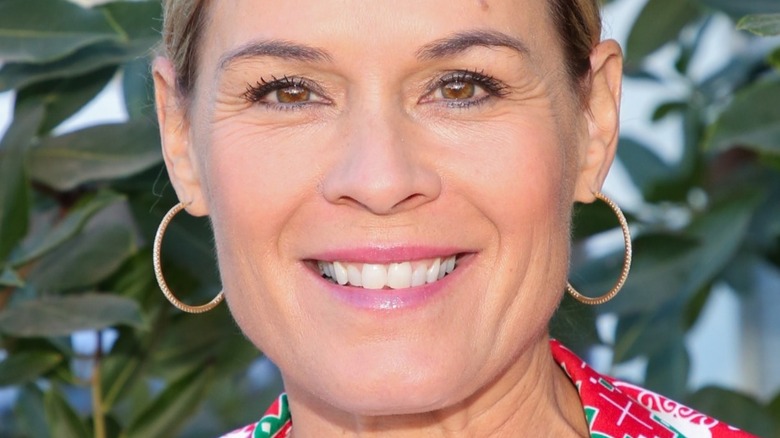 Paul Archuleta/Getty
Celebrity chef Cat Cora is best known for her skills in the kitchen. But it's her newfound skills on the dance floor that had her in the spotlight on February 1. Cora was cast on "The Real Dirty Dancing," a new TV show airing on Fox that looks to recreate the setting, characters, and, of course, dance moves from the classic '80s film "Dirty Dancing." 
The show was filmed at Mountain Lake Lodge in Virginia, the setting of the "real" Kellerman's resort. The costumes are on-point, and, like the character Baby from the original movie, few of the contestants come into the competition knowing how to dance. The contestants' goal is to be voted the group's "Baby" and "Johnny" by wowing with their new 'dirty' dance moves. And yes, because we know you're wondering, contestants will also have to nail the iconic lift move from the movie, per Reality Blurred.
Cat Cora is having the time of her life learning to dance
For the first "The Real Dirty Dancing" episode, Cat Cora paired up with Corbin Bleu — you know him from "High School Musical" — and gave a performance so impressive she was dubbed the "Baby" of that episode (via Meaww). 
After showing off her newfound dance prowess to the "Dirty Dancing" classic song "Big Girls Don't Cry," Cora cried because of her unexpected success. "I have never danced," she said (via Reality Blurred). Participating in this show has special meaning for Cora, who claimed, according to TV Line, that the original "Dirty Dancing" and Baby and Johnny's love affair, frowned upon by Baby's parents, encouraged her to come out as a lesbian.
Fans will have to stay tuned for the next three episodes to see if Cora is able to retain her title as "Baby" or will lose it to one of the other female contestants: Brie Bella, Anjelah Johnson-Reyes, and Loni Love (via TV Series Finale).