IKEA Is 3D-Printing Vegan Meatballs For Job Interviews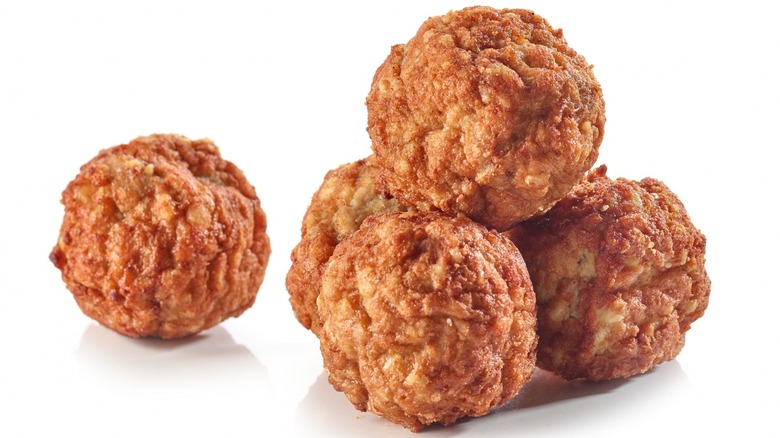 MaraZe/Shutterstock
Meatballs have arguably been one of the keys to IKEA's success over the years. In 2015, the head of food-product development at IKEA USA, Peter Ho, told MarketWatch that the company would sell 236 million meatballs in the U.S. alone. Ho reportedly said that globally, the company was selling about a billion meatballs across 47 countries each year. Since then, IKEA's famous meatballs have also inspired the sale of scented candles that smell like Swedish meatballs. More recently, a different form of the famed meatballs is being used to attract applicants by giving them a chance to "taste the future."
IKEA has launched an experiment by using 3D-printed vegan meatballs as a part of its latest recruitment drive. According to a description on the brand's website, "The campaign aims to entice a diverse and extraordinary range of tech talent through a unique, tasty and thought-provoking job interview for selected roles and people." IKEA is keen to use its new campaign, "Taste the Future," to find "down-to-earth data scientists, future architects, cyber guardians, unboxed engineers, and common sense-makers," according to an IKEA Brand Leader, Karen Rivoire. The 3D-printed vegan meatballs became available to job candidates at interviews at the start of February.
Ikea's ideas for the future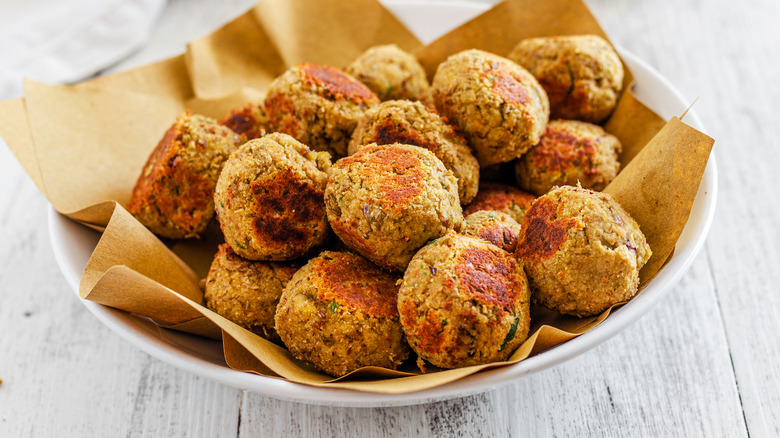 Angelica Parisi/Shutterstock
The team at IKEA wants to dream big. The company's website mentions that IKEA is interested in exploring more sustainable food initiatives and wants to adopt "50% plant-based main meals in IKEA restaurants by 2025." While the eateries already have plant-based options available for customers who don't want to opt for classic meatballs, IKEA is hoping to take things a little further by trying out more ideas. The company states, "The ambition is to make healthier and more sustainable eating easy, desirable and affordable." IKEA also wants to ensure that around 80% of its packaged food items are plant-based and "non-red meat" in the future.
Per Discovery, 3D printing technology has already made its way into the food industry. There's even a restaurant called Food Ink in London that has been creating 3D-printed dishes for its patrons. The Creative Machines Lab at Columbia University has even worked on combining laser-based cooking with food printers to create devices that "would provide end-to-end cooking and personalized meal creation on a per person basis."
IKEA hasn't released information suggesting it will offer 3D-printed meatballs at any of its restaurants so far and only said that the meatballs are an "experiment designed for this recruitment campaign." Inter IKEA Group CIO Pascal Pauwels said, "IKEA is at the start of a journey to embrace data and technology to become more affordable, accessible, and sustainable in an omnichannel environment. Naturally, people with imagination will play a big role in that quest."