TikTok Is Shook Over This Hotel Cereal Revelation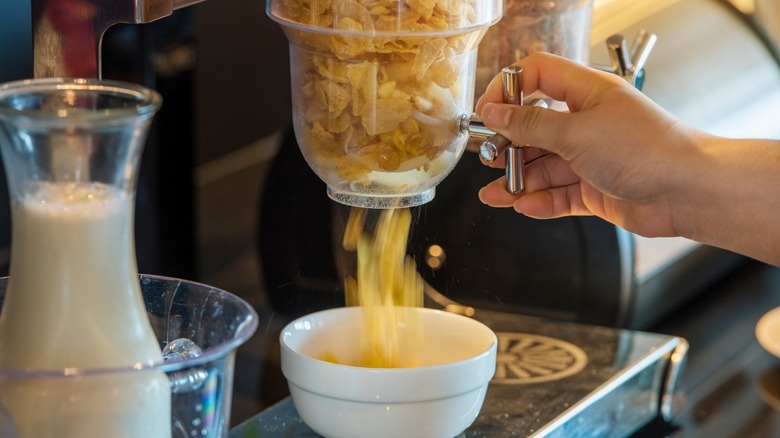 worradirek/Shutterstock
It rarely takes much to leave TikTok shook. This is no exception. The TikTok user @khammer123 allegedly revealed a secret of the hotel for which they work. The video begins by showing off the hotel's small array of cereal dispensers. There's one for Frosted Flakes, one for Raisin Bran, and one for Fruit Loops. However, floating before the image is the text, "The hotel be lying to everyone." We are led into the back where the cereal bags are kept.
There we see that instead of Kellogg's brand labels, the hotel feeds everyone cereal made by Hospitality, a purveyor of non-name brand cereals that you can appreciate on the Dutch Valley Foods website. Instead of Fruit Loops, the hotel gives out Fruit Whirls. Sugar Frosted Flakes instead of Kelloggs Frosted Flakes. And Hospitality Raisin Bran instead of Kellogg's Raisin Bran, presumably because it's hard to market that very differently.
"That's actually scary if the ingredients are different and you have allergies," one person wrote in the comments section. Others expressed similar concerns about potentially dangerous allergens. However, The Daily Dot reassuringly claims that Hospitality does not appear to use products with surprise allergens. Much of the conversation devolved into some people stating that the cereals taste the same because it's just a branding issue while others asserted that there was a genuine difference. "Do they think people can't tell the difference?!" one asked. Another muttered, "They taste the same." A third take accepted the fact, perhaps jokingly: "No wonder it tastes better."
Some TikTok users suggested filing a lawsuit
The seemingly least shook among the commenters suggested that the hotel's alleged labeling of Fruit Whirls as Fruit Loops and so on could form the basis of a lawsuit. "You do know this can actually be a lawsuit," one wrote in response to the video. "False ad, defamation of known brands[.] Emotional stress[.] Ect no joke but funny." Another urged, "Sue em for false advertisement." After all, this is America. 
On a more serious note, accusations of misleading labeling have formed the basis of lawsuits before. In February 2021, Reuters covered a federal judge's decision that Whole Foods must face a lawsuit over its 365 Organic Honey Graham Crackers. The issue was that "Honey" and "Graham" presented the image of a healthier ingredient list than that actually used. "It is not implausible that consumers would understand the words on the box to say what they mean," Judge Woods wrote. Of course, we are not legal experts and can't speak to whether claims made about the TikTok post hold water ... or possibly milk for hotel cereal.