The Untold Truth Of Frosted Flakes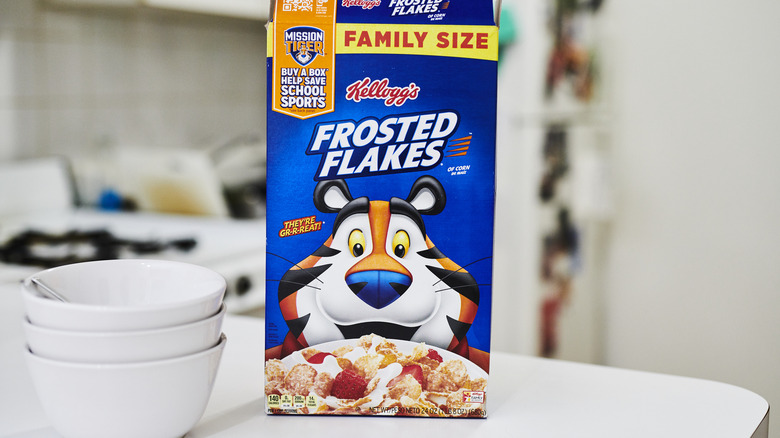 Bloomberg/Getty Images
Everyone knows Frosted Flakes. This long-standing staple on grocery store shelves has been a favorite for families for more than half a century. However, there's a lot more hiding behind those inconspicuous blue boxes than you might think (and, yeah, it's more than just some sugar-coated corn flakes). 
For example, did you know that there have been a number of different voices behind Tony the Tiger? His well-known "They're G-r-r-reat" hasn't always been the same (even though you might not be able to recall Tony ever sounding different). And were you aware that Kellogg's went so far in their character backstory for Tony as to give him an entire family and even an ethnicity? Not all of these historical tidbits are pleasant — Frosted Flakes have been at the center of some controversies, including lawsuits and social cries for changes to children's diets in the name of fighting obesity.
Here's everything you didn't know about Frosted Flakes.
Frosted Flakes were originally called Sugar Frosted Flakes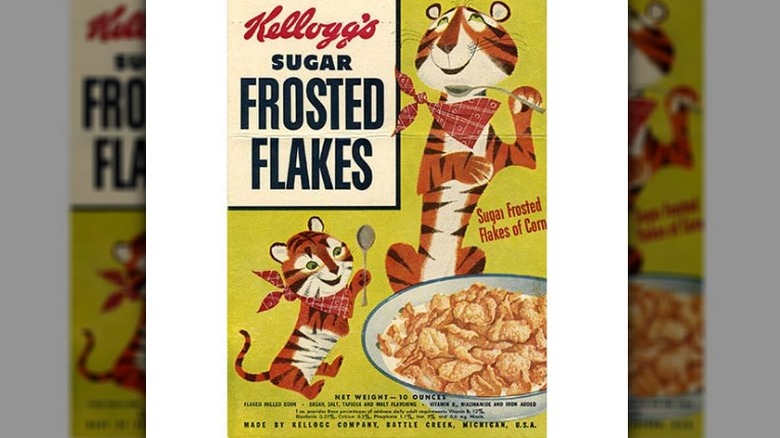 Kellogg's
Per the Kellogg's website, Frosted Flakes made their debut in 1952. Just a few years earlier, in 1950, Kellogg's had released Corn Pops, "the new breakfast cereal," and following Corn Pops' success was a new offering called Kellogg's Sugar Frosted Flakes. The lime green box sported a bowl of the new sugar-frosted corn flakes, along with two very happy-looking tigers, the adult Tony and a tiger cub, both sporting jaunty red bandanas and holding spoons at the ready. 
According to Insider, Kellogg's would keep the "Sugar Frosted Flakes" name until 1983, when the name was simply shortened to "Frosted Flakes." That, however, doesn't negate the fact that Frosted Flakes contain quite a lot of sugar — so much sugar, in fact, that the cereal was named one of Eat This, Not That's worst in terms of nutritional value. While Frosted Flakes are fat-free, they have 13 grams of sugar per cup, which accounts for 36% of the calories in each serving.
Frosted Flakes are pretty simple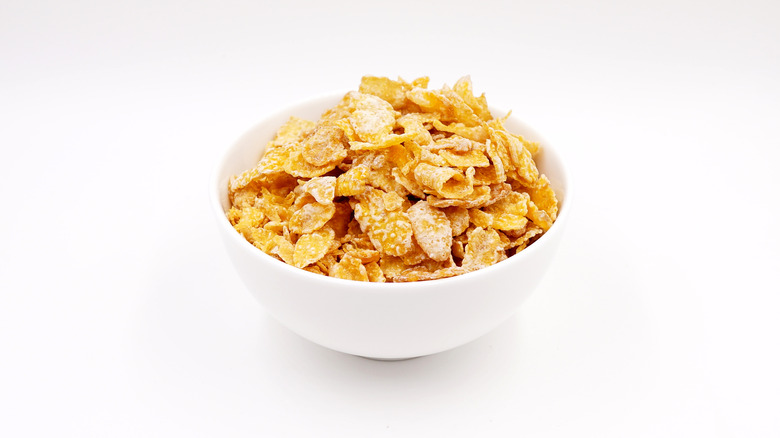 Yoyochow23/Shutterstock
Despite all that sugar, Frosted Flakes have always been pretty simple, and if you're looking to cut down on eating heavily-processed foods with a lot of unfamiliar, hard-to-pronounce ingredients, you'll be happy when you look at the Frosted Flakes ingredients list. The breakfast cereal only contains three primary ingredients: milled corn, sugar, and malt flavor. Complimenting that is a variety of vitamins and minerals, alongside a little bit of salt.
Even the manufacturing process for Frosted Flakes is simple. Frosted Flakes are, as you might've guessed, simply the frosted version of Kellogg's Corn Flakes, which, the brand reports, come together after harvested corn is cleaned, sifted, and rolled, before the resulting corn grits are turned into flakes (Kellogg's says that each kernel of harvested corn results in two to three individual Corn Flakes). The flakes are cooked, dried, and toasted, and that's it. You've got Corn Flakes. Add a little sugar frosting, and you've got Frosted Flakes.
Tony the Tiger has been around from the start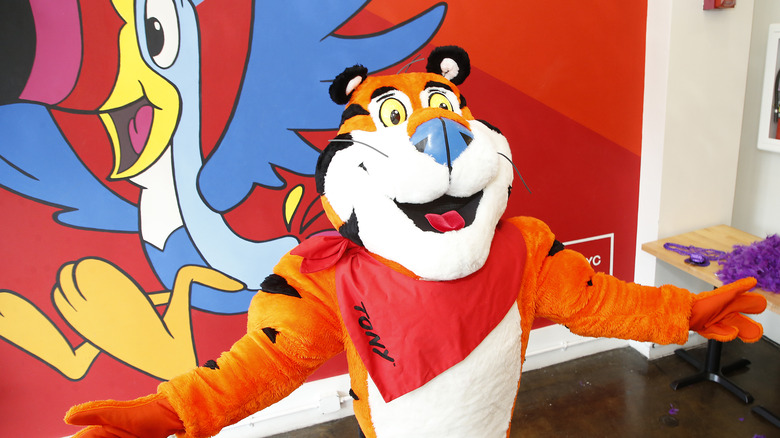 John Lamparski/Getty Images
Tony the Tiger has been a part of Kellogg's Frosted Flakes lore right from the beginning, but his role wasn't always guaranteed. In fact, the now-famous tiger was forced to compete in a cereal mascot contest before he ended up blessing those blue boxes. 
According to the brand, Kellogg's first 1952 boxes of Frosted Flakes were emblazoned with four different cereal mascots. Beyond Tony the Tiger, there was also Katy the Kangaroo, Elmo the Elephant, and Newt the Gnu. Reports showed that Tony the Tiger was the most beloved of the four, so he received the permanent gig as Frosted Flakes' mascot. In 1953, his popularity spread further, following an ad that featured Tony that ran in LIFE magazine. Now, he's recognizable all over the world, where he's known by various other "official" names, such as Tony Der Tiger in Germany, Tigre Tono in Mexico, and Tony Le Tigre in France.
Tony the Tiger has some famous siblings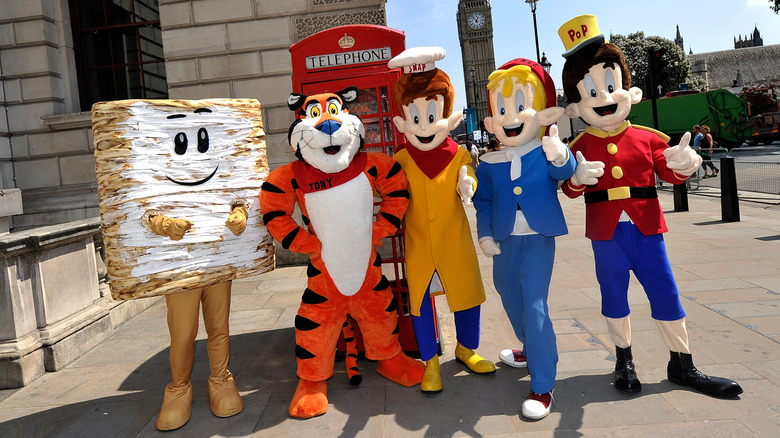 Getty Images/Getty Images
It really shouldn't come as a surprise that Tony the Tiger was an international success. The same advertising firm that invented Tony the Tiger, Leo Burnett, is also credited with an array of food mascots that we all know and love. As Food Non-Fiction tells it, Leo Burnett employees Eugene Kokley and Martin Provensen drew and created Tony alongside the other mascots that Kellogg presented to the public on their new cereal boxes.
So what else did Leo Burnett come up with? Leo Burnett, named after the firm's founder, created the Marlboro Man of Marlboro cigarettes, the Pillsbury Doughboy, Toucan Sam, and the Jolly Green Giant, among others. According to the One Club Hall of Fame, Burnett is also credited with creating the Keebler Elves, Charlie the Tuna, and Morris the Cat. The firm has come up with many slogans too, such as "You're in good hands" for Allstate and "Fly the Friendly Skies" for United Airlines.
Tony the Tiger has a fictional family, too
In the fictional world, Tony the Tiger has a few family members, though his relatives aren't quite as famous as him. According to The Daily Meal, in the early 1970s, Kellogg's ran a series of TV ads that showed Tony the Tiger's mother, named Mama Tony; his wife, Mrs. Tony; his son, Tony Jr; and his daughter, Antoinette. 
It's not clear if either Tony Jr. or Antoinette were the same baby tiger to appear alongside Tony on the original 1950s box of Frosted Flakes, but the two did enjoy their own little spot of fame for a while, with Antoinette appearing in future commercials and Tony Jr. appearing on his own cereal, Frosted Rice (which seems to be an earlier version of Kellogg's Frosted Krispies). Via the family-centric advertising, the public got the idea that the Tony the Tiger family was Italian, which came with its own new flood of attention, as Tony the Tiger found his way to the cover of GQ Italy.
You might recognize Tony's voice elsewhere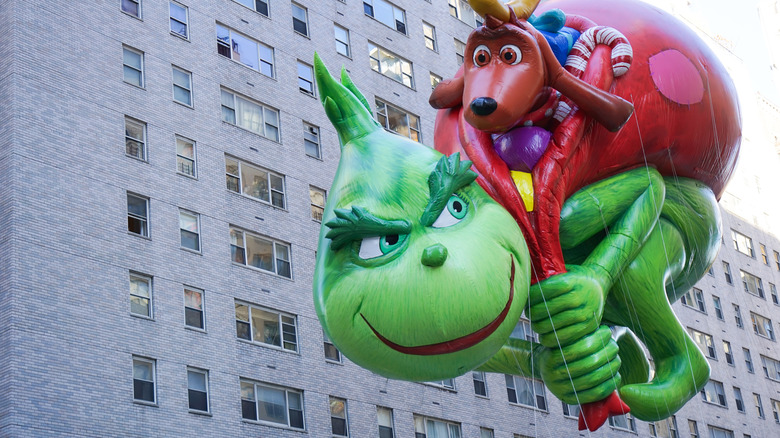 Inspired By Maps/Shutterstock
You could say that Tony the Tiger's voice is unmistakable and that you could spot it anywhere — but could you really? The most well-known voice of Tony the Tiger, Thurl Ravenscroft, pops up in quite a few other places that you might know. For example, Ravenscroft (who portrayed the voice of Tony the Tiger up until his death in 2005, Kellogg's notes) is also the voice behind the popular holiday song "You're a Mean One, Mr. Grinch." He also is credited with voiceover work in a range of popular children's animated movies, including "Pinocchio," "Cinderella," "Alice in Wonderland," "One Hundred and One Dalmatians," "The Sword in the Stone," "Mary Poppins," "The Aristocats," "The Many Adventures of Winnie the Pooh," "Aladdin," "A Goofy Movie," "The Hunchback of Notre Dame" and "The Brave Little Toaster."
While you probably thought of Tony the Tiger as being a part of your childhood, you probably didn't realize just how big of a part of your childhood Tony the Tiger (or rather, the voice behind Tony the Tiger) really was.
More than one actor has voiced Tony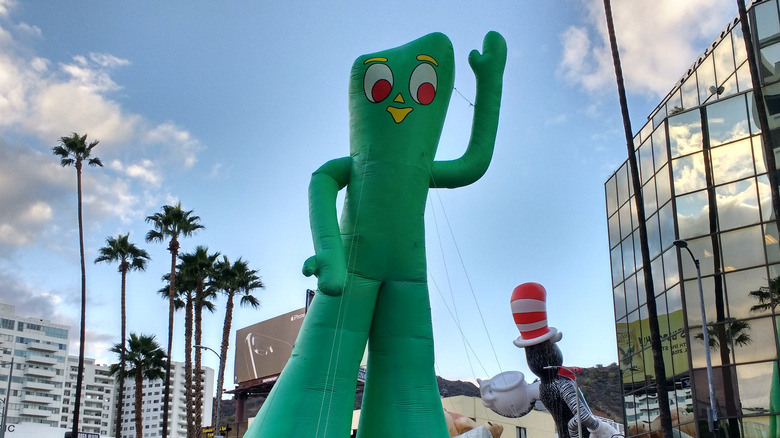 Alex Millauer/Shutterstock
Thurl Ravenscroft couldn't voice Tony, forever. Kellogg's says that Ravenscroft continued to voice Tony for long after his retirement from other acting roles and even dedicated time to training a replacement.  Ravenscroft passed in 2005, and at that point, the San Diego Reader reports, Lee Marshall took over. Marshall was most well known for his prior work as a WWE announcer. He took the reins for Ravenscroft until his own passing in 2014. Tom Clarke-Hill has also voiced Tony the Tiger (via Worcester News).
Although he defined the role, Ravenscroft wasn't the very first Tony the Tiger voice. Per The San Diego Reader, that credit belongs to Dallas "Dal" McKennon, who has a list of voice credits nearly as impressive as Ravenscroft's. You may recognize McKennon in such children's classics as "Lady and the Tramp," "Pinocchio," and "Bedknobs and Broomsticks," and as the voice of Gumby. McKennon was only the voice of Tony the Tiger for a short time, though, before Ravenscroft took over.
Frosted Flakes went to the moon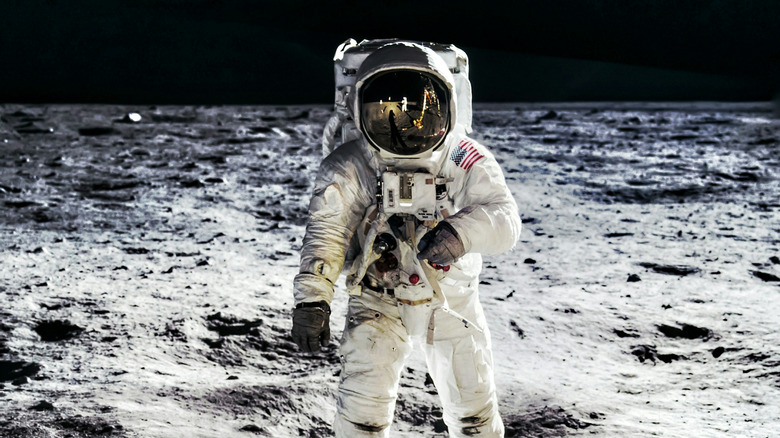 Digital Images Studio/Shutterstock
Few brands can say they've sent their product to the moon, but Kellogg's is among them. In 1969, Kellogg's sent Frosted Flakes and "fruit-flavored Corn Flakes cereal cubes" (developed by Whirlpool, oddly enough) to the moon on the Apollo 11 mission to feed astronauts Neil Armstrong, Buzz Aldrin, and Michael Collins. They sent supposedly enough cereal to last the entire 11-day mission. Of course, Kellogg's used this as a marketing opportunity and included themed stickers in its cereal boxes as children's prizes as part of the lunar advertising campaign. The campaign encouraged kids to buy Frosted Flakes to claim one of 20 unique "man-in-space patches" which depicted the NASA Mercury, Gemini, and Apollo space missions.
Kellogg's also co-sponsored the television broadcast of the moon landing and rolled out another lunar-themed advertising campaign across its entire product line around the same time, with space-themed packaging and the introduction of the Apple Jacks "Crater Creatures."
Kellogg's has sued over Tony the Tiger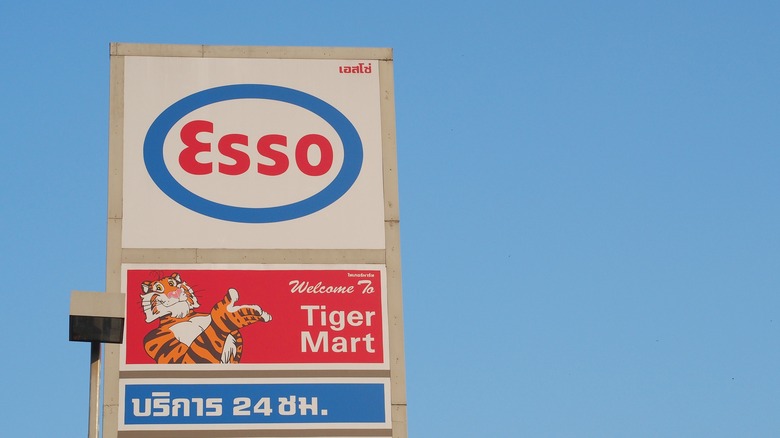 MrNovel/Shutterstock
Though Tony seems like a jovial tiger, not all is happy in the world of cereal mascots. Kellogg's has actually involved itself in lawsuits surrounding Tony the Tiger. 
Notably, in the 1990s, Kellogg's filed a trademark lawsuit against Exxon Mobil Corp. when Exxon (Esso in other parts of the world) ran a "put a tiger in your tank" ad campaign (via ABC). Some, including Exxon, argued that Kellogg's waited a little too long to speak up regarding that particular campaign, which had existed for more than 30 years before Kellogg's filed its lawsuit, but the Supreme Court allowed the lawsuit to move ahead and go to trial. According to The Baltimore Sun, Kellogg's noted that they didn't care if Exxon used its own tiger mascot to promote gas and fuel, but once Exxon gas stations began selling food and beverages, the brand decided it was time to pick a fight. The case went on for multiple years until it was finally settled between the two parties out of court (via Zelle).
Tony the Tiger: furry friend?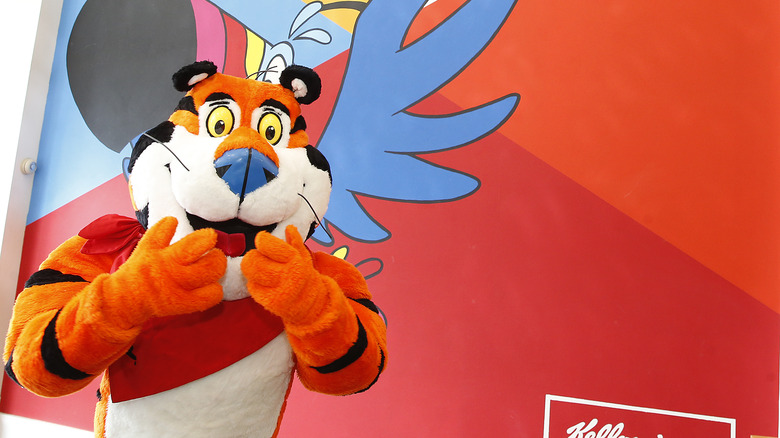 John Lamparski/Getty Images
Although the lawsuit ended, Tony the Tiger's woes didn't stop there. More recently, in 2016, the mascot received some somewhat unfortunate attention from the internet's furry community (which, for the uninitiated, is defined as a community "with an interest in anthropomorphized animals — that is, animals who have been given human characteristics, like an ability to talk or walk on their hind legs" according to Vox). 
When it came to Tony the Tiger that "interest" drifted over into carnal territory, with members of the community posting steamy fan art of Tony across the internet, prompting Kellogg's to block furry community members on social media, even those who'd never interacted with the Tony the Tiger social media pages (via The Guardian). That didn't go over well with the community, so there was quite a bit of outcry. Some even decided to oust Tony as their favorite furry food mascot, switching over to Chester Cheetah instead.
One Frosted Flake sold for more than $1k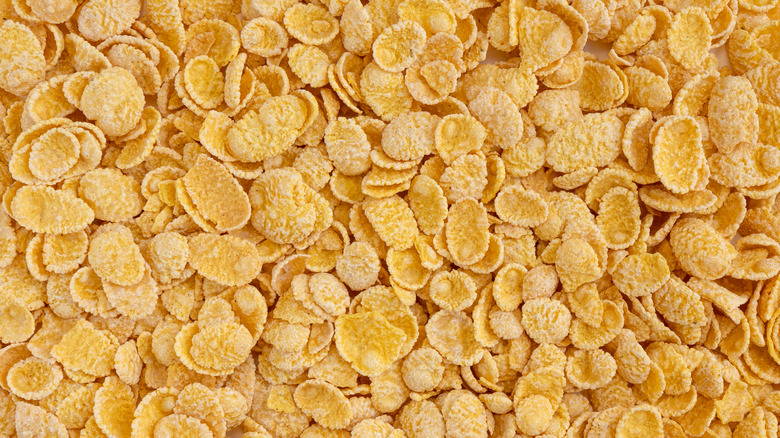 PhotoPaper/Shutterstock
Want to make a quick thousand bucks? Maybe you could try rifling through that box of Frosted Flakes in the pantry. You might just get lucky — like two Virginia sisters did when they found a flake that looked like the state of Illinois and then sold it for a whopping $1,350 on eBay. Sisters Melissa and Emily McIntire found the flake in a box of Frosted Flakes in 2008, while the latter was chowing down on breakfast on her way to school (via Daily Illini). The flake is nearly two by two inches and has been dubbed "The Great Illinois Corn Flake."
So who would pay over a thousand dollars for a cornflake? The owner of Triviamania.com, that's who. Curator John Wolf flew all the way from Texas to Virginia to collect his new purchase before taking it to a Ripley's Believe It or Not Museum as part of a traveling exhibit that also included items like Marilyn Monroe's planner.
Frosted Flakes are more than just cereal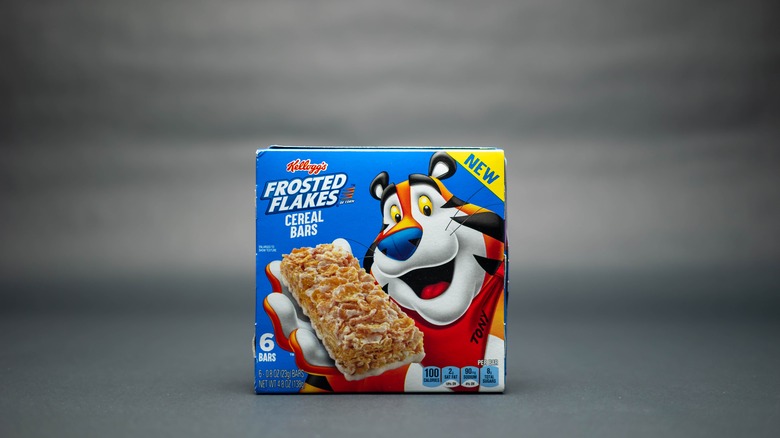 John Mantell/Shutterstock
The Frosted Flakes line includes way more than just cereal now. Kellogg's Frosted Flakes products include not just the original Frosted Flakes, but also Chocolate Frosted Flakes, Honey Nut Frosted Flakes, Frosted Flakes with Marshmallows, Frosted Flakes with Cinnamon Basketballs (thanks to a partnership with Shaq), and a Frosted Flakes and Froot Loops mashup. 
Beyond the cereal, there are also cereal bars and one unique offering called Tiger Paws. What exactly is a Tiger Paw? It's basically a crunchy, sweet, puffed snack item (shaped like a tiger paw, of course) that's a little more snack-able than a handful of Frosted Flakes. Still, much like Frosted Flakes, these Tiger Paws are simple, only containing cornmeal, sugar, and wheat flour. They have 15 grams of sugar per serving, though, which isn't exactly ideal when the NHS recommends that children should not consume more than 19 grams of sugar per day if they're six years old or younger.
The Australian government revealed just how unhealthy Frosted Flakes are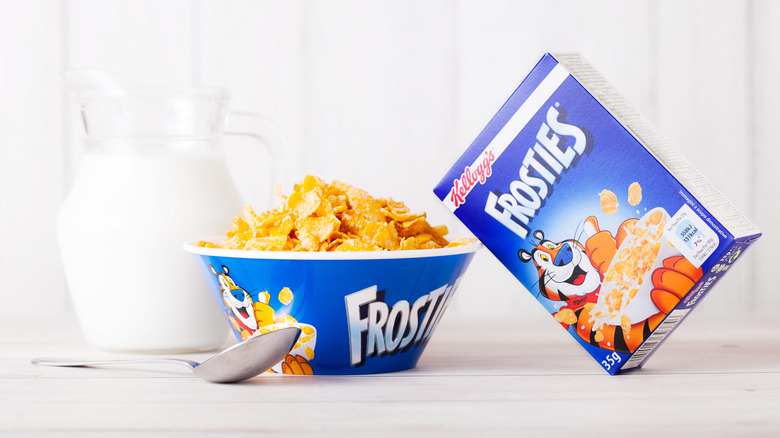 DenisMArt/Shutterstock
But, for years, Frosted Flakes have flown beneath the radar in terms of "unhealthy" foods. When you think of sugary, teeth-rotting breakfast cereals, you likely think of something brightly colored and filled with marshmallows, not something as simple and seemingly wholesome as Frosted Flakes. Yet, multiple governments and social organizations have come out against cereals like Frosted Flakes, noting that the brand is playing a not-insignificant role in childhood obesity.
In 2015, Kellogg's implemented the Australian federal government's health star ratings, which are used to rate products from 1 to 5, with the higher the star rating, the healthier the product (via The Sydney Morning Herald). Frosted Flakes — called Frosties in Australia — received a 2-star rating, which some interviewees found appalling. The executive manager of the Obesity Policy Coalition noted, "The stars don't look that good" and "we hope to see Kellogg's will reformulate the children's products, to give them a healthier profile."
Australia isn't alone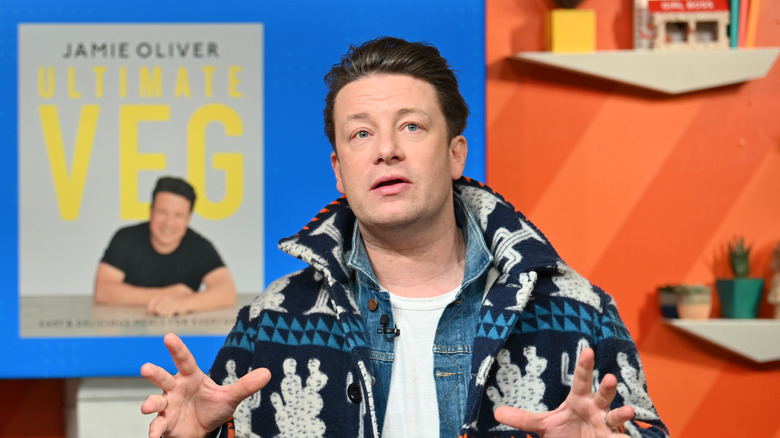 Slaven Vlasic/Getty Images
Australia was not alone in calling out Kellogg's sugary breakfast cereals. Some countries called for an outright ban on Tony the Tiger in an effort to reduce Frosted Flake's kid appeal. In 2018, a group of British members of parliament suggested that brands remove all cartoon characters from junk food marketing (via Yahoo News). Celebrity chef Jamie Oliver weighed in on the subject as well, saying that cartoons shouldn't be used to "peddle rubbish."
In 2020, Chile moved forward with its own cartoon marketing ban, coupling it with additional restrictions, including a ban on television ads for high-sugar foods between the hours of 6 a.m. and 10 p.m., as well as a ban on similar foods in schools (via Reasons to be Cheerful). Warning labels were also added to unhealthy items. The result was a decrease in the consumption of sugary drinks. Reportedly, Chilean children actively admonish their parents for buying sugary items, much like how children in the U.S. today might reprimand their parents for buying cigarettes.
Is Tony's emphasis on an active lifestyle enough?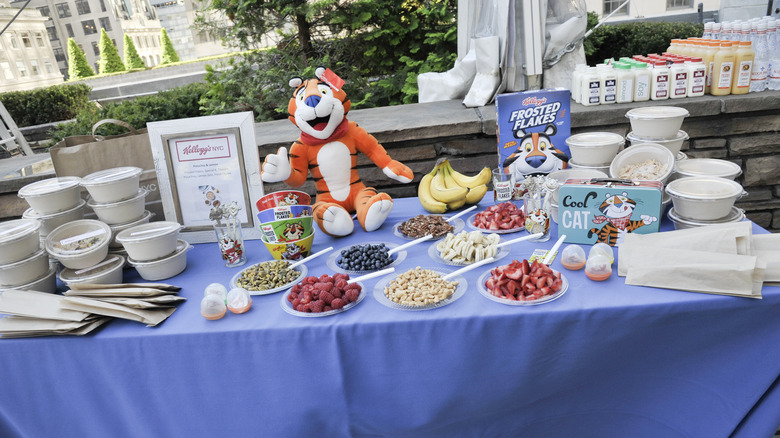 Kris Connor/Getty Images
Despite sugar being one-third of the ingredients list on the back of your Frosted Flakes box, it can at least be said that Tony the Tiger has always placed an emphasis on living an active lifestyle. Frosted Flakes commercials are often filled with children running, playing, and enjoying sports. Kellogg's Mission Tiger initiative donates funds to help schools continue offering organized sports opportunities for students — but that doesn't account for all the kids eating Frosted Flakes who don't really care about, or who are unable to participate in, school sports.
At the end of the day, it's unavoidable that Frosted Flakes are worse for you than you thought. While the cereal gives you at least a healthy helping of Vitamin D, you're still going to be getting 12 grams of added sugar, nearly 25% of your daily intake, and not much else. Low in fiber and fortified with added vitamins that you could just get from your daily multivitamin instead, Frosted Flakes are really only worth their sugar for the nostalgia factor alone.