Why Finger Foods Are Probably The Best Choice For Your Super Bowl Party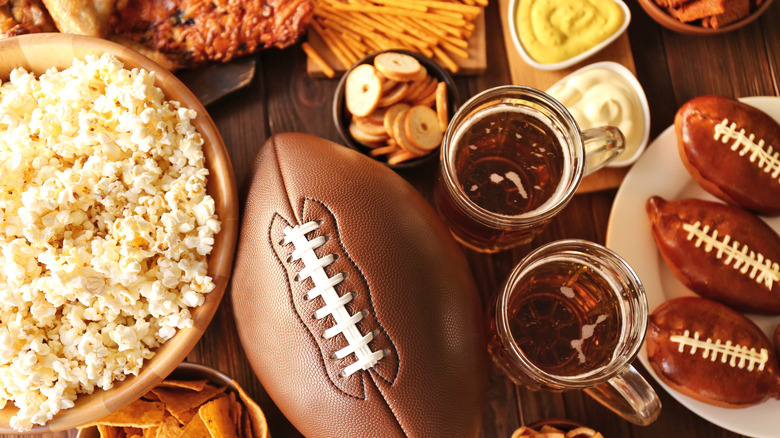 Africa Studio/Shutterstock
If Thanksgiving is the day we sit around a table with loved ones to feast on a multi-course meal, Super Bowl Sunday is the time friends — and possibly family — get to sit around a television set (the bigger, the better) to bond over football. And while Super Bowl Sunday may be the "second largest food 'Holiday'" in the country after Thanksgiving according to Premio Foods, there are several reasons why a formal, sit-down meal may not be what you want to serve up on Game Day.
As Food Network points out: sports fans will want to pay attention to what is unfolding on television, and as such, the most important piece of furniture you'll own during Super Bowl Sunday is your coffee table. Given this, whatever dishes you'll want to serve will most likely reside on the coffee table, be easy to reach, and accessible to those you are hosting — especially since all they'll want to do is watch the game and snack. As a host, you'll probably want to keep that coffee table well-supplied with snacks and finger foods, as well as a supply of small plates and napkins to make sure your furniture doesn't end up needing a bit of post-game day TLC. 
The focus of Super Bowl Sunday is not on a fancy dinner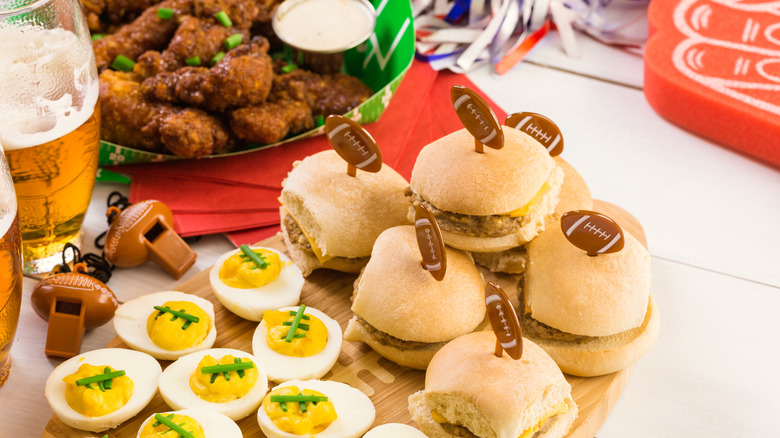 Arina P Habich/Shutterstock
If we haven't convinced you that finger foods should be the only thing on your menu on game day, and you're still hoping to buck tradition by thinking about serving something a bit fancier, it might be wise to look at what fans have come to expect for a Super Bowl Sunday meal. Premio Foods says pizza and chicken wings rank as the top two most popular Super Bowl snacks. While vegetable crudités are popular, 11.2 million pounds of potato chips, 8.2 million pounds of tortilla chips, and 4 million pounds of pretzels will be devoured across the country as Americans look for food items to consume with dip. In short, people will be looking to snack before, during, and after the big game. 
So forget the fancy casserole, the elaborate roast, as well as glam sides you might have wanted to serve to elevate your Super Bowl Sunday eating experience, and stick to the finger foods that we all secretly wish we could have more often but don't. Your tummy might not thank you (Premio says antacid sales rise by about 20 percent the day after the Super Bowl), but the friends who enjoyed their game day certainly will.