Pasta Alla Norma Recipe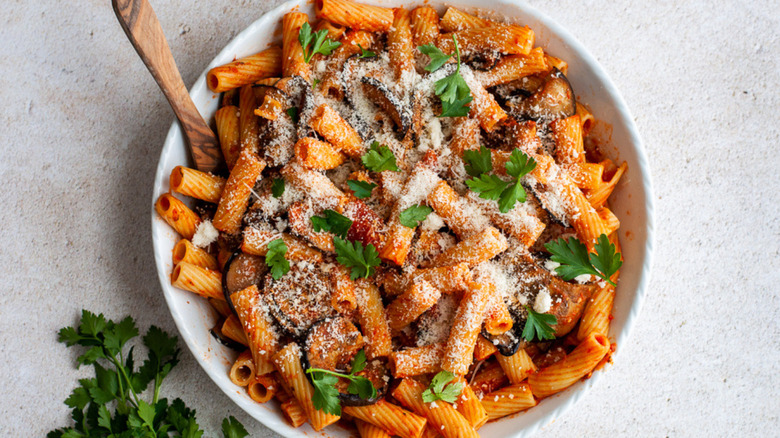 Christina Musgrave/Mashed
There are many ways to serve pasta, but if you're looking for something delicious, filling, and fun, we think that this pasta alla Norma is the perfect option. Recipe developer Christina Musgrave of Tasting With Tina knows a lot about pasta, and she is the perfect person to create this wonderful recipe. So what exactly makes up the dish? "Pasta alla Norma is a Sicilian pasta dish that contains red sauce, eggplant, and pasta," Musgrave shares. We think that this dish features the perfect amount of pasta to eggplant ratio and it's incredibly filling. 
This recipe is excellent for several reasons, including that it is full of eggplant and wonderful flavor. "I love this recipe for how simple but flavorful it is! Although there are few ingredients, there is a ton of flavor in this recipe," Mugrave shares. We love a recipe that is easy on the wallet but still rich and flavor like this one! Keep reading to find out how to make this dish.
Gather the ingredients to make pasta alla Norma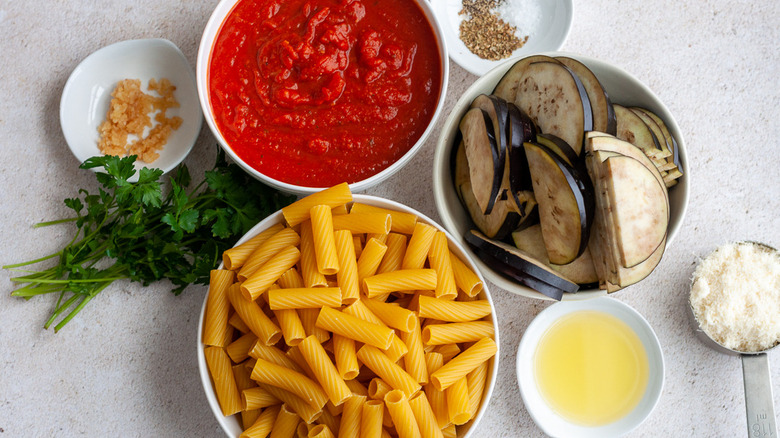 Christina Musgrave/Mashed
Alright, who is ready to get started? The first thing you will need is to gather all of the necessary ingredients, which means a trip to the store is in order. This recipe is pretty simple and requires just a handful of things. Start with olive oil and then swing by the produce section for eggplants and minced garlic. You will also need a few basic seasonings like salt, black pepper, and dried oregano. In addition, grab some marinara sauce and rigatoni. Last but not least, you will need to get fresh Italian parsley and grated Parmesan cheese.
Heat the olive oil and cook the eggplant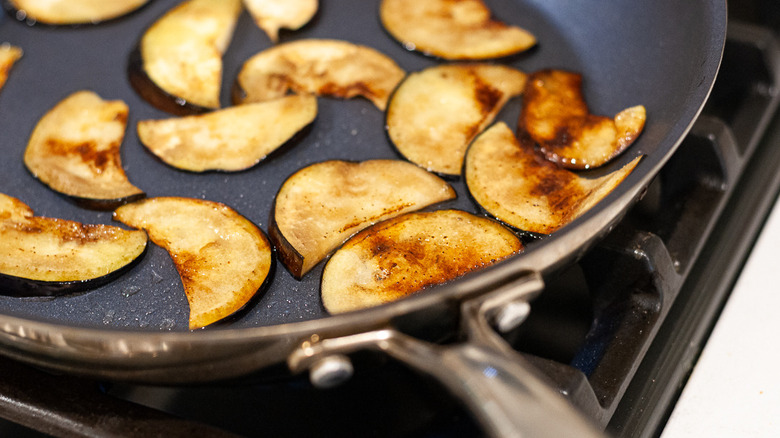 Christina Musgrave/Mashed
Now that you have the grocery shopping out of the way, it's time to start cooking. Start by taking out a nonstick skillet and placing it on your stove. Crank the heat up to medium and begin to add the eggplant in batches. "Slice thinly so the eggplant so can get crispy when you pan sear it," Musgraves suggests. "Make sure you don't overcrowd the pan and work in batches as needed." Be sure to brown the eggplant on each side. Once all of the eggplant has browned, remove them from the pan and set them to the side. You will need them shortly.
Add the spices to pan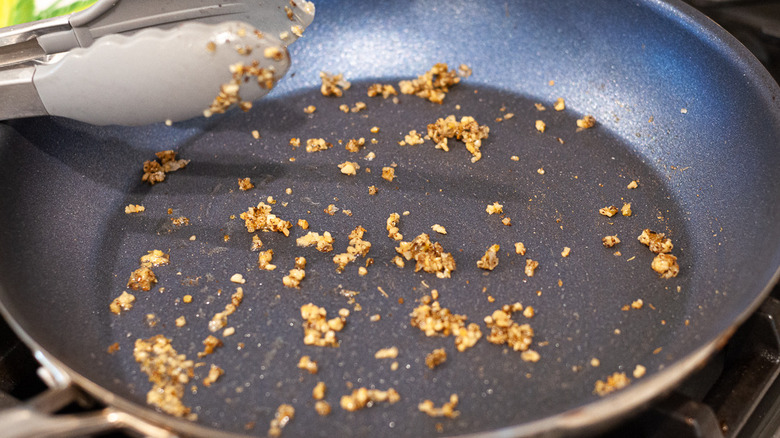 Christina Musgrave/Mashed
Once you remove the eggplant from the skillet, you can start to add your spices. Start with two cloves of garlic. As a reminder, you should have minced these ahead of time. Then toss in ½ teaspoon of salt and black pepper. At this time, you can also throw in dried oregano. Sauté the garlic and spices on medium-low heat until fragrant. Trust us, your kitchen will start to smell amazing. While you let your spices do their thing, take out a large pot and bring the water to a boil. Add a little bit of salt for flavor.
Cook the pasta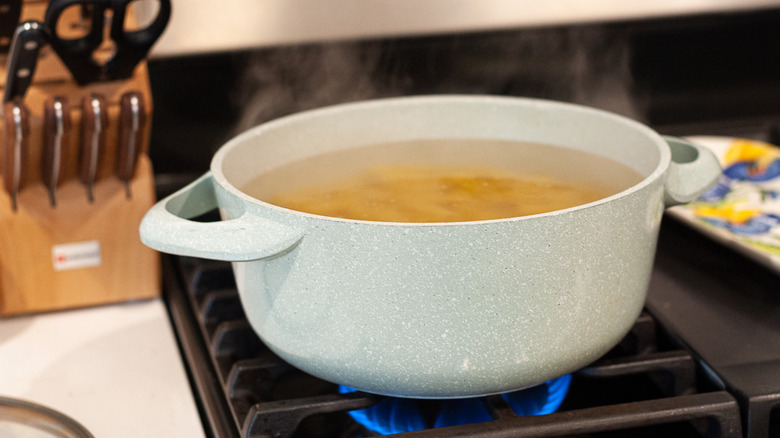 Christina Musgrave/Mashed
Now, it's time to get back in gear with the pasta. When you see bubbles reach the surface of the pot of water, that means it's time to throw in the pasta. Cook for about eight to 10 minutes, until al dente. "I use a large metal slotted spoon to check 1-2 pieces at a time for doneness," Musgrave shares. 
Then, add 4 cups of marinara to the pan and let it simmer until the pasta is done cooking. Drain the pasta directly to the sauce and then add the eggplant using a strainer. Stir well to combine everything together.
Top with parsley and Parmesan
Christina Musgrave/Mashed
Only one more step and you can finally enjoy this pasta! Simply add ½ cup fresh Italian parsley and ½ grated Parmesan cheese. Voila, that's all you need to do! This dish is plenty filling on its own, but Musgrave recommends a few additions. "This is delicious with some breaded Italian chicken and a side salad," Musgrave shares. 
Anything left? Don't throw it out! "Leftovers will be good for 5 days in an airtight container," Musgrave explains. Cheers to another amazing pasta dish that doesn't skimp out on the flavor! 
Pasta Alla Norma Recipe
This pasta alla Norma comes together in a breeze and is loaded with deliciously savory ingredients.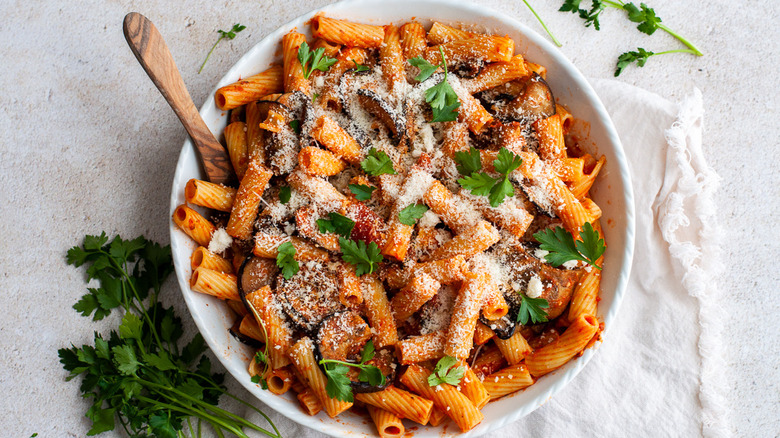 Ingredients
2 tablespoons olive oil
2 eggplants, sliced into rounds
2 cloves garlic, minced
½ teaspoon salt
½ teaspoon black pepper
½ teaspoon dried oregano
4 cups marinara sauce
1 pound rigatoni pasta
½ cup chopped fresh Italian parsley
½ cup grated Parmesan cheese
Directions
Heat 2 tablespoons of olive oil in a nonstick skillet over medium heat. Add the eggplant rounds in batches, browning each side. When all eggplant is browned, remove from the pan.
Add 2 minced garlic cloves, ½ teaspoon of salt, ½ teaspoon of black pepper, and ½ teaspoon of dried oregano to the pan. Sauté for 3 minutes on medium-low heat, until fragrant.
Meanwhile, bring a large pot of salted water to a boil.
Cook the pasta for 8 to 10 minutes, until al dente. Add 4 cups of marinara to the pan and simmer until the pasta is done cooking. When the pasta is ready, use a strainer to transfer it directly to the sauce. Add the eggplant and stir well.
Top the dish with ½ cup fresh Italian parsley and ½ cup grated Parmesan cheese, and serve.
Nutrition
| | |
| --- | --- |
| Calories per Serving | 505 |
| Total Fat | 11.8 g |
| Saturated Fat | 3.2 g |
| Trans Fat | 0.0 g |
| Cholesterol | 11.9 mg |
| | |
| --- | --- |
| Total Carbohydrates | 81.7 g |
| Dietary Fiber | 11.3 g |
| Total Sugars | 18.3 g |
| Sodium | 1,063.9 mg |
| Protein | 18.8 g |