34% Believe This Is The Best Item On Costco's Food Court Menu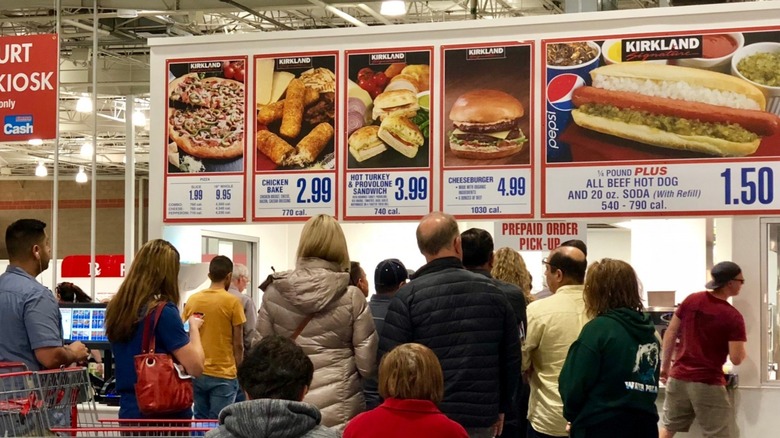 Cassiohabib/Shutterstock
Many of us probably know at least one Costco member that can't stop raving about the big-box retailer. As some of its 111.6 million or so cardholders explained to Business Insider, there's a lot they love about the wholesaler, like its laid-back atmosphere, generous return policy, and, of course, the low pricing on bulk-sized items – which for one member, is its greatest appeal. "There are not many instances in one's adult life in which you can drop $150 to $300 in a shopping trip and feel like you got a great deal on a wide variety of items," the shopper explained.
Another big upside to shopping at Costco, according to those members? Getting to visit its food court, where the chain's fan-appreciated pricing continues to be on display. The in-house eatery is home to food that one devotee calls "the best" in a love letter to the company that was published on Medium. However, as evidenced by the comments on a recent Reddit thread, shoppers are a bit divided on which particular menu item makes for the best meal.
To try and get some sense of which dish is regarded as the yummiest pre or post-shopping treat, Mashed conducted a survey asking participants to name the best item on the Costco food court's menu. A total of 609 U.S.-based shoppers responded, and now that the results are in, it's evident which item is widely considered the star.
1 in 3 Costco shoppers are grabbing a slice from the chain's in-house eatery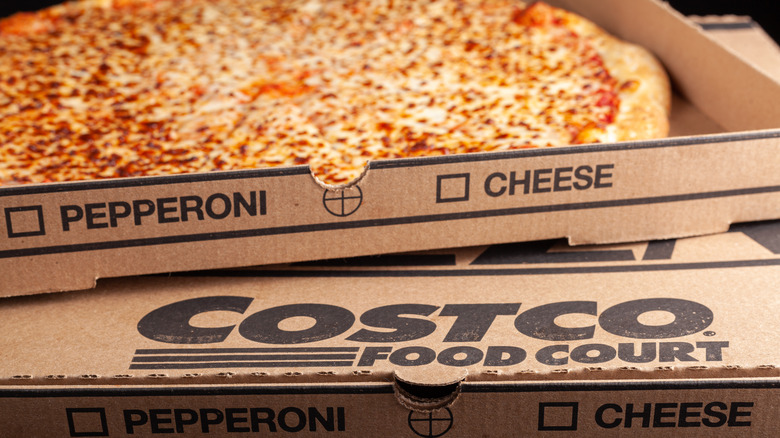 grandbrothers/Shutterstock
A couple of items on Mashed's survey did not crack 10% in terms of votes. One of these was the Hot Turkey & Provolone Sandwich. The handheld received the least amount of love with only 6.4% of the vote. This somewhat dovetails with a 2019 ranking by Delish, which placed the item near the bottom of its list and asserted that you'd be better off making the "basic" sammie at home. The Chicken Caesar Salad fared only slightly better with votes from 6.73% of participants, while Chicken Bakes and BBQ Beef Brisket Sandwiches fell in the middle of the pack with 11% and 14.29%, respectively.
The All Beef Hot Dog is one of Costco's claims to fame, especially since it's the main character in the food court's $1.50 hot dog and soda combo. But even with votes from 27.59% of survey respondents, the quarter-pound dogs were still second to Costco's pizza, which was named by 33.99% of poll participants as the chain's best food court menu item.
"Costco pizza is the bomb, and at $9.99 a pie, it's a steal," gushed one fan on Reddit, while Parade declared, "These cheap (yet satisfying) slices are a must for many Costco shoppers."  Of course, fans don't have to have just one item. Those who find themselves torn between the top two survey contenders can always try this (probably messy) food court menu hack to get the best of both worlds.