Costco Fans Are Losing It Over This Food-Court Hot Dog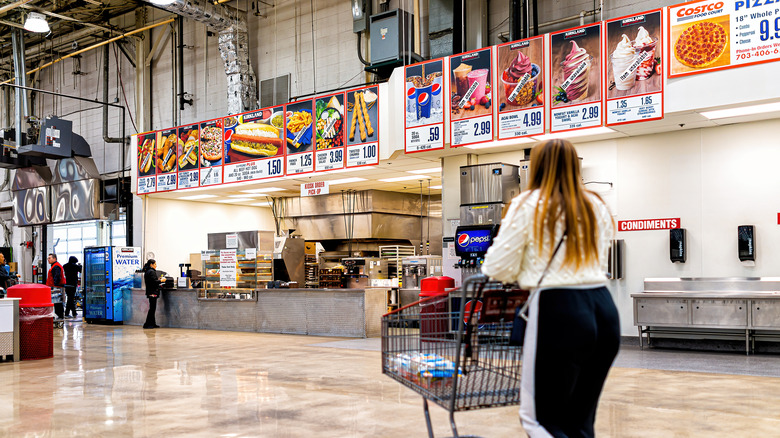 Shutterstock
Not afraid of greasy snacks? Then this story is for you. Redditors are once again proving their creativity in the realm of menu hacks — this time involving the budget-friendly bites at the Costco food-court. The trick involves a hot dog wiener, a slice of cheese pizza, and, most likely, a big pile of napkins and a post-meal nap. Some call it the Cheesy Blaster.
"Did I do it right?" Reddit user BMWer2016 shared with a photo of a hot dog wrapped in a slice of pizza, cheese-side out. It doesn't stop there: To complete the hack, according to Redditor kawasaki03, you also need to stuff the wrap with Jack cheese, which you can grab at Costco or have at home to assemble the snack later. One user compared the flavor of the Cheesy Blaster to a salami-topped pizza, while another said it was exactly what date night needs to get "a lot hotter." When you finish the treat, there's only one thing left to do, as Redditor Senior_Nebula_1308 pointed out: "Make something with the leftover hot dog bun and pizza crust."
Other ways to hack Costco hot dogs and pizza
While Costco's food-court doesn't have a "secret menu" to discover, it does have plenty of hackable items and offerings that can be mixed and matched to your liking. Craving a hot dog with a little extra mess? DIY a Costco chili dog by ordering a dog and a bowl of chili, then doctoring it up with the cheese from the chili and the diced onion from the condiment station. Those with more careful hands could attempt a hot dog-stuffed chicken bake. Gently slice open the doughy roll, place the dog inside, and enjoy a gooey handheld mishmash of chicken, bacon, cheese, Caesar dressing, and pork product.
As for pizza hacks, you may already know that you can order beyond Costco's official menu of cheese, pepperoni, and combo; just ask for a veggie pizza or a pepperoni and sausage pie. Another hack lies in the pizza ordering process itself. The Kitchn recommends saving time by placing your order about 15 minutes before you'll be finished with your shopping. That way, it will be in your cart hot, fresh, and without a wait. And if your timing ends up wonky, don't worry: You can always be entertained by Costco's pizza-making robot, which dispenses the perfect ratio of sauce, cheese, and toppings onto each pie and can sometimes be spotted through the food-court window (via Mental Floss).