Whatever Happened To Steak And Ale?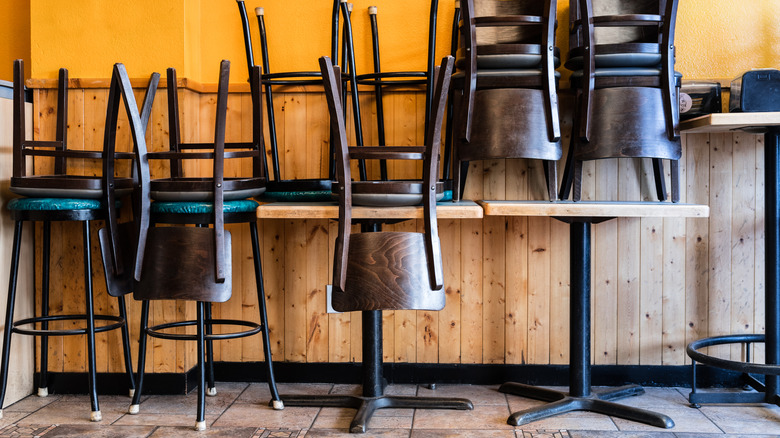 Jordan Feeg/Shutterstock
"Hi, my name is Jonathan, and I'll be your server tonight." With that one key phrase, per the LA Times, Norman E. Brinker created Steak and Ale, and consequently, the modern casual American restaurant. Although, his name might not be immediately recognizable if you haven't spent years in the industry. In the early 1950s, while participating in the Jack in the Box management training program, Brinker began his career in food service by clearing tables and flipping burgers, according to the LA Times article. After having ascended the corporate ladder, he and his wife moved to Dallas, where he tried his hand at opening a coffee shop, the eponymous Brinker's. That concept failed, but he was not one to quickly forsake his ambition.
Enter, Steak and Ale. Looking to create an informal eating environment where both quality and quantity could be achieved, at a time when steaks were considered to be haute cuisine, Brinker opened his first Steak and Ale in Dallas in 1966. Under his direction, Steak and Ale helped start and/or popularize many aspects that came to be — pardon the pun — standard fare at future casual family restaurants. These included all-you-can-eat salad bars, affordable prime ribs, cheaper lunchtime menus, free soft drink refills, and that trademark greeting. It was incredibly successful, and Brinker ultimately sold the 100-plus restaurant chain in 1976 to the Pillsbury Corporation, per Seattle Times. So, why don't we see them anymore?
A sister restaurant Bennigan's stole its thunder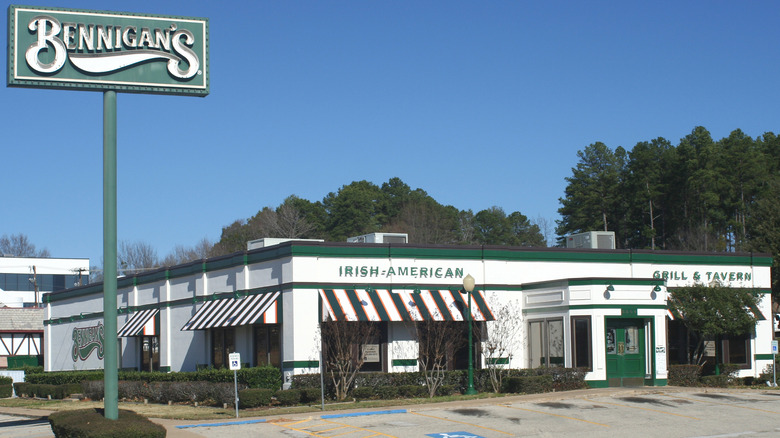 LMPark Photos/Shutterstock
In spite of a growing middle class in the '60s — and exploding appetites for quick-service hamburgers, sandwiches, and ribs — Steak and Ale didn't have much competition at first. However, in 1976, the same year founder Norman Brinker sold Steak and Ale to Pillsbury, he founded the casual bar and grill chain called Bennigan's. In the following decade, Bennigan's grew wildly successful with a dubious combination of 2-for-1 Happy Hours and delicious concoctions like the world famous fried Monte Cristo sandwich.
Under the Pillsbury Corporation, both brands were spun off into the S&A Restaurant Corp in 1982, and reached their peak of more than 200 outlets each in the mid 1980s-early 1990s (via Dallas Business Journal). However, it was in this same time period that many other similar chains began to develop, and to best compete with the expanding restaurant scene, Metromedia Restaurant Group bought Steak and Ale and Bennigan's in 1993, operating them alongside their Bonanza and Ponderosa steakhouse chains, says America JR. This was mostly in vain, as public perception towards the excessively unhealthy meals began to shift, menu items weren't seen as unique anymore, and TV cooking shows started gaining record viewership, according to Grub Street.
The final death was dealt in July 2008 when all Steak and Ale restaurants, along with non-franchised Bennigan's locations, closed without warning. The saving grace for the much-beloved Steak and Ale chain came in 2015, when Legendary Restaurant Brands, LLC bought the intellectual property, and started sending out feelers for an international relaunch (via Bennigan's). With the massive influence Norman E. Brinker has had on the family casual restaurant scene, the Legendary brand seems like the best choice to continue his legacy.