Exclusive Food Tour Of Universal's Mardi Gras-Themed Food Festival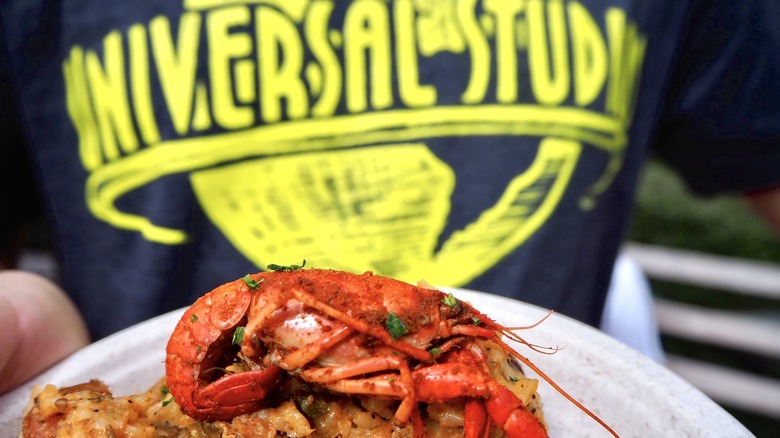 Carly Caramanna/Mashed
The beads are flowing, the aromatic smells of Cajun cuisine are in the air, and the foot-tapping rhythms of blues and jazz tunes are blasting ... it's Mardi Gras, baby! 
Of the many bucket lists trips that are out there, we would almost guarantee that a visit to the iconic Mardi Gras celebration in New Orleans is high up on the list. But, our bucket list looks a little different. Universal Orlando Florida in Central Florida has played host to their own version of Mardi Gras for over 25 years. The theme park is known for its well-respected annual events — including the long-running Halloween Horror Nights — but at Universal's Mardi Gras, there are no chills, just straight thrills.
The celebration encapsulates all five senses for a next-level Mardi Gras celebration that is a total blast and also happens to be family-friendly — don't worry there are still plenty of beads to be had. With concerts from globally recognized musical artists, a captivating parade with real deal New Orleans Mardi Gras floats, and so much more, there's a big reason that we make the pilgrimage down to Florida each and every year: the food. Cuisine has always played a major role in the event, but it has been amplified since its humble beginnings and developed into a cornerstone of the par-tay. And spoiler alert: there will be king cake.
Bring your appetite as we head to Universal Studios for an exclusive food tour of their Mardi Gras festival.
Mardi Gras takes place at Universal Studios Florida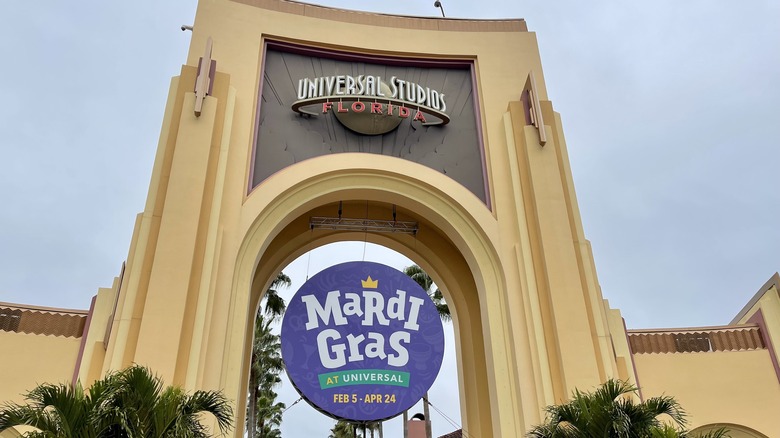 Carly Caramanna/Mashed
Universal Orlando Resort is home to two theme parks, a water park, an entertainment and dining district, and eight on-site resorts. The primary hub for Universal's Mardi Gras is Universal Studios Florida theme park. Taking place through April 24, the sights, sounds, and smells of the festival bring new life to the park as it embraces a next-level party atmosphere with street performances and music throughout the day. The crescendo of the festivities takes place in the evening with a dazzling parade, complete with a ton of impressive floats straight from NOLA and yes, beads, beads, and more beads. It's "louder, wilder, and spicier" than ever before.
Mardi Gras festivities are included with regular park admission. The Big Easy takes over the streets of the theme park with over a dozen elaborately decorated outdoor food kitchens where guests can snack on traditional Mardi Gras favorites as well as globally-inspired bites.
Select evenings see full production concerts from musical heavy-hitters with this year featuring Diana Ross, Gavin DeGraw, and more.
The festival has evolved over the years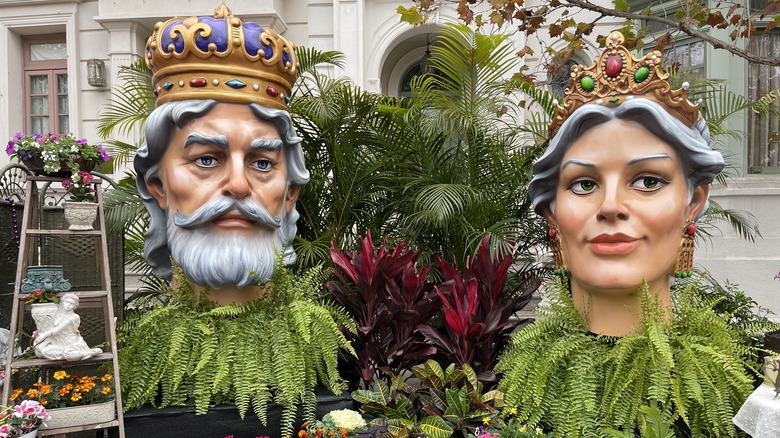 Carly Caramanna/Mashed
With each and every year, the festival has evolved to be bigger and better than the last. What started with just a few food kiosks featuring classic Cajun delights, like gumbo, has exploded into a bona fide food festival. Last year's International Flavors of Carnaval theme brought dozens of global bites that were reflective of flavors from communities all across the world. Progression was only natural as the offerings proved to be so popular with guests.
Executive chef of Universal Orlando's theme parks and City Walk, Jason Glus, shared with Mashed: "Last year, we did the Carnaval theme and that was where the chefs decided that you can only go so far with just New Orleans food. Let's embrace different flavors — go international —and see how it goes over. It was a big hit. This year, we partnered with marketing and creative to bring guests Planet Mardi Gras."
With this new theme, the only limits on menu creations are the imagination. 
This year's theme is Planet Mardi Gras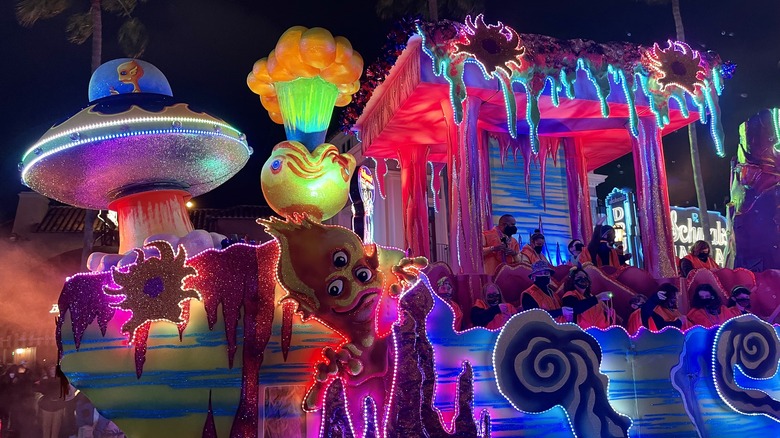 Carly Caramanna/Mashed
Universal Orlando's team pulled out all the stops this year with the wildly inventive theme of Planet Mardi Gras. The entire festival embraces cosmic-inspired elements, including rockets, Martians, while also being reflective of its New Orleans roots. This next level concept made it possible for the flavors of the globe to be reflected in the booths throughout the festival.
Blake Braswell, Senior Show Director, shared with Mashed: "Our theme this year is a little out of this world. This year's theme is Planet Mardi Gras. What we're doing is telling a story: Space the final frontier to party! Join us as we travel throughout the galaxy and into the distant stars to Planet Mardi Gras."
Different planets are incorporated in the festivities — from the floral planet to the volcano planet — each with their own unique theming and flavors of cuisine. The story of the planets culminates with the nightly parade, featuring both classic New Orleans Mardi Gras floats as well as futuristic inspired floats.
What's on the menu this year?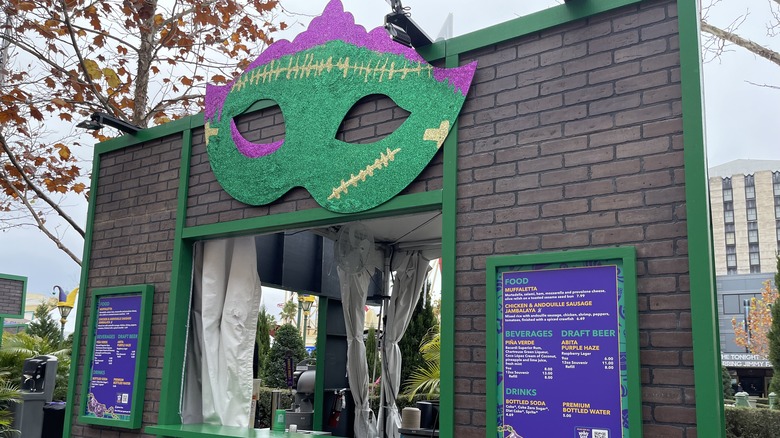 Carly Caramanna/Mashed
The food is reinvented year after year attracting annual returning guests. This year's Mardi Gras features several dozen items available at the booths throughout the park. There are also exclusive Mardi Gras items found at City Walk and at each of the property's resorts. Executive chef Jason Glus explains the vast opportunities to play around with new flavors this year thanks to the theme. "We're cruising around to different planets. We had some really great success last year with the international cuisine that we offered. We really wanted to keep that in play this year."
Floribbean: Cape Canaveral booth is an ode to the park's home state of Florida and embraces the regions unique flavors. Highlights include a shrimp and avocado ceviche with marinated radish and blood orange sorbet as well as a sweet corn johnny cake with pulled jerk jackfruit, blood orange crema, avocado, and yellow mole sauce.
Fusion: Machine Planet embraces more adventurous flavors with an ube ice cream bubble waffle with strawberry Pocky and cajun brown sugar-dusted beignets stuffed with creamy crab dip and scallions.
The vibrant flavors of Southeast Asia are explored at the Volcano Planet booth that's dishing out a rou jia mo with braised pork, Thai chili peppers, and mustard greens.
There's plenty of authentic Mardi Gras eats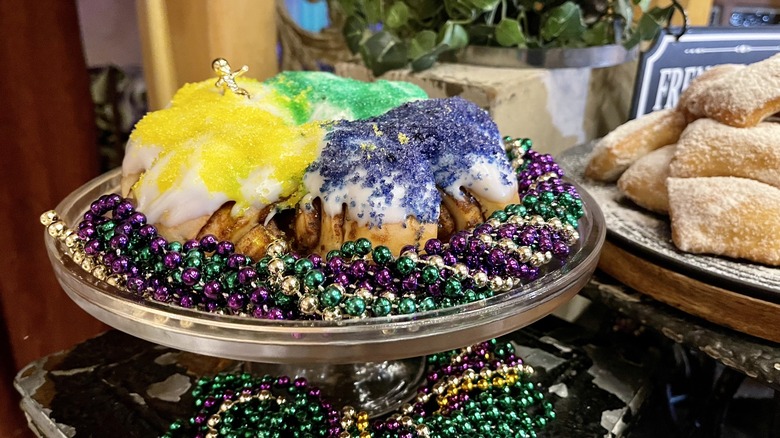 Carly Caramanna/Mashed
Of course, even with wildly inventive food offerings, the park continues to honor the foundations of the Mardi Gras celebration. New Orleans: Plant Mardi Gras is comprised of four food and beverage kiosks that honor the flavors of the Bayou. Highlights include a traditional king cake, perfectly fried beignets, shrimp gumbo with bacon and andouille sausage, and spiced crawfish topped chicken and andouille sausage jambalaya. Twisted Taters, a Universal Orlando original, are also incorporated into the festival with a spicy Cajun twist. All of this could be washed down with a rum-loaded Category 5 punch and a Pina Verde with rum, fresh mint, and cream of coconut.
Traditional boils return as a fan favorite with the option to choose from shrimp, andouille sausage, or a classic crawfish.
Universal Orlando's team didn't take the task lightly when it came to reflecting traditional flavors of Mardi Gras and bringing them to Central Florida. For Universal, it is all about learning and collaborating to recreate foods from the city famous for its cuisine. Executive Chef Glus shared: "We have a great research and development team to offer some great authentic flavors for guests to try."
We were impressed by both the portion sizes and prices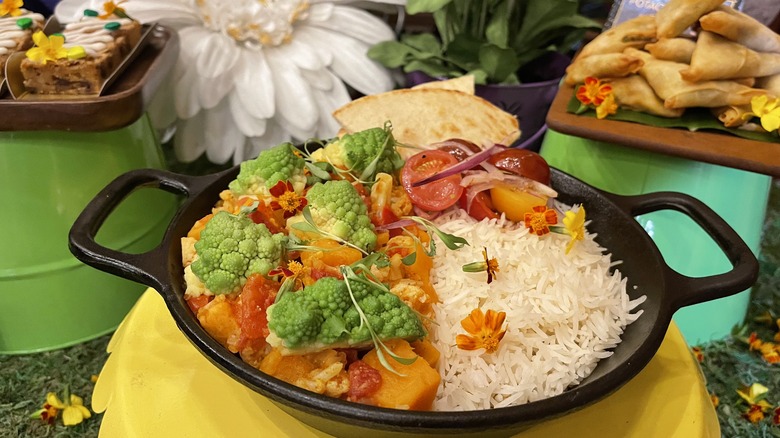 Carly Caramanna/Mashed
At Universal's Mardi Gras, sharing is caring. We were immediately taken aback by the portion sizes. Far too often when visiting festivals, the tastings are too bite-sized. Here, the portions were plentiful. We suggest sharing so that you are able to try at least a few different items, with most items priced under $10.
Executive Chef Glus explained: "We still want to keep it as a tasting but we want everyone to get their money's worth. Especially with the card we are offering this year we want people to keep coming back and trying a little more here and there. Even though we call it a tasting, some of the items you're definitely going to be able to share and we wrote the menu with that in mind."
A tasting card is available this year that offers a discounted rate and encourages guests to come back visit after visit throughout the duration of the festival.
The Muffuletta was a standout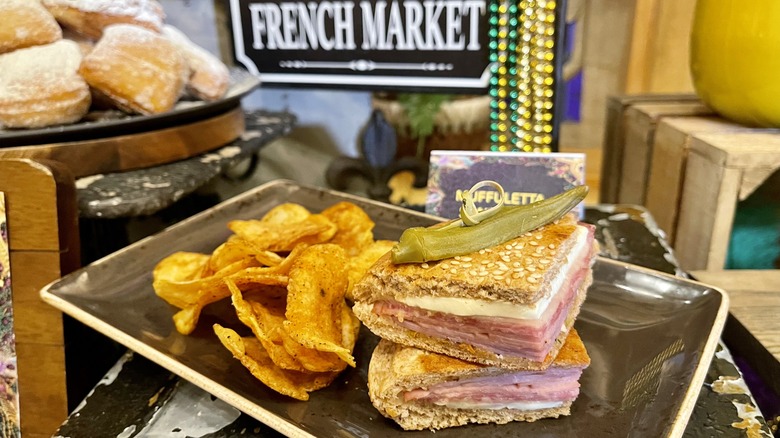 Carly Caramanna/Mashed
Of all the highly anticipated items, we were most excited to get our hands on the muffuletta. This traditional New Orleans sandwich is comprised of mortadella, salami, ham, mozzarella, provolone cheese, and olive relish loaded onto a toasted sesame seed bun. The sandwich that was invented in the early 20th century at the Central Grocery and Deli in the heart of New Orleans has been expertly recreated at Universal Orlando for the festival this year. The result is an explosion of flavor that was perfectly balanced and served on freshly baked sesame seed bread that nailed the crunchy exterior meets pillowy interior. Let the good times roll, indeed. Dare we say, it tasted just as good as the real deal.
Executive Chef Jason Glus shared the key to Universal Orlando recreating the now-iconic eat. "I worked in New Orleans for a few years and wanted to make sure we got it right. We bake the bread fresh every day in-house bakery. The same with the relish. We make that in-house as well as all the meats that we freshly slice. We try to get it as authentic as possible."
There's also plenty of interesting cocktails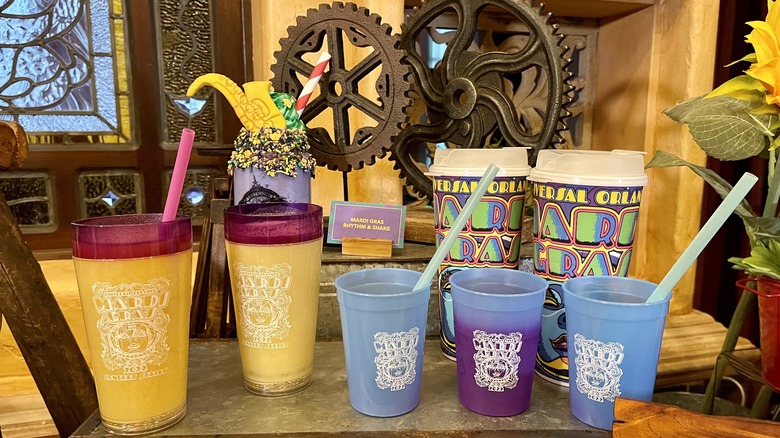 Carly Caramanna/Mashed
Of course, you need something to wash all this deliciousness down with — because the good times roll as the drinks flow. Each of the booths feature several options of beverages — from interesting craft brews, like Swamp Head Wild Night: Honey Cream Ale, to inspired wines. Mixed cocktails also play a role with favorites returning, including the Goombay Smash crafted with Cruzan Aged Dark Rum, Don Q Coco Rum, Grand Marnier, Coco López Cream of Coconut, pineapple, orange, and lime juice.
A favorite so far has been the new addition of a Bloody Mary Bar dedicated to the beloved beverage. This choose-your-own-adventures of sorts allows guests to customize the spice level of their Bloody Mary. Go wild with the addition of Louisiana hot sauce and Sriracha hot chili sauce. These drinks are basically meals as they are served topped with shrimp, bacon, a NOLA-style hush puppy, pickles, olives, peppers, and celery.
One of our favorite drinks was the playfully named Junk Barge Fuel that gave us a literal boozy jolt with Skrewball peanut butter whiskey, Kahlua, Monin Caramel, Mexican chocolate bitters, agave nectar, and iced coffee.
Souvenir cups are part of the festivities, including the annual blinking cup — which fans call the "blinky cup" — that illuminates your beverage plus comes with the added bonus of discounted refills.
So, what was our favorite?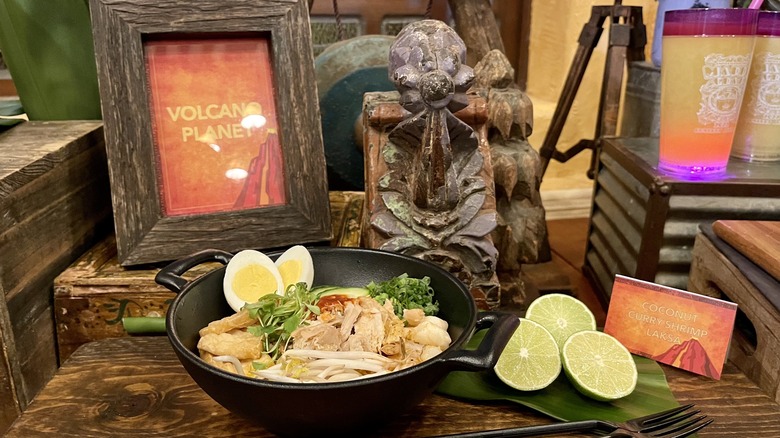 Carly Caramanna/Mashed
After sampling many dishes, we were surprised by how delicious each of the items were and the sheer depths of flavors and inspirations. Our early favorite, the muffuletta, was quickly joined by the pulled chicken Coxinha, a cone of crispy pulled chicken teardrop fritters, and a tender beef filled crispy rissole, a Brazilian-inspired specialty.
But, it was a soup that stole our hearts. From the Southeast Asia-inspired Volcano Planet booth, the Shrimp laksa was comprised of crunchy shrimp, flavorful tofu, tender chicken, hard-boiled eggs, thin Asian noodles and topped with a spicy coconut curry broth with a welcomed amount of heat.
Executive Chef Glus shares: "When we thought of Volcano Planet we committed to offering spicy foods. That one traditionally is loaded with meat. The sweet and sour broth brings just enough kick in there." Theme parks often hold back on the spice for fear of deterring guests and Glus commented, "We decided if we are going to do something that is traditionally supposed to be spicy, we are not going to back off on it. The jerk chicken last year is an example of that and we ended up receiving a lot of compliments on it."
There are more vegan options than ever before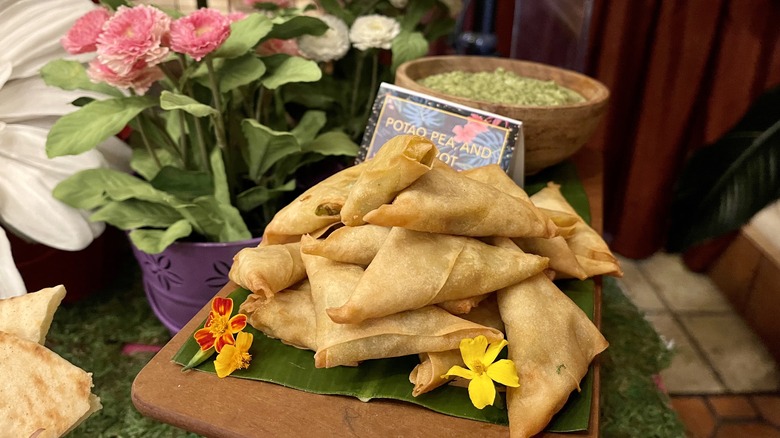 Carly Caramanna/Mashed
One of our favorite booths, the India-inspired Floral Planet, also proved to be a total surprise frontrunner for us. Just a few years ago, you would be lucky if there was but one vegan option in a theme park. In recent years, theme parks all across the United States are making a concise effort towards catering to guests with all types of dietary needs — and Universal Studios Orlando Florida is no different. Not only does this festival offer a variety of vegan options, but they don't take the easy way out by simply relying on fake meats to attract veggie eaters.
"We've been playing with a lot of chickpeas recipes," shared Executive chef Glus. "I, personally, am not a fan of the imitation meat. Not that there's anything wrong with it but there's so much being in Florida too that you can do with the vegetables. I'm trying to steer away from the imitation meat and challenge chefs to come up with colorful dishes. They've been taking me by surprise. When I started here there wasn't one vegan offering on the menu."
Vegans and meat-eaters alike will be seriously impressed by this year's offerings, including a chana masala with spiced chickpea curry and a chai-spiced vegan dessert with dark and white vegan chocolates. The potato, pea, and carrot samosas were outstanding and served as a "best of the fest" for us. It came with an incredibly flavorful green chutney that we found ourselves having to resist eating with a spoon.
The Tribute Store is home to many of the festival's sweet treats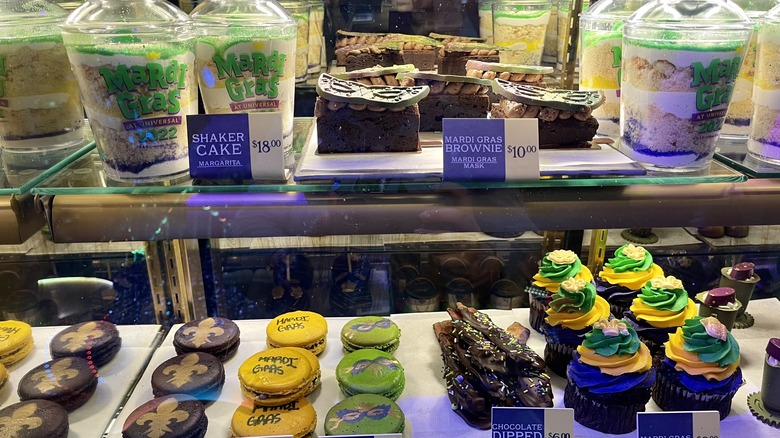 Carly Caramanna/Mashed
If you are not in the know when it comes to Universal Orlando, you are likely thinking: What is a tribute store? The Tribute Store is a merchandise shop meets experiential exhibit that is changed out seasonally and themed to whichever event Universal is holding at that time. These Tribute Stores are much like stepping onto a movie set with each of the distinctly themed rooms featuring vintage props, and a ton of Easter eggs that hardcore fans can't get enough of.
This year's theme is "Float Factory Warehouse" and offers a glimpse into the creative minds behind the festival with displays of float concept art pieces and plenty of throwbacks to Mardi Gras of yesteryear.
The highlight for us is the final room — an elaborately themed confectionary complete with a glowing cosmically themed Space Gator Mardi Gras float. Here, you can feast on beautifully decorated cookie dough balls, brownies, macarons, chocolate-dipped bacon, cupcakes, and our personal favorite — shaker cakes. Fitting the theme, these are literal cocktail shakes filled with cake, including unique flavors like a hurricane and chocolate caramel bourbon. Let them eat king (and shaker) cake this year Universal Orlando's Mardi Gras 2022.