Why Someone Once Paid $1,000 For A Bottle Of Ranch Dressing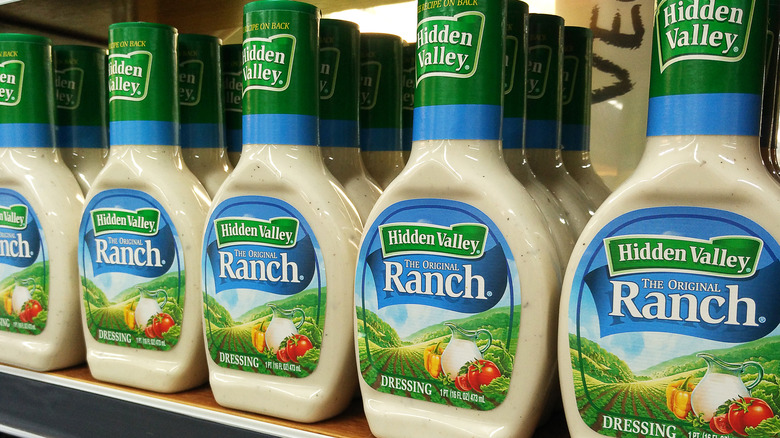 TY Lim/Shutterstock
If you're someone who enjoys a side of ranch with nearly all your food, you definitely don't want to visit this Dallas restaurant. According to ABC News, Cane Rosso, a well-liked pizza spot in Texas, has banned ranch dressing. In fact, for years, there was only one bottle of Hidden Valley Ranch in the entire establishment — and it was locked in a glass case on the wall behind a tongue-in-cheek $1,000 price tag. To take this joke even further, in 2014, the owner put up a sign on the door prohibiting folks from bringing in outside ranch to eat with their pizza (per Eater).
There are plenty of reasons why so many people eat pizza with ranch. Some might argue it's a palate cleanser, with the acidic and herbaceous condiment cutting through the greasiness of the melted cheese and pepperoni. Dairy products, such as the buttermilk-based ranch dressing, can also help neutralize spicy foods by dissolving capsaicin, the compound in hot foods that causes your tongue to burn. Others just like how ranch tastes.
But as it turns out, none of these factors were at play at Cane Rosso when the glass case of Hidden Valley Ranch was finally opened. So what motivated someone to finally take the plunge and buy the bottle of ranch dressing for $1,000?
The heartwarming reason the ranch dressing finally sold
Pizza patron Josh Tipton bought the $1,000 bottle of ranch dressing at Cane Rosso, not for his taste buds, but for a good cause.
In 2016, tragedy struck the Humane Society of Southeast Texas when a fire broke out killing 70 of the shelter's dogs (via ABC News). Cane Rosso was primed to help. The owner, Jay Jerrier, had founded his own dog rescue organization a few years prior, so the fellow dog lover sprang into action, hosting a fundraiser for the Humane Society.
While dining on pizza at the fundraiser, Tipton bought the bottle of ranch — as long as the restaurant agreed to donate the full price to the Humane Society. Thanks to Tipton and other community members, Cane Rosso was able to raise $20,000 for the animal shelter. "I've always kind of wanted to be the guy to buy the bottle of ranch, but since it was going to such a great cause it seemed like the right time to do it," Tipton told ABC News.
And this is not the only time the restaurant has broken its ranch rule for a good cause. In 2020, at the beginning of the COVID-19 pandemic, The Dallas Morning News reports that Hidden Valley "bought" two $1,000 bottles of its own ranch from Cane Rosso in exchange for the restaurant donating pizzas to folks experiencing food insecurity in the area.