3 Famous Chefs Met At A Bar And Instagram Is Loving It
Celebrity chef Michael Symon delighted his fans on Instagram recently by sharing a photo of him hanging out with fellow chefs, Bobby Flay and Jonathan Waxman at the latter's eatery, Barbuto in New York City. His caption was on point and it read, "Still one of my favorite places on earth ... with some of my favorite people!"
Die-hard fans will vouch for the fact that Symon and Flay have been good friends for years (via People). As for Jonathan Waxman, Symon once told The Food Network that the chef has been a great mentor to him for several years and is a dear friend. Symon recalled the time when he opened his first eatery, Lola, and asked Waxman for his opinion. The chef taught him an important lesson: Keep things simple. As Symon said, "Nothing should be on a dish unless it makes the dish better ... if you focus on the ingredients and the techniques, you're always going to end up with a better dish." 
The post started getting some attention, with commenters getting excited to see the three friends together.
The friends go back a long way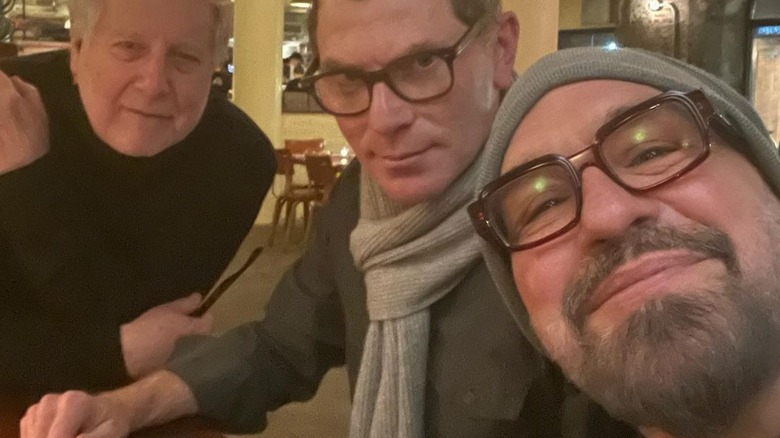 Eugene Gologursky/Getty Images
As reported by People, Michael Symon and Bobby Flay have been good friends for over 20 years: they achieved fame on the Food Network around the same time and built a solid friendship — something that they have managed to maintain all these years later. In fact, they met for the first time thanks to Jonathan Waxman and got to know each other properly sometime around 1998. 
Waxman also played an important role in Bobby Flay's early days in the industry and mentored him at several different eateries (via The New York Times). Proud of how far Flay had come, Waxman declared, "Listen, he can cook. Jazz musicians just get better and better as the years go by. I think chefs are the same way." Well, seeing Waxman, Flay, and Symon in one frame has definitely made a lot of people happy. As an Instagram user pointed out in a comment, "Oh the stories they could tell."
His followers were delighted by the update and left several comments on the post ranging from "Love this trio!" to "That's some crew right there. Three of the giants," and "What a handsome bunch." Even other chefs such as Alex Guarnaschelli ended up marveling at the post and wrote, "What a table," while Nyesha Arrington called the trio "the best."