Idaho's New Perfume Makes You Smell Like A French Fry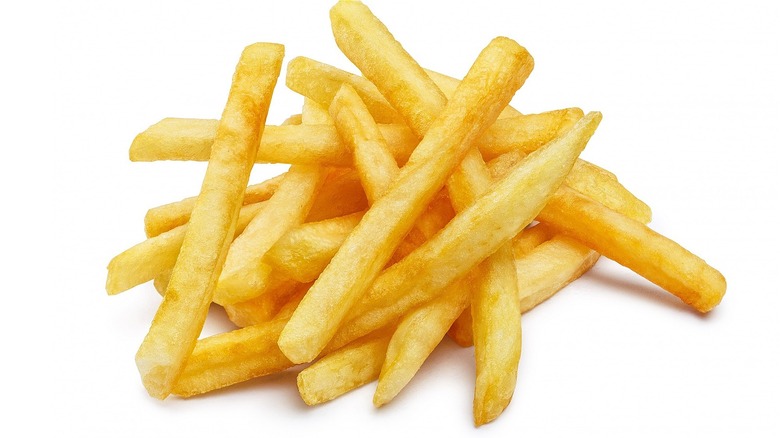 Yeti studio/Shutterstock
Does the normal scent of cologne and perfume bore you? Are you sick of smelling like balsam wood and roses? Have you ever wished you and your significant other could smell of salt and starches? Have no fear, for the state of Idaho has come up with just the answer to not only please your sense of smell, but get those taste buds tingling too.
Supplying one-third of our nation's potato crop, according to Idaho State Department of Agriculture, the Gem State is nationally recognized for its potato-centric culture. Every third Saturday in September, the folks in Shelley, Idaho celebrate Spud Day, where everything from a parade, pageants, and a kid-friendly fun-run known as the Tater Tot Trot occur under a bright blue western sky. In fact, the month of February is also Idaho Potato Lovers Month, a time to celebrate — what else? — the glorious, versatile tuber. In case you really wanted to show how much you love potatoes during the current Potato Lovers Month, Idaho is now offering a perfume that promises to leave you smelling just like a freshly-salted french fry.
Frites by Idaho perfume is made with distilled potatoes
"Love is in the Air ... And it Smells like French Fries." This surprising comparison is courtesy of the Idaho Potato Commission who, on February 7 of this year, announced that they were releasing a limited-edition perfume known as "Frites by Idaho." Made with "distilled Idaho potatoes and essential oils," Frites by Idaho comes in a 1.7-ounce bottle filled with a shimmering golden liquid, reminiscent of the golden crispy skin of a perfectly cooked french fry. 
So popular was the demand to smell like fresh-cut fries that IPC has already sold out of their bottles. No need to fear, however, as you can enter an Instagram contest to win a free bottle. If smelling like potatoes isn't your thing for some reason, Idaho Potato also offers a 36"-tall plush of an anthropometric potato known as the Spuddy Buddy. 
Make no mistake, for as potato-crazy as Idahoans are, they represent that slice of Americana that is found in every french fry with a burger, every hash brown with breakfast, and every potato chip we snack on. It's the work of those farmers and growers that truly makes the potato something to savor.