Reddit Might Have Gotten A Sneak Peek At An Upcoming Dunkin' Item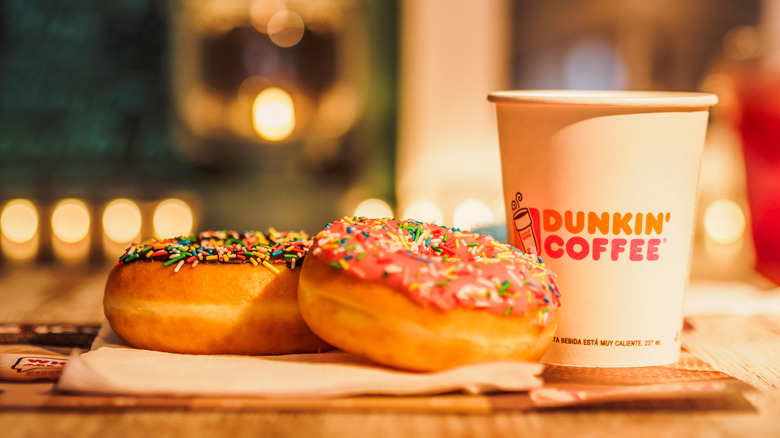 Pere Rubi/Shutterstock
If Dunkin' wants America to run on it or at least run to it, then it probably can't serve just one kind of donut or hot black coffee with nothing to add. As the saying goes, different strokes for different folks. So Dunkin' offers folks a spread of espressos, coffees, teas, frozen drinks, sandwiches, wraps, snacks, bagels, muffins, and donuts (via the Dunkin' website).
And the menu changes in different ways, too. With some locations adding their own regional favorites, Dunkin' offers dozens of donut varieties. Around certain holidays, you can even pick up a seasonal drink or dessert, like a heart-shaped donut for Valentine's Day. You might recall Dunkin's socking-stuffing-appropriate hot chocolate bombs from this past winter when the treat was trending on social media.
Given how easy it is to convey information online, it's really no wonder new menu items tend to get leaked. Last spring, an employee posted a preview of Dunkin's upcoming menu items for spring 2021 to Reddit. The promise of avocado toast and matcha lattes certainly got some people excited. Now, another apparent leak has Reddit talking again. 
Dunkin' might be adding chocolate croissants to the menu
Spoiler alert, but Dunkin' may very well be returning the chocolate-filled croissant to its menu. According to Brand Eats, the chain added Chocolate Croissants to the menu back in 2014, but they were only slated to stay for about a year. However, an employee recently posted a picture of a batch of the croissants to Reddit, saying, "Coming to your local Dunkin' 2/23."
One commenter, joshuaafterdark, compared the pastries to Starbucks' croissants, but not in a good way: "They couldn't have sourced a different chocolate croissant than the exact same one from Starbucks?" Others also questioned why Dunkin' couldn't have chosen a different filling. User After_Signature_6580 said, "I love croissants. I dislike the chocolate filling. Cherry pie filling? Yes please. Sweet cream cheese filling? Yes please." Others agreed that a fruit filling would've been more appealing.
However, a number of other comments were positive. User RowBoatCop36 – not to be confused with the similar-sounding dystopian cyborg played by Peter Weller – said, "OMG gimme." Others thought the croissants bore an adorable resemblance to sloths. The post was also a welcome sight for Lunarcthulhu, who missed the old croissants: "I was so upset when they stopped making them, I'm so excited now!"