Everything You Need To Know About Pret-A-Manger's Chai Tea Shortage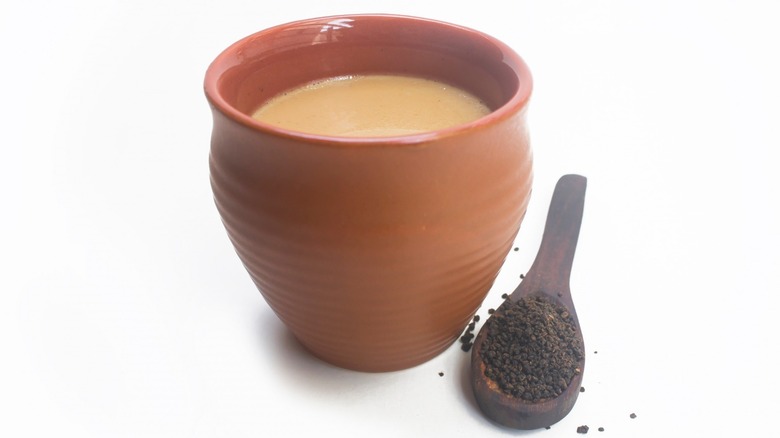 Shreyansh Saurabh/Shutterstock
Indian food fans won't be strangers to chai tea — the traditional, sweetened milk tea spiced with cloves, peppercorns, ground ginger, and cinnamon (via Taste of Home). But there is a world of difference between a homemade, from-scratch chai tea and one you might find at a cafe like Pret a Manger. However, if it's the latter you might be craving you might just be out of luck as there is a shortage of the beverage at the chain.
When one fan took to Twitter to ask when the drink might be making a comeback, the chain tweeted, "We unfortunately can't currently guarantee a timeframe for when our chai powder will be back in stock, but rest assured we're working hard behind the scenes to make sure it's asap. We appreciate your patience and understanding in the meantime!"
The shortage hasn't just affected the chai tea latte, it has affected the chain's turmeric latte as well. and a Pret spokesperson has already reached out to Insider to explain, "As with any food service business, occasionally unforeseen issues with our supply chain can impact the availability of specific drinks or menu items." They've also admitted, "Stock shortages are a rarity, though, and when they occur we do our best to get customers' favorite items back on the menu as soon as possible."
Pret customers vented their frustrations over the shortage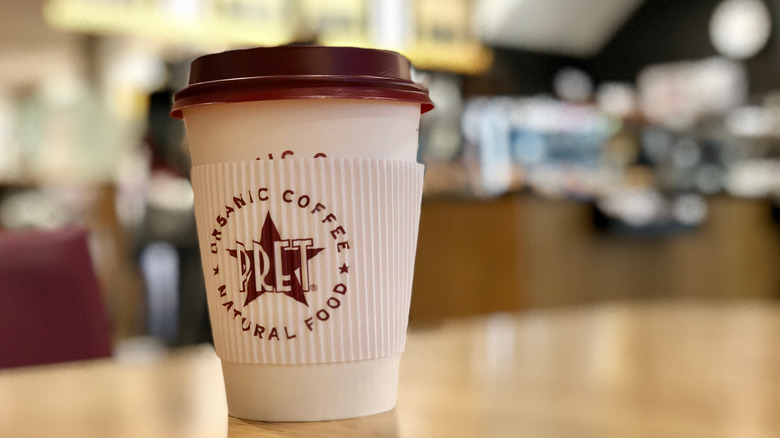 photocritical/Shutterstock
But could there be a more underhanded reason for the supply shortage? One irate Pret user seems to think so, saying: "@Pret hi, your cambridge store has had no ice for the last 2 weeks, no chai mix, and today the subscription and card payments weren't even working. why am I paying for this subscription when I can't even get my coffee?" (via Twitter).
The "subscription" this social media user refers to is a monthly deal worth about $27 (29 GBP), which offers customers up to five handcrafted drinks a day and was launched in 2020 at the height of the COVID-19 lockdowns. Since a fair number of offices have reopened since Pret first announced the special deal, the chain's staff has been "overwhelmed by the increased workload" (via BBC). The BBC even reported that Pret received 5,000 complaints about its "unlimited" offer by December 31, 2021, and that the chain had been contacted by the UK's Advertising Standards Authority about the ad. The regulator reportedly told the food chain that it should "consider reviewing the ads for their subscription service."
As one Pret customer grumbled: "Pret has "supplier issues" since @ least a year on chai, matcha latte, frappe, smoothies All EXPENSIVE items How come Pret NEVER EVER has supplier issues on the holy trinity of their businss (sic) Cow's milk, Coffee Beans Bread." 
Fast Food companies have been suffering through supply chain problems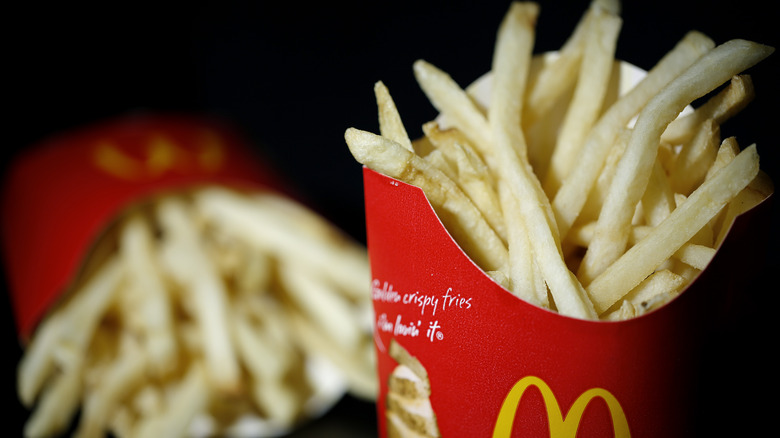 Bloomberg/Getty Images
This isn't the first time we've seen a chain run out of food items. McDonalds Japan could only sell small bags of french fries for more weeks at a stretch, thanks to a potato shortage. Medium and large fries only just returned to McDonald's at the beginning of February (via Japan Times). And last year, Starbucks had to put a "temporary hold" on several of its offers, because it ran out of several ingredients. Among those affected by the supply crunch included toffee nut syrup, green iced tea, and — coincidentally, we're sure — chai tea bags (via Insider). 
The shortage has left some rather irate chai tea fans taking to social media to vent. Some believe the drink has been sacrificed on the joint altars of speed and efficiency. One tweeted: "Pret staff have 90 seconds to serve a drink. If they take a few seconds longer, they risk not getting the weekly bonus as the weekly Mystery Shopper times them to the second. It's faster to just press the caffeine button & not think of decaf & other drinks like Chai latte etc."