The Real Reason McDonald's Japan Is Facing A Fry Shortage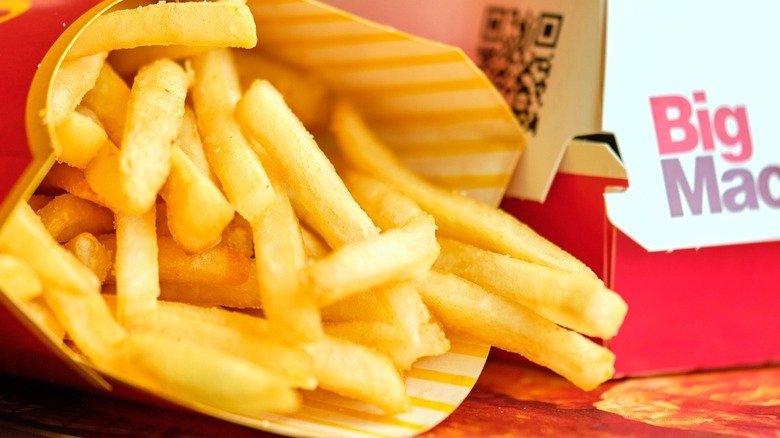 Kullapong Parcherat/Shutterstock
We don't think we're going out on a limb when we say supply challenges have become an experience many of us have had to undergo since the coronavirus pandemic kicked up in 2020. And while last year's shortages were mostly about dry goods like toilet paper and paper towels, per Forbes, this year's supply crunch had an impact on our food supplies, from sugar to cream cheese, to pork products, chicken tenders, candy, and even the chow our pets eat at every meal, as reported by USA Today. According to Bloomberg, crowded ports, labor shortages, and "rising demand" are a few of the reasons consumers haven't been able to find their favorite products on grocery store shelves. 
But if you think that the food shortages and the inflation we're experiencing now is unique to the United States, we'd like to invite you to think again, because countries around the globe haven't received everything they wanted this year. BBC News reports that a chip shortage has hit Japan — and the crunch doesn't involve any type of technology the country may be known for producing, because this particular supply tightening was actually triggered by the low-tech potato.
McDonalds Japan has seen a similar shortage before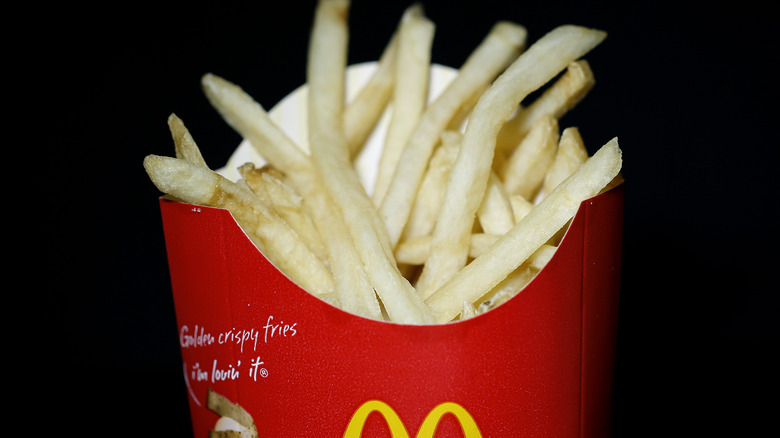 Bloomberg/Getty Images
McDonald's Japan is warning customers that it can only serve small bags of fries for a whole week beginning Christmas Eve, December 24, because of a problem triggered by something that took place halfway around the world. In a press release, the fast-food giant revealed that damage caused by flooding "near the Port of Vancouver, Canada," had compromised its potato supplies by triggering "import delays." As a result, the company told BBC News, "McDonald's Japan will temporarily limit sales of Medium- and Large-sized French Fries as a proactive measure to ensure customers can continue to enjoy McDonald's French Fries." It added, "Customers will still be able to order Small-sized French Fries at all of our restaurants. To date, there have been no breaks in supply."
A chip shortage will be seen as bad news in Japan, whose diners consume the most amount of U.S.-exported "frozen potato products" in Asia, per The Guardian. But it's not like they haven't had this problem before. A similar French fry crisis took place in 2014 when extended strikes at ports along the U.S. west coast kept American and Canadian fries from getting to Japanese diners.
But all is not lost. According to its press release, the company is preparing to airlift frozen fries in from their ports of origin, so hopefully, the need to downsize won't be a practice for too long.