Why Hellmann's 2022 Super Bowl Commercial Has People Talking About Kanye West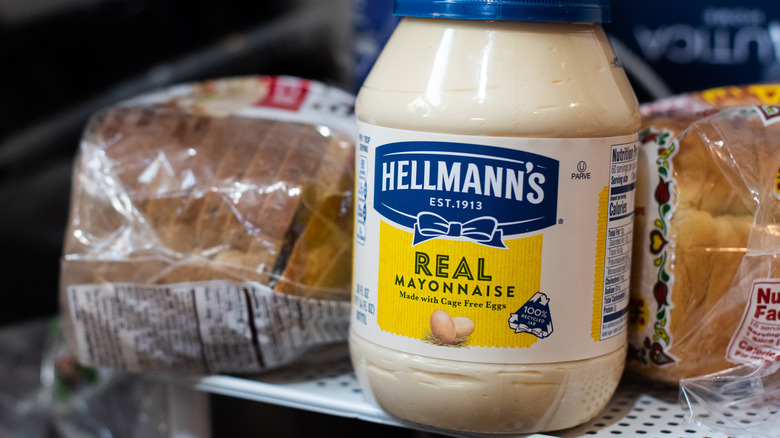 Bloomberg/Getty Images
Hellmann's 2022 Super Bowl commercial addresses food waste in an unexpected way. The 30-second clip takes viewers on an amusing ride as they watch former NFL player Jerod Mayo tackle people in different settings. Here's the thing: Mayo only shows up when someone is about to throw a food item in the trash and tackles them to prevent them from wasting any more food.
Jerod Mayo was happy to be a part of the cause and said in a statement (via PR Newswire), "Food waste in the U.S. is something we must tackle together. At home, my wife, Chantel, and I always try to use leftover ingredients in our pantry or fridge to reduce food waste, and we hope this spot encourages people to do the same." 
Hellmann's is serious about spreading awareness about food waste, too. The company's website informs readers that the company is "on a mission to help people be more resourceful so that they can enjoy food for the simple pleasure it is and waste less." However, Hellmann's Super Bowl ad appealed to viewers for more reasons than one. In addition to Mayo, it features another well-known celebrity whose appearance has prompted many folks to talk about rapper Kanye West.
Pete Davidson has fans amused
The Hellmann's Mayonnaise Super Bowl LVI commercial stars included an unexpected personality: comedian Pete Davidson. He bumps into Jerod Mayo when the athlete shows up to tackle Davidson's mom. Mayo doesn't follow through after he's told by the actor, "Whoa, Mom's already tackling food waste, Mayo." However, a determined Mayo ends up tackling Davidson anyway. He apologizes, but the comedian looks undeterred as he says, "I get it. I'm very hittable."
The comment seems like it could be a reference to Kanye West and The Game's song "Eazy," which features lyrics such as "God saved me from that crash ... just so I can beat Pete Davidson's a**." Per Page Six, West appears to be uncomfortable with the fact that his ex Kim Kardashian is currently seeing Davidson.
Some fans think West is simply going to boycott Hellmann's products after Davidson's collaboration with the brand. They expressed their thoughts on Twitter with comments like "Kanye ain't buying Hellman's Mayo anymore" and "What if Kanye starts a fight [with] Hellman's over putting Pete Davidson in their commercial?" Well, Kanye West hasn't reacted to the comments so far: a Twitter user even joked, "Kanye wishes he was Jerod Mayo tackling Pete Davidson in that Hellmann's Mayo commercial. #SuperBowl."