Irish Nachos Recipe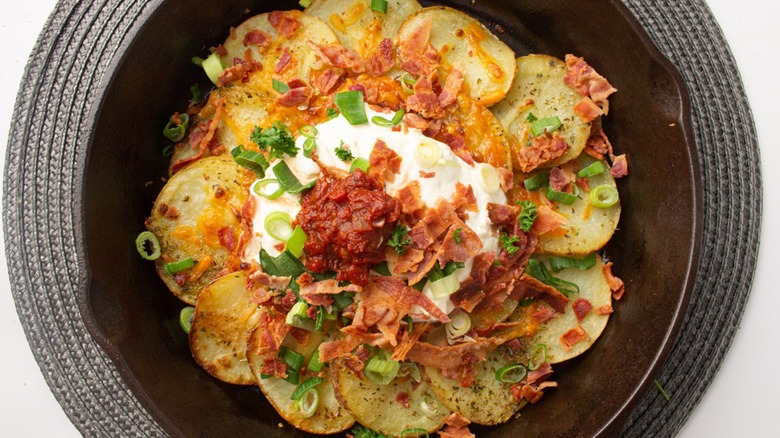 Susan Olayinka/Mashed
Nachos, as we know them, are a Mexican — authentically Mexican, as they were invented in that country, even if they may have been meant for the tourist trade. Irish nachos, then, seems like a contradiction in terms. In fact, British recipe developer Susan Olayinka does say that this dish is "unknown in Ireland [as] it is mostly an American dish." She says that in Ireland and the U.K., they are more likely to stick with the similar dish of stuffed potato skins, instead. Olayinka does allow, though, that "the fact that these use potato[es] makes them that [much] more Irish!"
Olayinka thinks, and we agree, that these Irish nachos make a great alternative to more typical nachos made with tortilla chips. Not only are they heartier, but the thick, sturdy potato slices are something that Olayinka assures us "stay pretty firm" even when they are piled high with all sorts of delicious toppings. If you love classic nachos with tortilla chips, then something tells us you'll love this potato variation, too!
Assemble the ingredients for Irish nachos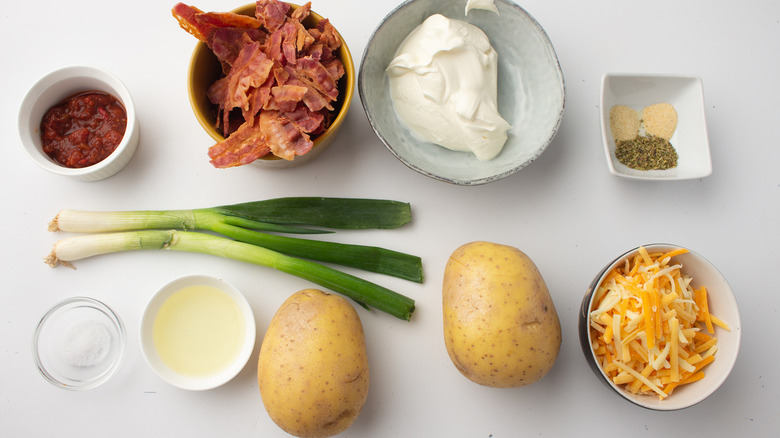 Susan Olayinka/Mashed
These Irish nachos don't call for any unusual ingredients. You'll need a few potatoes, of course. You'll also need a bit of oil to cook them with and some spices for seasoning: onion powder, oregano, and garlic powder. To top the potatoes, you will be using bacon, green onions, sour cream, salsa, and cheese.
As to what kind of cheese, Olayinka says she used a mixture of cheddar and the British cheese Leicester, but says "any cheese is fine." You may wish to go with all cheddar, or perhaps use cheddar and Monterey or pepper jack.
Prep the ingredients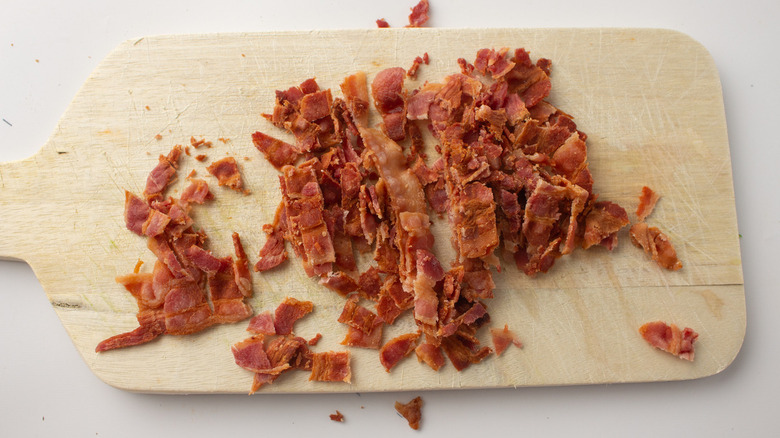 Susan Olayinka/Mashed
First things first: preheat the oven to 350 F. You'll need to cook the bacon before you use it, too, then cool it and crumble it or chop it into bits. You can also, if you like, save the bacon grease and use that in place of vegetable oil in the recipe.
The potatoes may need rinsing or scrubbing, but you won't have to peel them. Just slice them into rounds about ¼-inch thick, as these will serve as the "chips" for the nachos. Slice the green onions thinly, as well.
Cook the potatoes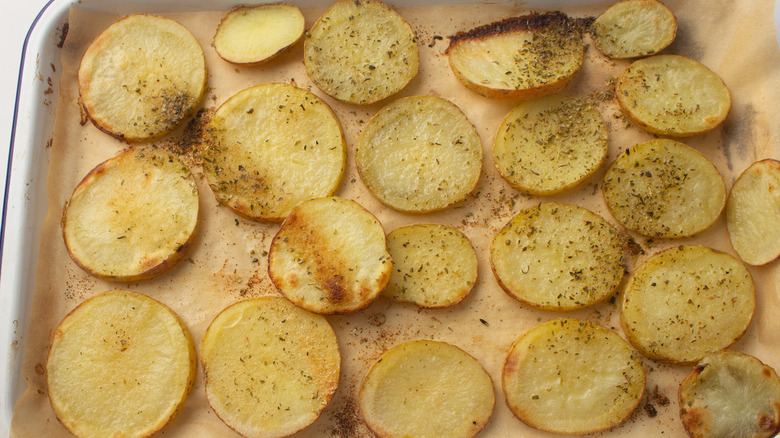 Susan Olayinka/Mashed
Spread the potato slices out over a sheet pan, then brush them with oil or bacon grease. Sprinkle them with the dry seasonings and a little bit of salt, then bake them for 30 minutes.
When the time is up, take the potatoes out of the oven and sprinkle them with the shredded cheese. Put the pan back in the oven and turn the heat setting to broil. Cook them for four more minutes or until the cheese melts.
Top the nachos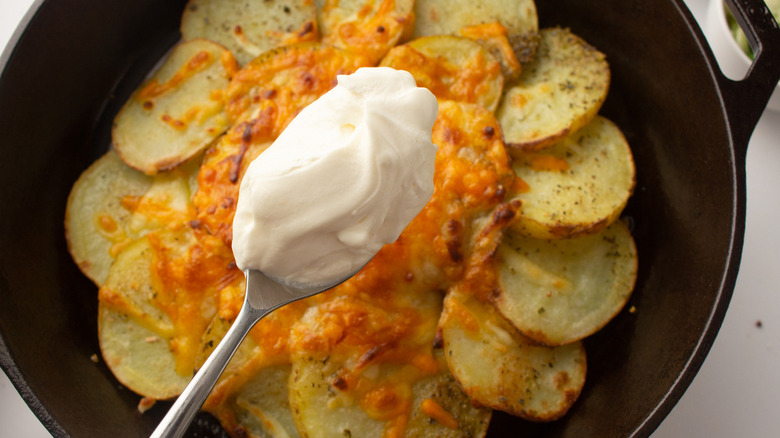 Susan Olayinka/Mashed
Once the cheese has melted, take the nachos out of the oven and top them with the sour cream, bacon, green onions, and salsa, and/or any other nacho toppings you like. Olayinka says, "Hot sauce or hummus would work" to serve them with, though you might prefer additional salsa or guacamole. While these nachos don't really work well as leftovers (no nachos do), Olayinka does suggest you could maybe repurpose the potatoes. Of course, these Irish nachos are so delicious, it's likely that you won't have to worry about leftovers!
Irish Nachos Recipe
Just in time for St. Patrick's Day, these Irish nachos feature potato slices that are loaded with cheese, bacon, salsa, and sour cream.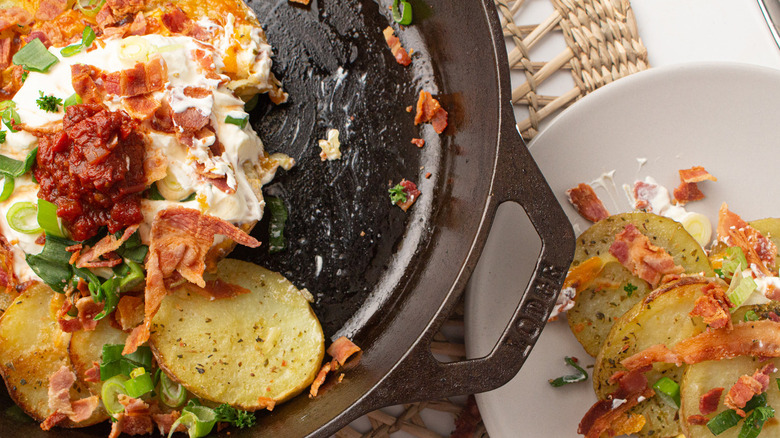 Ingredients
2 medium potatoes
2 green onions
1 ounce cooked bacon
2 tablespoons vegetable oil
¼ teaspoon onion powder
½ teaspoon oregano
¼ teaspoon garlic powder
1 cup shredded cheese
½ cup sour cream
2 tablespoons salsa
Directions
Preheat the oven to 350 F.
Slice the potatoes into rounds about ¼-inch thick.
Thinly slice the green onions horizontally.
Dice or crumble the bacon.
Arrange the potato slices on a baking sheet and brush them with oil. Sprinkle the potato slices with onion powder, oregano, garlic powder, and salt.
Bake the potatoes for 30 minutes.
Remove the potatoes from the oven and sprinkle them with cheese. Return the potatoes to the oven and turn the setting to broil. Broil the potatoes for 4 minutes until the cheese is melted.
Top the potato slices with sour cream, bacon, green onions, and salsa, and serve.