A Courthouse Bomb Scare Turned Out Be Surprise Taco Bell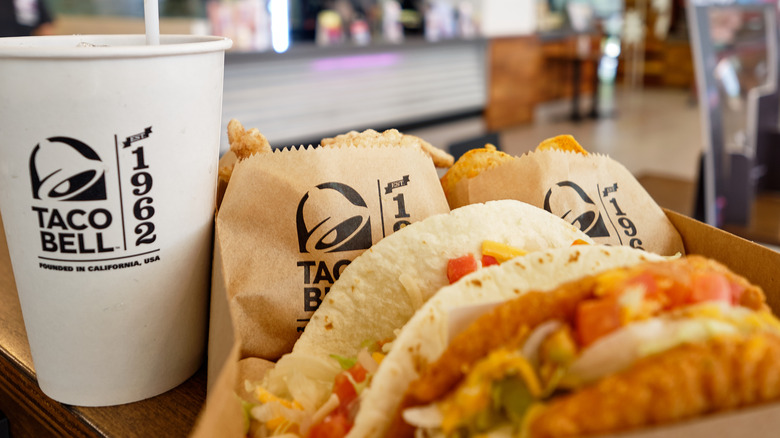 KULLAPONG PARCHERAT/Shutterstock
What was meant to be a satisfying morning meal turned into a potentially dangerous situation at the Tuscaloosa, Alabama Federal Courthouse on Monday. The Tuscaloosa Police Department reported on their Facebook page that around 8 am they dispatched the Hazardous Device Unit to the courthouse where a staff member had noted a couple of "suspicious packages" set on the front steps. As the bomb squad began to investigate, officers set up a perimeter around the building and contained the area. 
By 8:20, the local roads and courthouse were reopened after it was determined that the two packages were not dangerous, in fact, they were just a Taco Bell delivery. And because we know you're wondering, the take-out boxes contained both regular and Doritos Locos tacos, along with four beefy five-layer burritos. Sadly, the intended recipient did not get to enjoy the meal, as the boxes were taken to the police department where they were later put in the dumpster.
Kudos to the Tuscaloosa Police Department but we still have questions
According to Today, this peculiar situation poses two questions: Who is placing a large Taco Bell order at the courthouse at 8 am and why did the food have to be thrown away? The ordered items aren't necessarily a traditional Taco Bell breakfast, so the answer to the first question may forever remain a mystery. But like us, some curious folks in the Facebook comments also pondered why such delicious food had to be disposed of. "I think the bigger crime is those five layer burritos going to waste," commented one user.
Luckily, this story had a humorous ending, but that's not always the case when it comes to suspicious packages, and Facebook is applauding the officers for their quick and careful attention to the matter. One user remembered the Oklahoma City bombing in 1995, writing "Thank goodness for the precautions taken today that ended so horrible for Oklahoma City that day. This may seem funny, but if the circumstances had been different today, yall wouldn't be laughing." Another user echoed this prioritization of safety, complimenting the police department with, "Although this is funny as all hell, you can never be too careful now a days. Great work TPD!"