The Real Reason Tim Hortons' US Restaurants Are Shrinking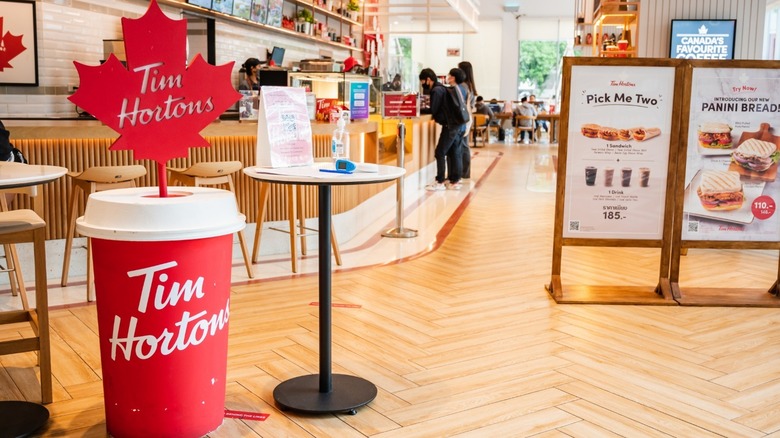 MrWinn/Shutterstock
If it's true that America runs on Dunkin', you could say that Canada runs on Tim Hortons. The Canadian donut shop first opened in Ontario in 1964 and has since skyrocketed in popularity. It makes sense that our neighbors to the north are so enamored with the chain — according to Reader's Digest, Canada is the world's number one consumer of donuts, with Canadians eating around 1 billion every year. If you stacked up all of the Timbits (bite-sized pieces of fried dough) that have been eaten over the 45 years they've existed, they would apparently go back and forth to the moon five times. 
While Tim Hortons is not as popular or widespread in the U.S. as it is in Canada, it has expanded its American presence over the years. There are currently more than 500 locations in the United States. However, American Tim Horton's restaurants are about to get a makeover in 2022 that will lead to smaller stores.
Tim Hortons is trying to streamline its operations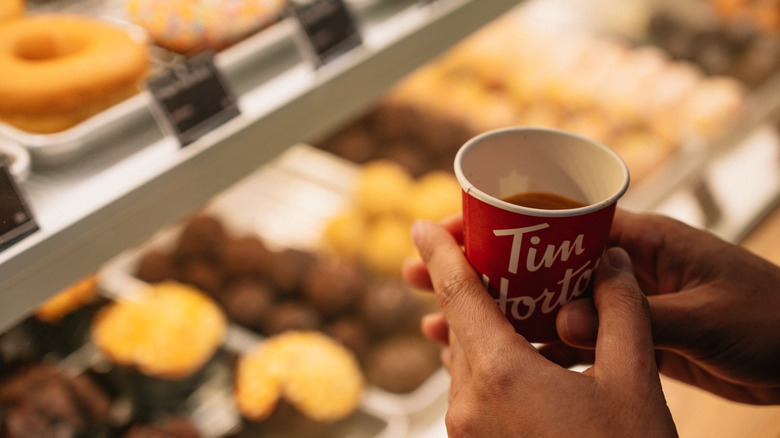 chakkraphong jinthawet/Shutterstock
In the case of Tim Hortons restaurants in the United States, the bakery chain is living by the motto "less is more." The American locations built in the months ahead will be smaller than their predecessors. "Our new U.S. openings leverage a smaller footprint, faster build times and an optimized menu offering focused on beverages, baked goods, and hot breakfast sandwiches, all leading to more compelling unit economics," Jose Cil, CEO of Tim Hortons' parent company, Restaurant Brands International, said on a 2021 earnings call (via Seeking Alpha). It seems that Tim Hortons is following the trend of other fast food restaurants that are closing dining rooms and streamlining operations, focusing more on drive-thru and mobile orders following the surge in popularity of those services post-pandemic (via Insider).
However, despite the fact that Tim Hortons restaurants themselves are getting smaller in the U.S., the chain is not. Quite the opposite: It's actually expanding. According to CNBC, Tim Hortons saw its largest growth in America in 2021, which has prompted it to continue to grow its presence. It plans to open more stores in the South, specifically Texas and Florida.