Instagram Is Psyched For Ben & Jerry's New Cookie Dough Mix Flavors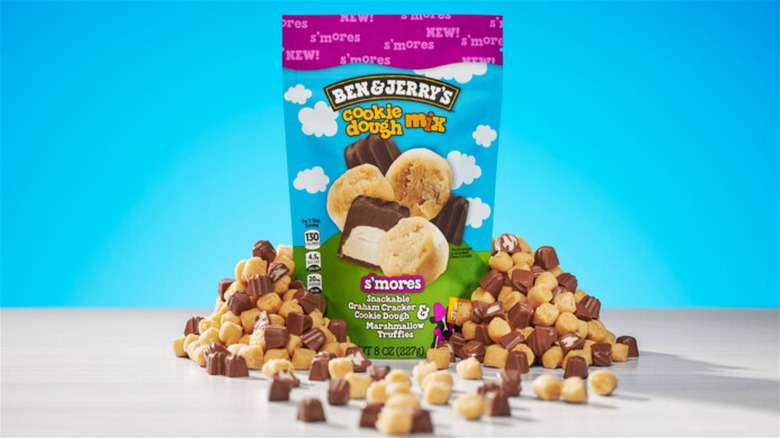 Ben & Jerry's
Cookie dough fans owe Ben & Jerry's a lot. Before the company introduced the world to Chocolate Chip Cookie Dough Ice Cream, which, according to its website, was at the chain's original Vermont scoop shop in 1984, cookie dough cravings could only be satisfied with trips to the fridge to take a bite right from the roll. (Or by sneaking a spoonful out of the mixing bowl when no one was looking.) Ben & Jerry's not only turned cookie dough into a creamy indulgence, but the company also brought cookie dough out of the forbidden zone, welcoming everyone to have a bite. 
In the years that followed, cookie dough made its way into other Ben & Jerry's ice cream flavors, including The Tonight Dough, Marshmallow Sky, and Half-Baked. The company cut out the middle man when it introduced its line of Ben & Jerry's Cookie Dough Chunks: snack bags of cookie dough pieces in flavors such as gingerbread, peanut butter, and chocolate chip. Dough fans were over the moon with this demonstration of pure cookie dough love — so how could it possibly get any better? With candy, of course.
Ben & Jerry's wants fan feedback on its new cookie dough treat
As good as it was to pair cookie dough with ice cream, Ben & Jerry's is going even sweeter. Per a February 16 press release, the ice cream giant has introduced a new snack, Cookie Dough Mix, and it comes in two flavors. Peanut Butter Cookie Dough Mix has chunks of peanut butter cookie dough mixed with little peanut butter cups. While that's surely delicious, the S'Mores Mix flavor sounds even better: graham cracker-flavored cookie dough bites tossed with chocolate-covered marshmallow truffles. 
Ben & Jerry's thinks fans are going to be pretty impressed with these flavors and wants to hear from them on social media with the hashtag #HowDoYouDough. And cookie dough lovers on Instagram seem pretty excited. Food account @candyhunting shared a photo of the cookie dough mixes, and the post has more than 4,700 likes. The comments are overwhelmingly positive, too. One Instagram user wrote "SCREAMING," and another commented, "Now this is something I need!" Another user put in a request for a cake batter-flavored mix, along with a little flattery for the creative minds at Ben & Jerry's to help make their case. 
In the press release, Ben & Jerry's shared that the new Cookie Dough Mix flavors are in grocery stores now and range in price from $3.99 to $5.49.