Nobu Matsuhisa Cooks In Paradise And Shares Memories Of Robert De Niro - Exclusive Interview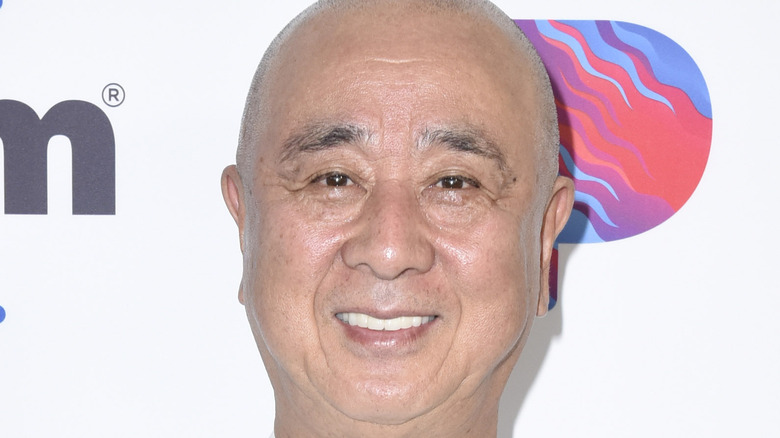 Vivien Killilea/Getty Images
Chef Nobu Matsuhisa is easily one of the world's most famous celebrity chefs. According to Star Chefs, although he was born in Japan, he moved to Lima, Peru after working at sushi bars in Tokyo and extensively traveled throughout Buenos Aires, Argentina, Alaska, and in Japan again. It wasn't until Matsuhisa opened his restaurant, Nobu, in Los Angeles in 1987 that his signature culinary style began to take shape. He was lauded by many throughout the 1990s and even opened a Nobu location in New York City after gaining Robert De Niro as a partner. It was there that he earned "Best New Restaurant" from the James Beard Foundation in 1995. By 1997, Matsuhisa had garnered his first Michelin star for Nobu London. 
With so much success, fans of the famed chef might wonder what could possibly be next. That's why Mashed sat down with Matsuhisa prior to his appearances at spring culinary events including Taste of Paradise. There, at Atlantis in the Bahamas, Matsuhisa will host a signature dinner at the hotel and sign cookbooks for those in attendance. Until then, Chef Nobu has more than enough to stay very busy. 
Matsuhisa on Taste of Paradise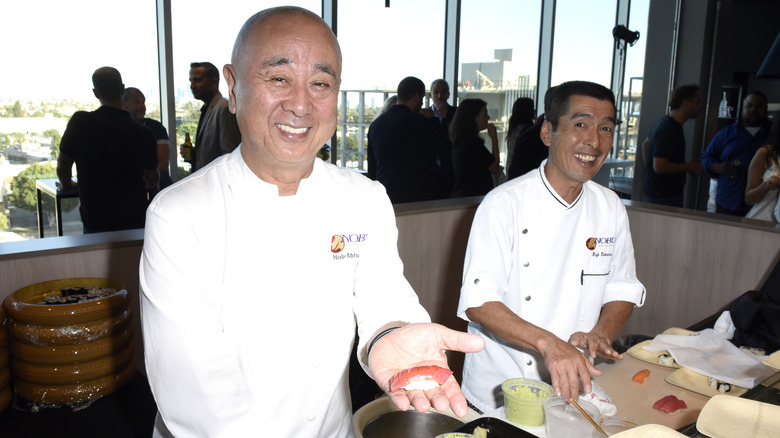 Vivien Killilea/Getty Images
Can you tell us about your participation in Taste of Paradise?
We do dinner March 2nd. Every year I go to the Bahamas, and I do a special dinner, and I meet and greet guests, all the guests, and sign cookbooks, take pictures, hug girls. Just kidding.
Is there something you're looking forward to the most about the event, and being back in the Bahamas?
The last time I was supposed to be there was 2020, but that got canceled because of the pandemic. I missed all my teams. Every country, every Nobu Hotel and restaurant I visit, I'm missing my team. Especially for the last two, three years, I cannot go anywhere, and I miss the Nobu Bahama team. Also, I'm missing the conch salad. It's like a signature salad they have. They have a lot of conch salad [varieties], and I miss it. Every time I go to the Bahamas, I go straight from the airport to eat conch salad, then I go to the restaurant and meet the other teams.
Nobu on his friendship with Robert DeNiro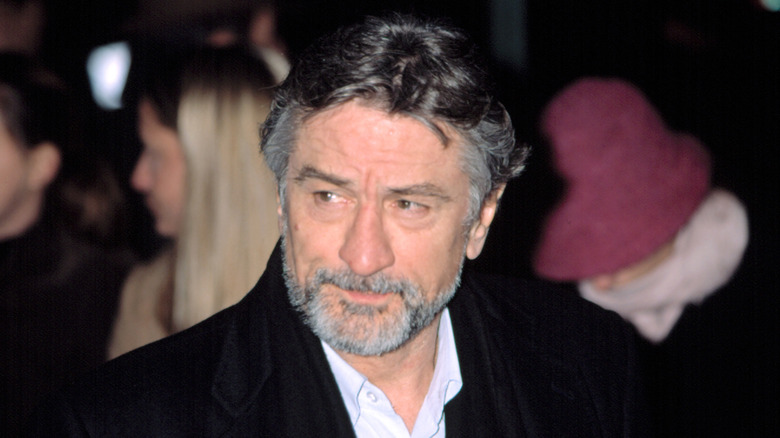 Everett Collection/Shutterstock
Could you speak to your friendship with Robert de Niro and how that friendship led to your worldwide culinary empire?
Well, the first time I met Bob was in 1988. Then, we started the business partnerships in 1994. He trusted my teams and the quality of food. Also, he's the best to understand and trust us. He's a great person and good friend, and very important to our business together. We trust each other. He doesn't know anything about the cooking. So yeah, he trusts our quality of food and my teams. That's why every time I do some new project, we talk about it. Especially Nobu Hotel, we started the first Nobu Hotel in Las Vegas, Caesar's Palace, and this Nobu Hotel idea came from him. Now, we have 13 more Nobu Hotels and expect another six to open in 2022. Another two hotels will open in 2023. It's a great partnership.
Chef Nobu on his illustrious career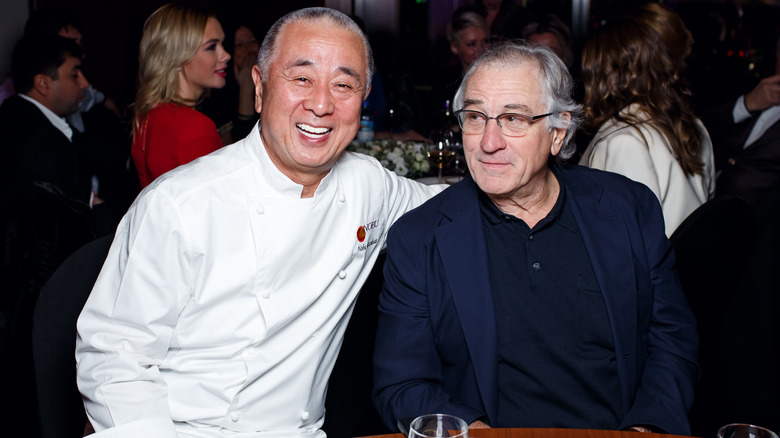 DenisShumov/Shutterstock
How did it feel to be awarded your first Michelin star?
Well, if they are going to give us Michelin stars, I am very proud and it is really desirable, but Michelin stars are not my end goal. A lot of other chefs and a lot of restaurants are looking [to become] Michelin star restaurants, but for me, the restaurant business is long term, not short term. Even though my first restaurant has been open for over 35 years now, the customers keep coming even with second or third generations. My Michelin star is more so that customers come to the restaurants, then eat, and they say, "Thank you." They're smiling and happy and then they come back again. I like to make all of the guests happy — every time, hopefully.
With such an expansive career filled with so many awards and accolades, what's next on the horizon for you, in addition to the hotels.?
We have several new restaurants opening soon, in Singapore, and another Nobu restaurant in Las Vegas, in the Paris hotel will be coming soon. There are more hotels opening in Atlanta, Atlantic City, Santorini, Rome, and Marrakech. So far, all of the Nobu Hotels opened with a lot of success. 
Chef Nobu on sushi in America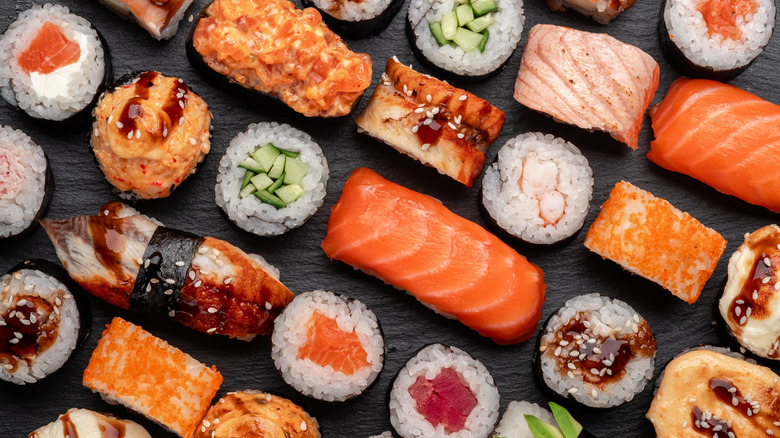 Andrei Iakhniuk/Shutterstock
Do you feel that Americans have become more sophisticated sushi eaters in the past decade?
Yeah, the first time I went to LA was 1978 or something. At that time, sushi wasn't really popular. [They used] local fish, and also a lot of frozen fish. I started bringing fish from Japan. You know, customers say, "Oh, this is not fresh" because they were used to frozen fish and didn't know what fresh fish really tastes like. Now, people in America and even Europe have a better understanding of how to eat fresh fish. Also, the palette, after they eat fresh fish, cannot go back to frozen fish.
For example, I liked to use uni, the sea urchin, and people didn't like it. Now, uni's very sweet, and people love it. Even a silver skin fish, people know it's like a more Japanese taste, and fresh fish taste.
How do you think people have grown in their palette, and really embraced your style, between Japanese and Peruvian cuisines because it is so special?
Well, it's like a beginning ... I started my food concept because I liked to combine Peruvian and Japanese cuisine because it is very unique. The Japanese use sushi and sashimi with wasabi and soy sauce, but [with] ceviche in Peru, they catch the fresh fish and cut it, and never use soy sauce. [Ceviche uses] a squeeze lemon juice, garlic, chili, cilantro, and onions. It's the same fish, but [you eat it in a] completely different way. I started to do a Nobu style of food, which means basically Japanese food, technique, taste, ingredients, everything. My original dish is [has a heavy] Peruvian influence.
Matsuhisa on cooking with Brooklyn Beckham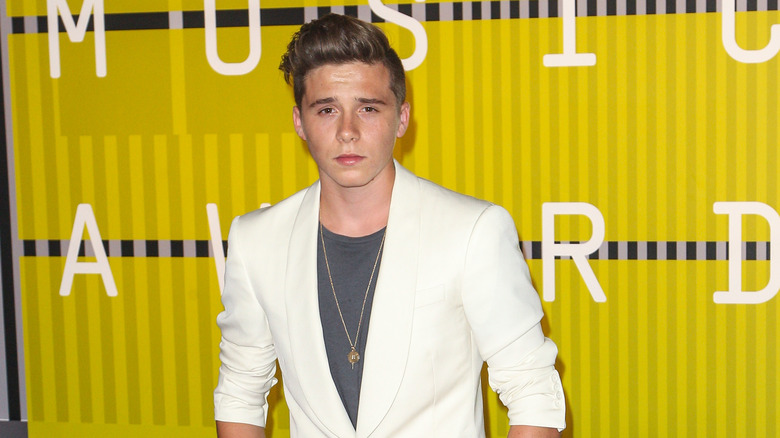 Press Line Photos/Shutterstock
What has it been like teaching and sharing a kitchen with Brooklyn Beckham lately?
You know, a couple months ago, Brooklyn started a cooking show, and he made seven episodes. His last episode was mine.
I taught him how to make sushi at Nobu Los Angeles, but he has great sense. He loves cooking. After that, we shot for his cooking show. We talked many times, and I got to teach Brooklyn in more detail. So, in the cooking episode, [we went over] how to slice fish, and how to make sushi, but I'd like to teach more. [For example,] how to make the sushi rice, which rice, how much water, how much rice, how much rice vinegar, how much sushi rice. Last week, he came to my house. I have a small sushi bar, it's my playroom within my kitchen. That's when I taught him how to make sushi. He has a great sense.
What stands out about his sense of food to you?
He understands my heart, too, and he likes to learn more. That's why he came to my house. He's so appreciative too. Cooking is very important to the heart. You know, [with] painting, music, architecture, without the heart, people don't succeed. Brooklyn is not a chef, but he has a great heart, and great cooking sense. He understood that faster than many. Maybe I'll teach him another dish one day.
Chef Nobu on celebrity chefs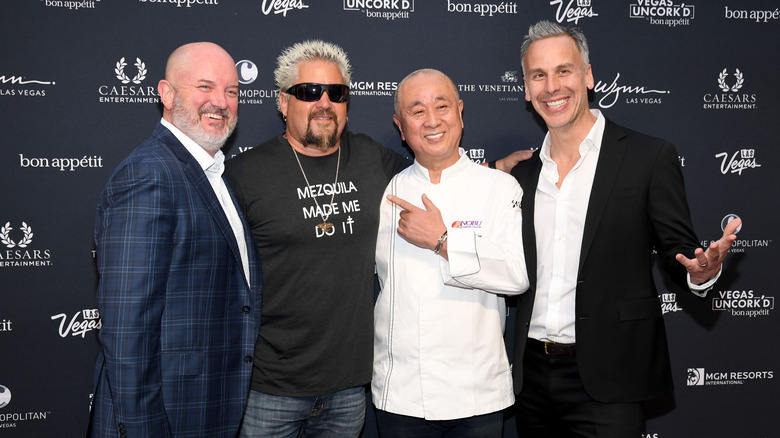 Ethan Miller/Getty Images
If you could cook with, or have another celebrity chef cook for you, who would it be?
Maybe five, six years ago, I did Discovery Asia, the TV show. I picked my best five chef friends in America.  The first episode is José Andrés, Jean-Georges, Daniel Boulud, Éric Ripert, and Thomas Carra. I invited them to come to Japan. I showed them different prefectures, and stayed three or four days there. The last day, we used all the product from the prefectures, bringing them over to Tokyo, and I cooked with them, for the charity. Before we started dinner ... all the chefs sat down in front of the sushi bar individually and I made sushi for all of the chefs. 
What is one ingredient you can't live without?
Oh, my. Well, I'm Japanese, so soy sauce is like a magic ingredient. I like regular soy, a light soy, and vegan soy.
What is your go-to fast food order, and where do you place it?
The last couple of years, with the start of the pandemic, I didn't go anywhere. I mostly stayed at home. So actually, I have a private chef in my home. She likes to cook all of the good food, no fast food. She's my wife.
Attend Taste of Paradise in the Bahamas this March to meet Nobu Matsuhisa.