Chick-Fil-A Fans Can Now Visit The Chain's Original Location
They say good things come in small packages. Such was the case at The Dwarf House, the predecessor of Chick-fil-A. When the restaurant was first opened in 1946 by brothers Truett and Ben Cathy, it had just 10 counter stools and four booths for dining service. After Truett invented Chick-fil-A's chicken sandwich recipe in 1964, expansion was in order, so the original structure of The Dwarf House was transformed into a newer, bigger restaurant in 1967 — which had been closed until now.
Today, the chicken chain announced that The Dwarf House in Hapeville, Georgia, home of the original Chick-fil-A, has reopened to chicken fans after a renovation that began in 2021. Not only does the remodeled restaurant have features to expedite and enhance diners' experiences — such as two drive-thru lanes, a designated mobile order pick-up station, a new and improved front counter, and even a by-the-slice pie shop — but it also contains 16 artifacts saved from the very first Dwarf Grill, including stained glass windows.
The Dwarf House is a mix of old and new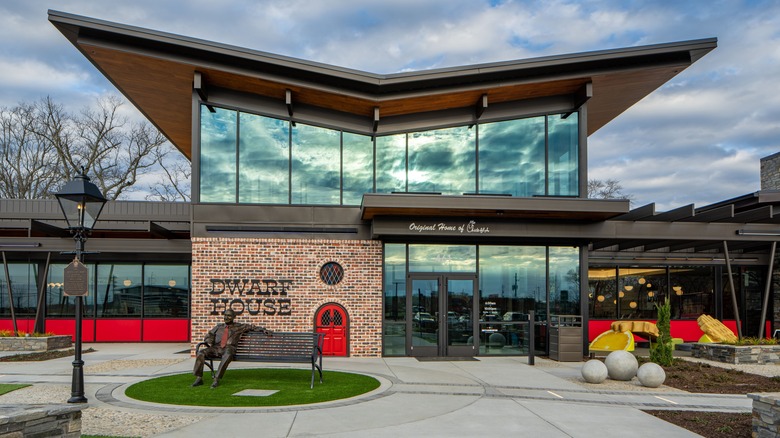 Chick-fil-A
So, what's there to eat at the new Dwarf House? According to a sample menu obtained by Mashed, there are classic breakfast items from the original restaurant, like eggs, bacon, sausage, and waffles, and, of course, Chick-fil-A chicken plates. Customers craving poultry can expect the chain's spicy deluxe sandwich, grilled chicken sandwich, and Truett's famous traditional chicken sandwich — all paired with sides such as mac and cheese, waffle fries, cornbread, or fried okra.
Facebook was pretty excited this morning when The Dwarf House announced that it had reopened. "Hapeville was NOT the same without you. WELCOME HOME," one user commented on the restaurant's post, while another shared they'd already stopped by to try out the food. "We went this morning for breakfast...fantastic!" A third was impressed by the new design, writing, "I just left and drive through was such a breeze to maneuver." Still a fourth echoed their sentiments, sharing, "Love that the new build has aspects of the old buildings architecture."