The Taste Buds With Rhett & Link - Info We Know So Far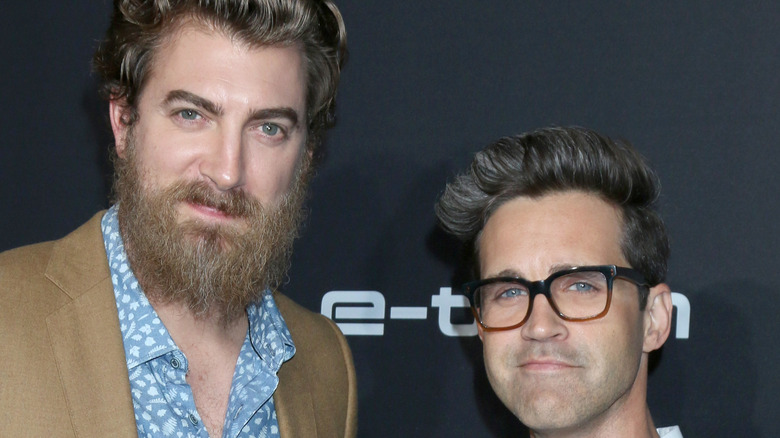 Kathy Hutchins/Shutterstock
Comedy duo Rhett McLaughlin and Link Neal are known as the creators and hosts of the YouTube sensation "Good Mythical Morning," a show that has run for 10 years and airs Monday through Friday, featuring the pair trying new foods and products, investigating trending topics, playing games, and executing experiments. For example, the two recently did a show on which plant-based milk – soy, almond, rice, hemp, or oat — is better for different uses. They explored which is best in your cereal, your coffee, and even for dipping chocolate chip cookies into. 
Or perhaps inventing and taste testing new foods, such as a breakfast pizza roll, is more up your alley. Either way, McLaughlin and Neal have been wildly successful with the Youtube show, which has 17.5 million subscribers on YouTube, and are now making the leap to television with their new show "The Taste Buds with Rhett & Link." The program will air on Food Network and discovery + later on in 2022 (via Variety).
Fans are excited for the debut
Variety reported that "The Taste Buds with Rhett & Link," will center around the pair learning about various American-based food brands and the employees that have a hand in making the products. Food Network is excited about the new show and to bring their fan base to the network. "Rhett & Link have captivated audiences for years with their humor, insatiable curiosity and commitment to answering life's burning questions like 'what's the best pickle-flavored snack?' and 'where in the world did this bacon dish come from? Now we are thrilled to have them bring their chemistry and creative gusto to Food Network and discovery + as we introduce them to our audience and offer up an exciting new project for their millions of fans," said Courtney White, Food Network's president. 
One fan reacted to the news of the launch of the new show on Facebook, expressing their excitement by writing, "Freaking awesome!!" followed by four thumbs-up emojis. Another fan commented, "The things they have eaten ... should be fun to watch tho!"