Adam Richman's College Major Had Nothing To Do With Food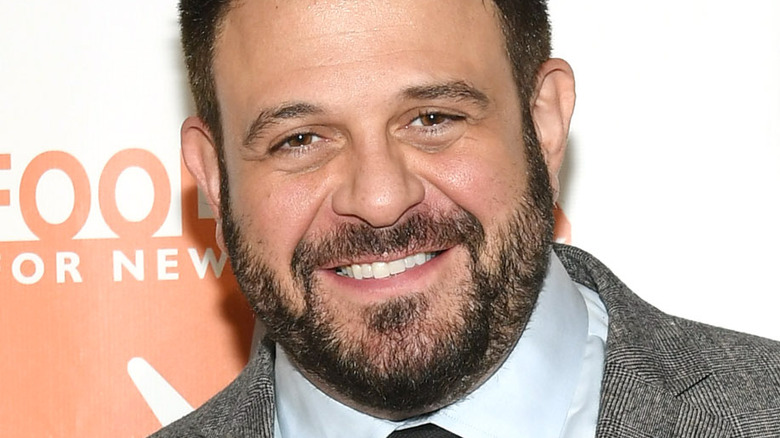 Mike Coppola/Getty Images
Adam Richman has been teaching the world about restaurants and food ever since landing his breakthrough role as host of Travel Channel's "Man V. Food" in 2008 (via IMDb). For four years, the food fighter brought viewers along as he explored the dining scene of various cities across America before showing off his own eating skills by partaking in a food challenge hosted by one of the eateries he spotlighted. Since his exit from the show in 2012, Richman has continued to educate viewers about the culinary world through programs like "Secret Eats With Adam Richman," "The Food That Built America," and "Adam Eats The 80s," which is set to premiere on February 27.
With all the culinary knowledge that Richman has displayed throughout his career, it would be easy to assume that the Brooklyn native has had some sort of formal education in the subject. However, this isn't quite the case. While Richman " began his love affair with food early on" in life (via Travel Channel), his higher education didn't exactly reflect his "desire to taste it all" - though that's not to say that his studies haven't helped get him to where he is today.
Adam Richman had plans to be an actor
Having recognized his passion for food at such an early age, pursuing a college degree related to the culinary field or foregoing university to attend culinary school may sound like they would have been fitting paths for Adam Richman. However, when it came to his post-high school education, the food personality went in a totally different direction.
According to Travel Channel, Richman spent his undergrad years at Emory University in Atlanta, Georgia. He majored in international studies but kept up with his love for food by exploring and documenting everything the Peach State capital's food scene had to offer. "I became a fledgling foodie in Atlanta," Richman told The Atlanta Journal-Constitution. "My education began there."
Richman dove into the restaurant industry following his graduation from Emory in 1996 but soon found himself attending classes once again – though the degree he sought still had nothing to do with food. He attended Yale University's School of Drama for his second go-around with college and earned a master's degree in fine arts in 2003.
Richman pursued his acting career for the next few years, mostly through theater work. He did land a few guest roles on shows like "All My Children" and "Law & Order" (via IMDb). In 2008, he got an audition for "Man V. Food," which is arguably his most famous role to date. And while he took a slightly unconventional path to get there, his journey ultimately made him a household name.