The Bizarre State Fair Food Andrew Zimmern Loves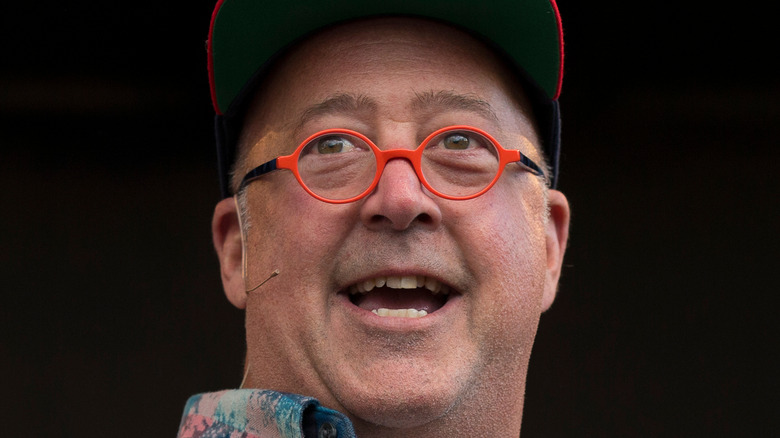 Sterling Munksgard/Shutterstock
Ah, the state fair. Just two little words can invoke the sound of pipe organ music chirping merrily, remind you of the waft of buttery popcorn in the air, and maybe even tease your tastebuds with crystals of wispy cotton candy melting on your tongue. Or possibly, the words "state fair" might conjure up memories of being squished in the back seat for a long, hot trip in the car, wails from kids who want more tickets, and sweaty palms from a rollercoaster ride for which you may have overestimated your courage. Either way, there's one thing we can all agree on: There is no food like state fair food.
"I'm a classicist when it comes to state fair foods," Andrew Zimmern recently told Sean Evans, host of YouTube's "Hot Ones." The chef, and current host of "Family Dinner" on Magnolia Network, was sharing a plate of chicken wings with Evans, as they chatted about the spiciest foods Zimmern has ever eaten, the state of the restaurant industry, and the Minnesota State Fair. Zimmern went on to explain that, for him, state fair food means cheese curds, foot-longs, and French fries, and he claims that the French fry booth at the Minnesota State Fair has the best fry in America. However, when pressed to give the most bizarre fair food he's ever eaten, Zimmern described a dish that sounded pretty peculiar — even for him.
Fair weather brings rolls of rainbow clouds
"There's no way this is going to be good," Zimmern told Evans during their chat on"Hot Ones," that these were the exact words going through his mind before he took a bite of his first-ever Rainbow Cloud Roll. The concoction is the type of food that could only exist at a state fair, or possibly, Las Vegas, which is where the people behind Rainbow Cloud Rolls say the idea originated (per CBS Minnesota). Imagine laying cotton candy out flat, like a tortilla. In goes sherbet, or some other type of rainbow ice cream, followed by crunchy, colorful Fruity Pebbles. The bed of cotton candy is then rolled around the ingredients and folded up like a burrito, resulting in a pastel creation of swirling colors, confusing textures, and a too-high sugar count.
Zimmern told Evans that his initial take on the dessert was less than optimistic, sharing "I'm going to take one bite and throw...It's just going to be too sweet," he said. But surprisingly, the cloying cotton candy gets cut by the cold ice cream, and, according to the "Bizarre Foods" star, the result is delicious. "There is something about the cold, quiescently frozen dessert-treat-in-the-middle part that gets me every time. I love it." In fact, the fair food was such a hit for the people behind Rainbow Ice Cream that the following year they introduced Halo Cones, a soft-serve variation on the Cloud Rolls that brought fairgoers like Zimmern such candy-colored joy.