Aarón Sánchez Shares 'Beautiful' Guacamole Recipe Ahead Of National Margarita Day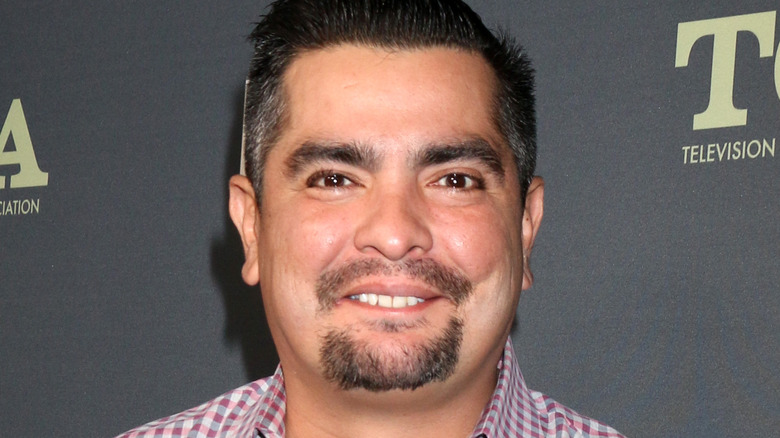 Kathy Hutchins/Shutterstock
It can be tough to remember all of the National Food Holidays throughout the year, after all, there are so many! And if you get the feeling that many of these oddly specific holidays are made up, you're on the right track. The blogger behind Foodimentary, a website with a comprehensive list of 314 food holidays, admitted to the San Antonio Current that he has fabricated over 100 of them and switches stale ones out on the calendar as he sees fit. Similarly, real estate agent Todd McCalla created National Margarita Day in the mid-2000s as a way to brighten up a "sad, gray time of year," (via MIC). McCalla added that he never registered the holiday anywhere, it has mostly grown organically on social media.
According to a survey by NielsenIQ, it's not surprising that people adhere to a National Margarita day, as 56% of those who go for a post-work cocktail enjoy the tequila-based drink as their beverage of choice. Even more of an incentive to sip the shaken cocktail is when national brands offer deals in honor of the holiday. 
Brands often utilize these holidays to advertise relevant products. This year, for example, Tequila Cazadores partnered with celebrity chef Aarón Sánchez on Instagram to promote their ready-to-drink Spicy Margarita, which, he says, pairs nicely with the guacamole recipe he shared. 
Aarón Sánchez's tangy guacamole is topped with a crunchy surprise
After one or two Margarita's on the unofficial national day of its namesake, there's a chance you'll start to feel snacky. Aarón Sánchez comes to the rescue with his tangy guacamole recipe that he shared on Instagram, which features an interesting technique and surprising ingredients. With roots from the Aztecan traditional guacamole that's made using a molcajete and tejolote, the Mexican version of a mortar and pestle, the celebrity chef creates a mashed-up masterpiece. The Aztecan version calls for the avocado to be hand-mashed using the tools, along with tomatoes, green chiles, and salt. It was the Spanish who added in lime and jalapeño later on, leading to the more common recipe we see today. 
Sánchez's creation draws inspiration from the Aztecan guac, but instead of a molcajete, he uses a blender to combine the ingredients, which includes serrano chilis and cilantro. And the uniqueness of this recipe doesn't stop there as he garnishes the dip with fresh radish and queso fresco. But wait, there's more (although some fans wish there wasn't). Sánchez adds a secret ingredient to the finished guac – dried, toasted grasshoppers, which he notes as a common topping in the state of Oaxaca. 
Concerned commenters on this ingredient include "I know insects are apparently the future but I'm not evolved enough to try those yet" and "How many margaritas do you need to take the challenge of eating grasshoppers?" There are quite a number of fans, however, who praise the recipe, even the grasshopper topper.