Taco John's Fans Won't Want To Miss This Taco 'Twosday' Deal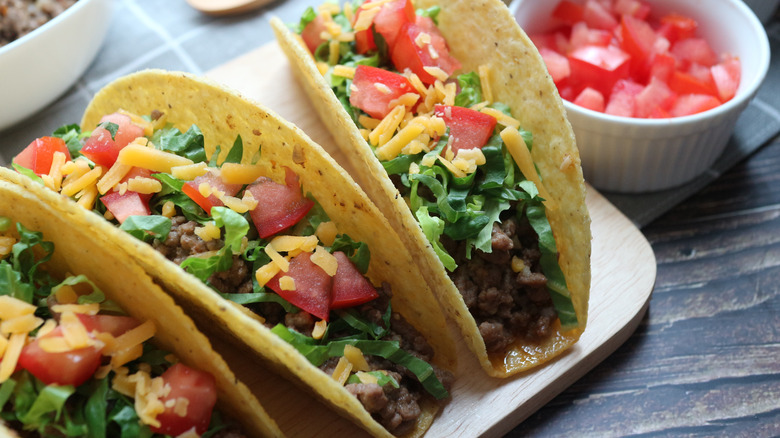 Be Saowaluck/Shutterstock
Taco John's has hundreds of locations in 23 states, so the midwest chain must be serving up something good. According to Junk Food Blog, the restaurant's Street Taco won fans over thanks to its mashup of either steak or chicken paired with tomatoes, garlic lime sauce, and authentic Mexican cheese. On the other hand, the Chicken Bacon Guac Street Taco mixes up bacon, grilled chicken, and guacamole into a savory dish that may not be authentically Mexican, but has made its mark on diners. If neither of those options get you going, Redditors on the r/fastfood subreddit also love the Grilled Stuffed Taco and the Taco Bravo.
Taco John's has built its reputation around tacos — it's right there in the name. According to its website, the restaurant hosts regular Taco Tuesdays, a concept that they allegedly created and later trademarked. Saving money and eating tacos is an appealing combination any time of year, but Taco Tuesday just so happens to fall on 2/22/22 this week, and the chain plans to go all out in honor of this very fortuitous coincidence.
Taco John's celebrates a special date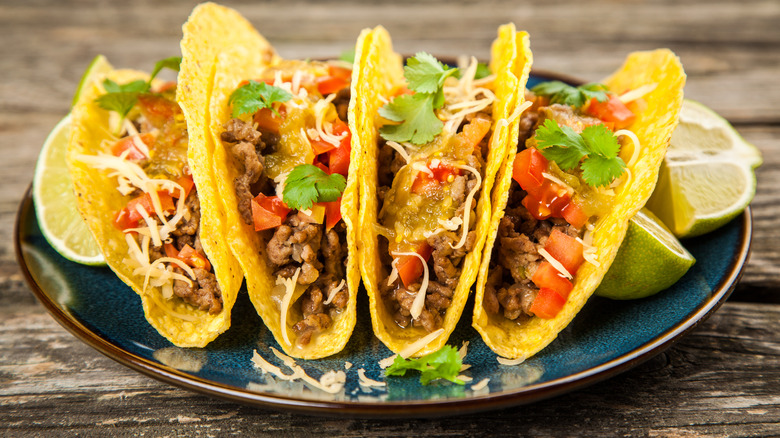 George Dolgikh/Shutterstock
In a statement sent to Mashed, Taco John's plans to make Taco Tuesday on February 22, 2022 extra special. Over the course of the day, diners can plan to pick up the chain's Crispy Beef Tacos at a special price. The item features beef, a mild sauce, lettuce, and cheese. The press release doesn't say what this "special discounted price" is exactly, but Thrillist notes the tacos will be "under $2, or even under $1 at some locations."
While this deal just so happens to fall on a particularly two-centric day, Taco John's offers the exact same promotion year round. If you aren't able to celebrate today's unique date with tacos, take heart knowing that you can pick up some Crispy Beef Tacos at a special price on future Tuesdays down the road.
This particular menu item is included in promotions more frequently than you might expect. Thrillist reports that back in 2021, the chain gave out these same tacos for free as part of a Customer Appreciation Day celebration. Even if it looks like the universe wants you to pick up some discount tacos today, take heart knowing you can score this same deal any other Tuesday for the foreseeable future.