The Untold Truth Of Taco Tuesday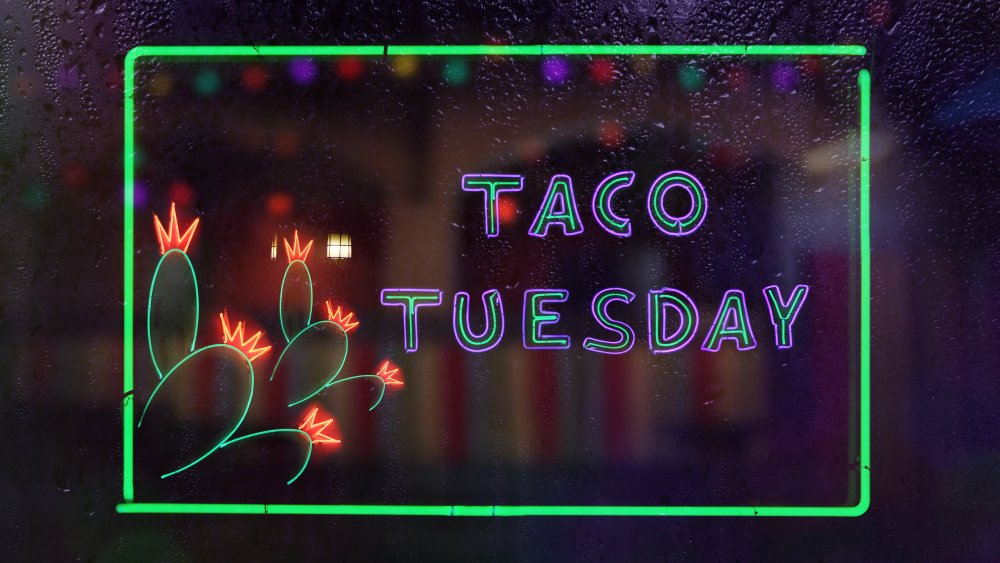 Shutterstock
Tacos are a go-to meal option for many Americans. In fact, in the United States alone, we consume over 4.5 billion tacos every year (via South Florida Reporter) — and how could we not? Tacos are so ubiquitous, you can find a taco truck, taqueria, or taco stand on just about every corner from Los Angeles to Washington, D.C. And if you aren't noshing on them at your favorite eatery, you're eating them at your kitchen table. 
Tacos are everywhere. In fact, tacos are so beloved they have their very own day of the week: Taco Tuesday. But how did Taco Tuesday become a thing and what makes us crave the "shell, meat, lettuce, cheese" combo that gets Norah Jones singing, "It's raining tacos"? 
The origin of Taco Tuesday is a little murky, and it seems like everyone has a version of the tale, but according to taco lore and Thrillist, the first recorded use of the term "Taco Tuesday" can be found in the August 20, 1973 edition of South Dakota's Rapid City Journal. A local eatery, The Snow White Drive In, placed an ad that read, "Stop in on Taco Tuesday." 
However, one taco chain based in Wyoming believes otherwise. Taco John's, which boasts 400 stores in 23 states, states on its website: "Ever hear of Taco Tuesday®? We started it! We even trademarked it." Still, there are plenty of little restaurants, individuals, and taco chains who feel differently.
When was Taco Tuesday coined?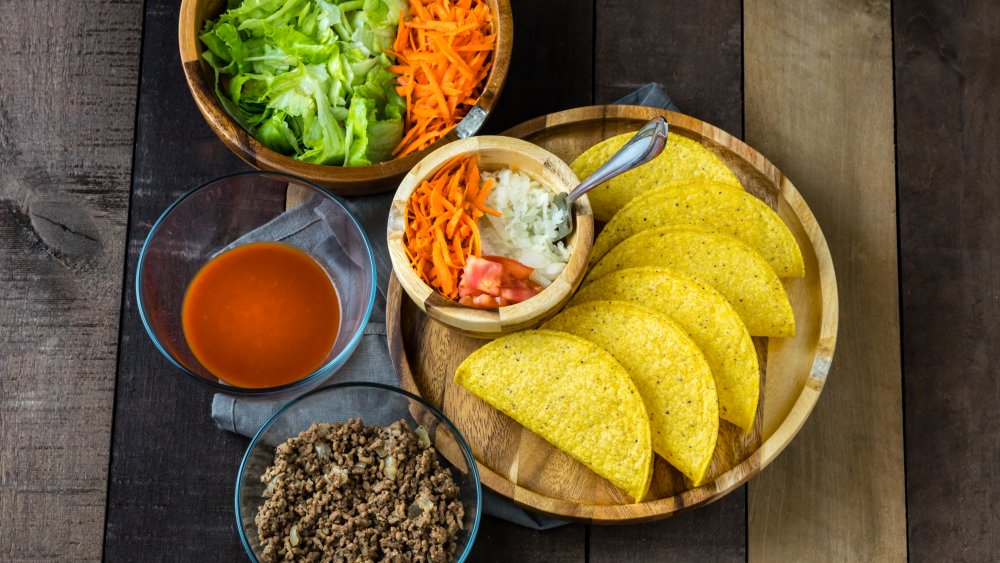 Shutterstock
Even Taco John's seems a little confused on when they coined the phrase, with a Priceonomics story pointing out the taco chain has contradicted itself a number of times on just where and when Taco Tuesday was coined (via Wideopen Eats). But it does appear that Taco John's was the first to trademark it, and the franchise takes any use of the term "Taco Tuesday" by any other restaurant very seriously. 
And because the taco chain is so adamant about the use of Taco Tuesday, they are often ridiculed for what is seen as bullying little restaurants. In fact, just as recently as August 2019, Taco John's sent a cease and desist notice to a brewery in Cheyenne, Wyoming named Freedom's Edge who had used the phrase in advertising for a taco truck that parks in front of their storefront once a week (via Associated Press). 
The brewery took to Facebook to do a virtual eye roll and allow the internet universe to weigh in. The brewery wrote (via Facebook), "We have nothing against Taco John's but do find it comical that some person in their corporate office would choose to send a cease and desist to a brewery that doesn't sell or profit from the sales of tacos." It really begs the question: Can Taco John's hold a monopoly on a phrase that is so common to our cultural vernacular?
Is Taco Tuesday too commonplace for a trademark?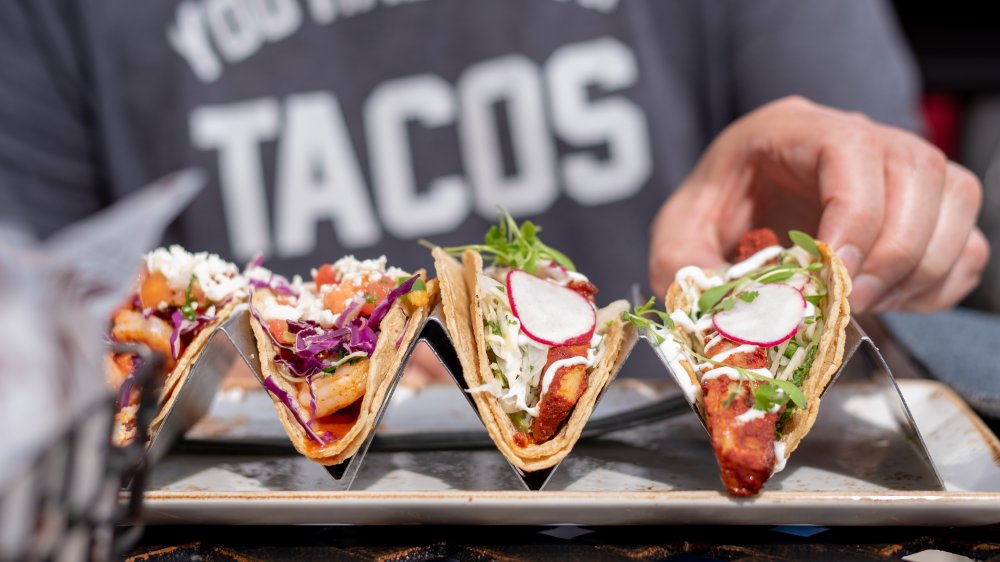 Shutterstock
Even NBA super star LeBron James is a fan of Taco Tuesday, posting videos of himself and his family enjoying the weekly ritual on his social media accounts. His videos have even had his fans clamoring for James to chant his Taco Tuesday routine during his Los Angeles Laker games, which he happily obliged (via USA Today). 
Most recently, LeBron tried to trademark the phrase, but the United States Patent and Trademark Office denied the request, stating, Taco Tuesday is, "a commonplace term, message or expression widely used by a variety of sources that merely conveys an ordinary, familiar, well-recognized concept or sentiment." But LeBron took this decision as a good sign because if the phrase is so common, then he can use it and be free from liability, and so can everybody else (via The New York Times). Still, a lawyer who specializes in trademarks said Lebron could still file a "petition to cancel" that could render another trademark null and void, that is if James truly wants to free the phrase for everyone.
Regardless of trademarks, Taco Tuesday will continue to be popular in households everywhere, because if it's Tuesday, then you know it's raining tacos from out of the sky and there really isn't a reason to ask why.