Alex Guarnaschelli's New Custom-Made Knife Is A Work Of Art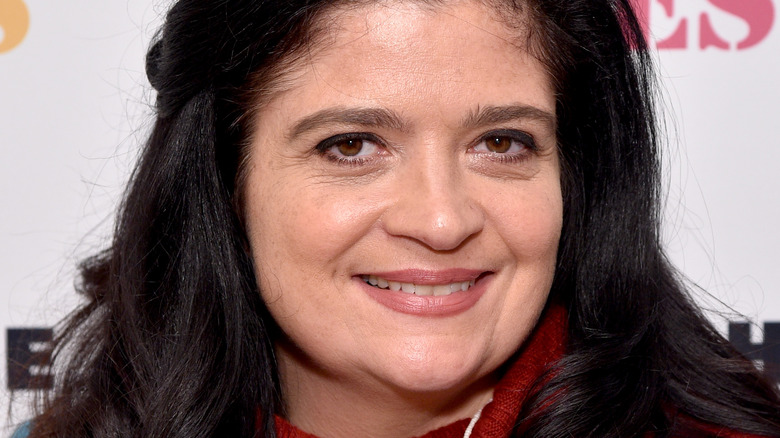 Bryan Bedder/Getty Images
One of the most important kitchen tools to have is a high-quality knife. A chef's knife and a paring knife are essential, according to the Food Network website. Of course, knowing you need something high-quality and knowing how to identify it are two different things. There are some key elements to look for when you're shopping for a new knife, like the material used to make the blade. But if you're Alex Guarnaschelli, you don't always need to go shopping; sometimes, a friend will make a quality knife just for you.
Recently, Guarnaschelli posted a photo on Instagram of her new custom-made knife. In the caption, she explained that she told her "dear friend" that her favorite color is burnt sienna. So imagine her elation when she saw that her friend made a blade with a burnt sienna handle. "It's so beautiful that I am working up the nerve to use it & hope I am worthy of such a special tool," wrote the chef. 
The dear friend who made that sharp work of art was Dereyk Patterson, and according to his website, he handcrafts these knives by hand in Easthampton, New York. The site further explains that knife-making is difficult. According to Patterson, websites that detail "15 steps to knife-making" actually "leave out at least 125 steps." It's clear that he puts care into his work and even has an oven designed to make knives. Lots of people have commented on his gift to Guarnaschelli and are noticing Patterson's talent.
Instagram is in awe of the knife's quality
Fans and other chefs have taken notice of just how lovely the Dereyk Patterson-crafted knife is. Alex Guarnaschelli's Instagram post has over 15,000 likes, and the comments section is flooded with praise for the craftsmanship. User skylarsmama327 exclaimed, "That is a beautiful Damascus knife!! Definitely quality craftsmanship." Food Network stars also weighed in on the knife. Giada De Laurentiis left a heart emoji in the comments, and Sunny Anderson asked how the handle feels. 
Multiple commenters called the knife a "functional work of art," and appears at least one of them would have put that functionality to work. User mary.garofalo8 said, "I'd use the heck outta that beauty." Others, however, remarked that they wouldn't even use the knife, writing, "Wow! That is one gorgeous knife. I would frame it on the wall," and "Too beautiful to use. Hang it up in your office." However, adrienne.1971 seemed more concerned that they would accidentally sever a finger with that thing of beauty.