A Fan-Favorite Fried Fish Sandwich Is Back On The Culver's Menu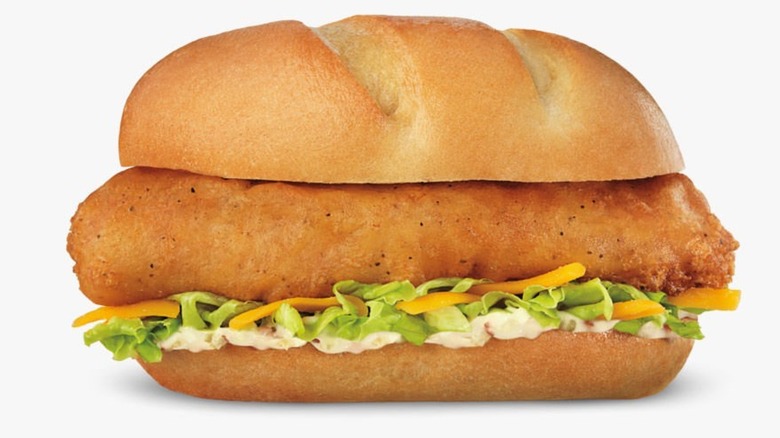 Culver's
Correction 3/3/22: An earlier version of this story stated that the North Atlantic Cod Filet Sandwich was returning to Culver's for the Lenten season. The cod sandwich is available year-round at Culver's; the walleye sandwich is a limited-time menu option.
When you think of fast food, the first thing that might come to mind are the big names in the game, like McDonald's, Chick-fil-A, and Taco Bell. But there are also a bunch of less giant — but just as delicious — spots to grab food on-the-go. Take Culver's, for instance. Originally founded in Wisconsin in 1984, the Midwestern fast food chain now has more than 800 locations in 25 states. Popular Culver's menu items include homestyle favorites from fried pork loin sandwiches to Wisconsin cheese curds to pot roast dinners, but the restaurant is most famous for its ButterBurgers, which are made with fresh (never frozen) beef and served on a buttered bun. The chain also offers an impressive lineup of frozen treats, including milkshakes, homemade custard, and malts.
Despite the fact that Culver's built its brand on burgers and shakes, it also makes some pretty mean seafood. Inspired by its Midwest roots and the region's traditional Friday night fish fry, the chain offers a variety of fried seafood, including the North Atlantic Cod Filet Sandwich and butterfly jumbo shrimp. And just in time for Lent, Culver's is bringing back another crowd-favorite from the ocean: the Northwoods Walleye Sandwich.
Diners love Culver's fried fish offerings
The Northwoods Walleye Sandwich is back on the menu at Culver's for spring 2022, much to the delight of fans and just in time for the Lenten season, when some may want to give up meat. The hand-battered filet is sandwiched on a buttered roll and topped with shredded lettuce and Culver's tartar sauce, which the chain says is made from a secret family recipe. It clocks in at 620 calories, with 34 grams of fat and 24 grams of protein.
Fans who enjoy the Culver's North Atlantic Cod Filet Sandwich may like this limited-time offering, too. "If you like mild ocean fish, stick with the cod, but if you love the lakey taste of bluegill or catfish, try the walleye," suggested the Courier & Press in 2021.
Culver's employees on Reddit also chimed in about the two fish sandwiches, saying the chain's fish offerings are especially popular for Sunday dinners. "Fish is awesome ... They are very good and get good reviews," affirmed one person on Reddit. Another agreed, "Cod is one of the number-one most sold products at Culver's. Lent is the busiest time of the year for the company. It's very good."