This Is Rob Lowe's Go-To In-N-Out Burger Order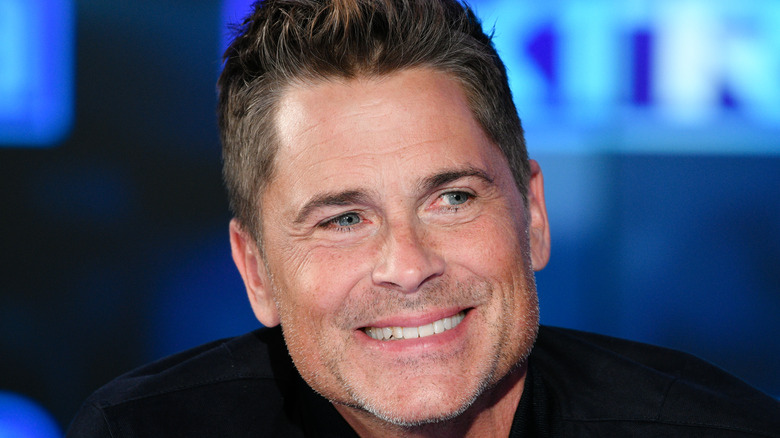 Noel Vasquez/Getty Images
Believe it or not, actors eat too. Few can escape the siren song of their favorite fast food when the moment strikes, including the likes of 1980s heartthrob, Rob Lowe. Lowe has been a part of the Hollywood scene since the 1980s when he was famously dubbed as part of the iconic "Brat Pack." He has given us so many incredible characters to love and hate along the way, including everyone's favorite Chad Trager from the sitcom comedy, "Parks and Recreation" (via IMDb). 
According to Insider, Lowe has also been an outspoken advocate of conscious eating habits for years. Lowe told the outlet, "Everyone comes to the point sooner or later where you realize you can't eat like you're in college anymore. I hadn't realized it was a thing, but it changed my life." To this end, Lowe follows the Atkins philosophy and tends to choose proteins, fruits, and veggies to maintain his healthy physique, and clarifies he does not "use it as a diet." The Manual reports that the actor enjoys some meals from In-N-Out Burger from time to time, and he even has a go-to order when he makes a stop at the California-based chain.
Rob Lowe shuns the buns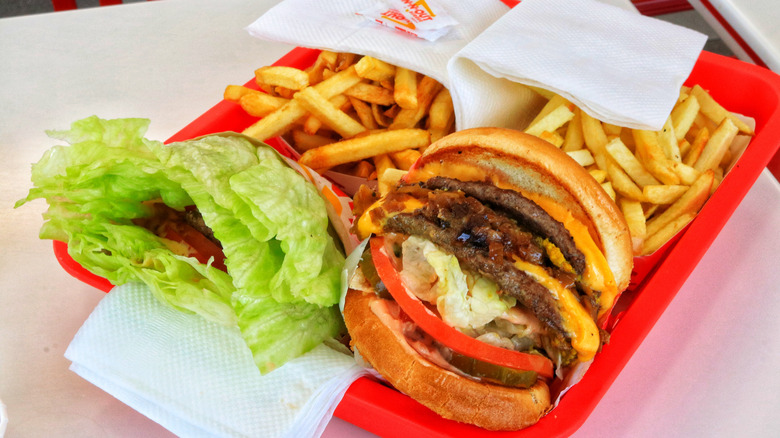 ShengYing Lin/Shutterstock
Rob Lowe definitely savors his favorite foods. The "Oxford Blues" star told Insider, "I love pizza and I love cheeseburgers, and ice cream and nachos. Life without that stuff isn't worth living." A man after our own hearts, for sure! He went on to explain his views, "It's about ... doing it in a healthy sustainable way." This brings us to that In-N-Out Burger order. 
If you are thinking the Razzie winner goes all out and chooses his In-N-Out Burger Animal-style, you are incorrect. Lowe revealed to The Manual when he eats at In-N-Out, he requests a burger sans the bun, opting for a burger wrapped in crisp iceberg lettuce. He said, "If I need a quick-grab, I'll go to In-N-Out and get a burger wrapped in lettuce, 'Protein Style.' " Lowe is not the only celebrity who visits In-N-Out from time to time. According to The Travel, Tom Hanks, Selena Gomez, Sofia Richie, Ina Garten, David Letterman, and a laundry list of A-listers all stop by this burger joint.