The Surprising Way World War II Affected Girl Scout Cookie Sales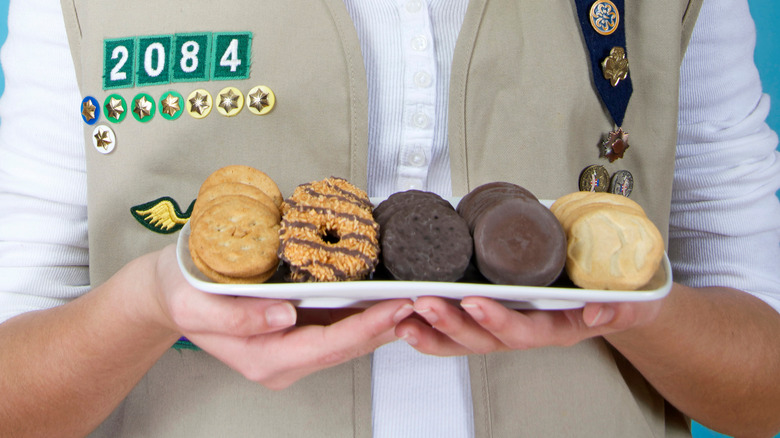 Sheila Fitzgerald/Shutterstock
Girl Scout cookies — and America's love for them — are nothing new. Girl Scout troops were making cookies as early as 1917, according to the organization, when local teams would bake and sell their own treats to raise funds. In 1936, the organization began working with commercial bakers and councils started to sell the cookies nationwide.
However, even the simplest sugar cookie requires a few basic ingredients — including sugar, flour, and butter — many of which were in short supply during much of the war-torn 1940s. According to the National World War II Museum, the U.S. government began rationing sugar in May 1942, followed by fats like butter in March 1943. During World War II, NPR adds, "indulging in white flour was viewed as wastefulness akin to aiding and abetting the enemy."
So, unable to rely on cookies for nearly as much of their funding, the Girl Scouts needed a new way to raise money for activities.
Cookie shortages led to Girl Scout calendars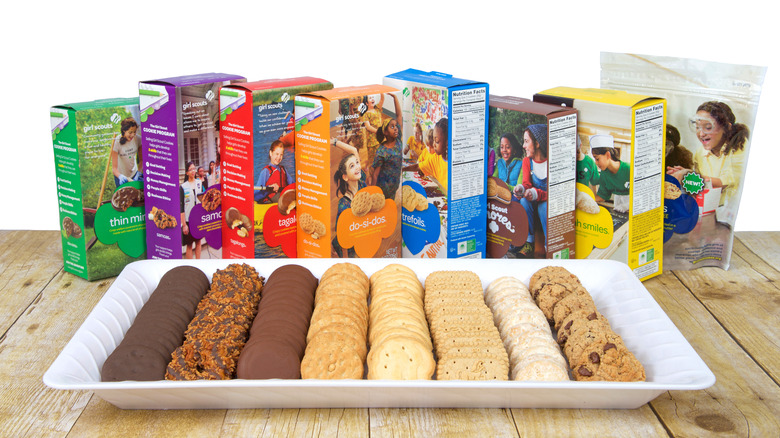 Sheila Fitzgerald/Shutterstock
The war shortages impacted the Girl Scouts quickly. Mental Floss reports that, in 1943, chapter leaders told their troops and customers that fewer boxes than normal would be available for sale. In some cases, ordered cookies were never even baked. 
In response, Girl Scouts looked for other fundraising opportunities, which ranged from selling war bonds to collecting scrap metal. In 1944, the organization pivoted to selling Girl Scout calendars. The calendars proved successful and, even after the war shortages ended, the Girl Scouts continued selling their calendars well into the 21st century.
Cookie sales, though, came back quickly when ingredient rationing ended after the war. By 1948, the organization had contracted more than two dozen bakers to produce cookies on behalf of the troops. They also expanded the cookie line. By the 1950s, Girl Scouts were selling vanilla-based and chocolate-based filled cookies, shortbread cookies, and chocolate mint cookies — the predecessor to today's popular Thin Mints.