Gordon Ramsay Just Roasted Jimmy Fallon's Disastrous Sandwich-Making Skills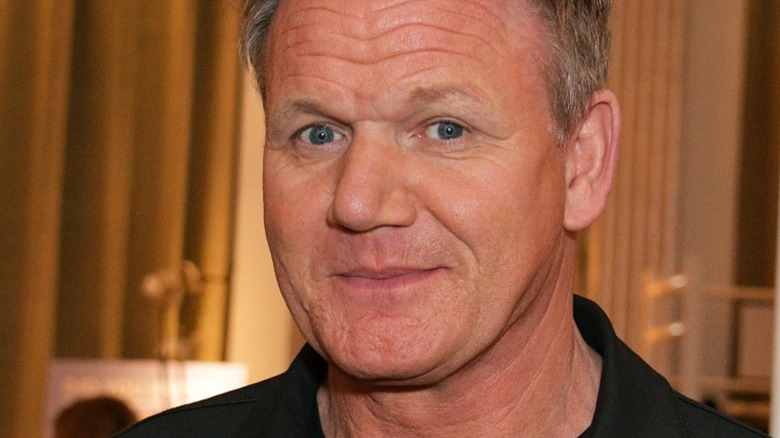 David M. Benett/Getty
Chef and television personality Gordon Ramsay is no stranger to talk show appearances, frequently popping in to chat with various late-night hosts and spill about his latest projects. In a recent appearance on "The Tonight Show Starring Jimmy Fallon" via video chat, he promoted his latest reality cooking competition show, "Next Level Chef." He also gave Fallon his opinion on the host's culinary skills (via YouTube).
Fallon actually requested the chef's opinion, referencing Ramsay's popular TikTok series in which he duets videos of people cooking a dish and provides his humorous critique. Earlier this month, for example, Ramsay watched someone making fish and chips topped. The chef complained that there was too little batter on the fish and that it was overcooked. He finished by simply declaring, "You idiot" when the TikToker smeared Vegemite over the fried fish. Fallon asked Ramsay to share his opinions as the host constructed a simple sandwich. 
Now, the "Hell's Kitchen" star is certainly no stranger to a great sandwich — his website features recipes for everything from the "ultimate" grilled cheese sandwich to a steak sandwich with spicy tomato relish. Fallon certainly had a tough judge to impress, and he seemed to falter a bit under the watchful eyes of Ramsay and the studio audience. The insult-happy chef took the opportunity to roast Fallon a bit when his sandwich-making skills fell short.
What Fallon made — and what Ramsay had to say about it
As the YouTube clip of the interview shows, Fallon crafted a "Turkey Sandwich a la Jimmy." Ramsay watched in utter dismay as the "Tonight Show" host committed one faux pas after another: using regular white bread when other options were available, failing to add enough condiments, and adding toppings that Ramsay warned would make the sandwich soggy. The final product featured turkey, mustard, raw red onion, jalapeno slices, pickled jalapenos, and a few ruffle potato chips for good measure.
Ramsay warned that the messy concoction would fall apart, which is exactly what happened as Fallon sliced it in half. The audience groaned audibly as it played out. The top-level chef called the turkey creation a "sandwich nightmare" and followed up his roast by instructing Fallon to stick a slice of bread on each ear. The audience erupted with laughter as Ramsay revisited a classic meme, calling Fallon "an idiot sandwich." As per Delish, Ramsay also reached for that insult during a Twitter disagreement. But it was particularly effective in the context of a sandwich-making demonstration.
Who knows? Perhaps Ramsay's next appearance on "The Tonight Show Starring Jimmy Fallon" will involve creating a proper sandwich to show Fallon how it's done.